Close
UHV athletics launches JAG program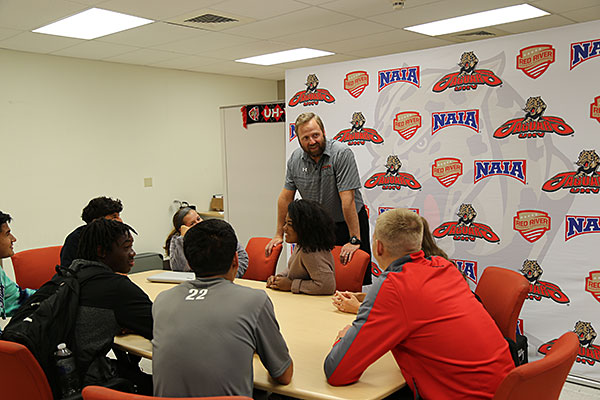 Adrian Rigby, standing, UHV assistant athletic director, explains the new Jobs After Graduation program Thursday to freshman athletes. The program will focus on helping UHV student-athletes prepare to start careers after graduation.
Adrian Rigby, University of Houston-Victoria assistant athletic director, today announced the launch of Jobs After Graduation, or JAG, a comprehensive student-athlete enhancement program dedicated to providing learning and internship opportunity experiences for UHV athletes.
"This is a great opportunity for our athletic program and our student-athletes," Rigby said. "The idea has developed over the last few years while seeing student-athletes graduate and spend the first few months to a year looking for their first job, obtaining meaningful job experience or trying to see if that is the career path they want to go into."
Rigby wants to see that change so UHV's student-athletes are more prepared and have a career plan once they graduate.
"The program idea came about due to that fact, but also seeing that student-athletes were prepared and utilizing the services available to them and also trying to see if we could supplement the already existing services and tailor it more toward the student-athletes," he said.
UHV Athletics Director Ashley Walyuchow echoed Rigby's sentiments about the program.
"This is a very unique program that will bring value and enhance the education our student-athletes receive at UHV," Walyuchow said. "In collaborating with other departments at UHV, we avoid duplication of efforts but tailor the programming to meet the specific needs of our student-athletes. The end goal is to help our student-athletes be more employable once they graduate."
Through the program, all UHV student athletes will be required to participate in graduation-year specific learning each semester preparing them to obtain employment and enter the workforce upon graduation.
"Last year, we graduated 10 student-athletes on the men's soccer program and sitting down and talking to them not too many of them had a plan for what they wanted to do," Rigby said. "We want to focus on that so when they do leave here there is not that lapse in time in finding that career and job they want to go into."
This year, the program is tailored to all incoming freshmen.
Rigby said JAG is a detailed four-year plan, and each year there are more and more classes and seminars for the student-athletes to attend.
Students are required to create a LinkedIn account, attend guest speaker sessions and perform community service, as well as attend resume writing session with UHV's career services. Student-athletes will also have opportunities for internships, job shadowing and part-time jobs.
"We asked each member of the coaching staff to reach out to their contacts in various fields to see if they would be interested in being guest speakers, provide job shadowing opportunities, offer internships, job opportunities, or any kind of assistance that we can rely on within the community," Rigby said.
Rigby noted the response has been very well received with a number of contacts coming from the business field, medical fields and various other fields in Victoria.
"I think it is something that the student-athletes will benefit from in seeing what their career path is and having a candid conversation about the field they are looking at," Rigby said. "I also think it is a great recruiting tool and hopefully a retention tool for our student-athletes and something to separate us from other schools when parents are looking for a place to send their child."
Walyuchow also pointed out the uniqueness of the program as not very many other universities offer this type of program.
There are only a handful of collegiate athletic programs around the country doing something similar and I don't know of any at the NAIA level," Walyuchow said.
For more information on the program, contact Rigby at 361-485-4418 or rigbya@uhv.edu.
The University of Houston-Victoria, located in the heart of the Coastal Bend region since 1973 in Victoria, Texas, offers courses leading to more than 80 academic programs in the schools of Arts & Sciences; Business Administration; and Education, Health Professions & Human Development. UHV provides face-to-face classes at its Victoria campus, as well as an instructional site in Katy, Texas, and online classes that students can take from anywhere. UHV supports the American Association of State Colleges and Universities Opportunities for All initiative to increase awareness about state colleges and universities and the important role they have in providing a high-quality and accessible education to an increasingly diverse student population, as well as contributing to regional and state economic development.