Close
Award-winning Texas novelist to speak at UHV
Texas author Clay Reynolds recently considered whether any particular themes permeate his 10 published novels.
"I only go by what people tell me, and people tell me that all of my stories are love stories. I have no reason to think otherwise," said Reynolds, who will speak at the University of Houston-Victoria on Dec. 6. "There's always a central relationship around which the plots swirl, and it's usually seriocomic, meaning it's serious but has comedic elements in it. Life is a serious business that is relieved by incredible comedy, and you have to learn to laugh."
Reynolds will be the final presenter in the fall University of Houston-Victoria/American Book Review Reading Series. His reading will begin at noon in the Alcorn Auditorium of UHV University West, 3007 N. Ben Wilson St. The presentation is free and open to the public.
Reynolds is the director of creative writing and a professor of arts and humanities at The University of Texas at Dallas. In addition to writing fiction and teaching creative writing and modern literature, he excels in the nonfiction realm with scholarly works, book reviews, essays and journalistic articles.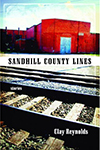 During his talk at UHV, he plans to read a short story – probably one from his 2007 book, "Sandhill County Lines," a collection of nine short stories set in and around Agatite, a fictitious small town in North Texas and the county seat of Sandhill County.
In writing this book and several other fiction works also based there, Reynolds drew heavily from his life experience growing up in Quanah, Texas, near the Red River and Oklahoma border, and the area's culture, attitudes, way of life, history, geography and climate. With a touch of humor, these short stories depict contemporary life in the 1970s and 1980s in this small Texas town, with characters including cowboys, baseball moms, rednecks and "a kind of crazy preacher," Reynolds said.
"I didn't think my hometown was very interesting when I grew up there. But after I left, I discovered that it really was very interesting, so I started writing about it," he said. "My first two novels were set there, and that put me on a pathway to start writing about that part of Texas. It's kind of the Thomas Wolfe factor: You can't physically go home again, but you can in your mind."
Reynolds has won many accolades for his fiction work. His novel, "Franklin's Crossing," was nominated for a Pulitzer Prize. It also won the Violet Crown Award from the Writers' League of Texas, as did his novel, "Monuments." Additionally, he received the Spur Award from the Western Writers of America Association for the short story "The Deacon's Horse." He is a National Endowment for the Arts Fellow and has received grants from the Texas Commission on the Arts.
"Clay Reynolds is one of the most captivating novelists and storytellers of our time – a Texas author of the highest caliber. We look forward to having him at UHV and hearing him read," said Jeffrey Di Leo, dean of the UHV School of Arts & Sciences, and ABR editor and publisher.
Another of Reynolds' short stories, "Railroad Man," is slated for publication in a journal this spring. It is set in a small Texas town and tells the story of a child whose father, a railroad man, is similar in character to Reynolds' own father. The story is both comic and tragic.
"It's about the humor and the pain of life. That's the way we get through life – with humor," Reynolds said.
Reynolds' most recently published novel is "Vox Populi," Latin for "Voice of the people." His first published novel, "The Vigil," has perhaps the widest appeal, he said, "but the books I'm most pleased with are the ones that didn't necessarily make the most sales. The one I enjoyed writing the most was probably 'The Tentmaker.'"
He now is working on a memoir set in 1968, when he spent the summer in Houston driving a 7UP truck for a bottling plant.
With academic degrees in history, English and modern letters, Reynolds also has developed expertise as a critic who deals with the historical context of literature. In that realm, one of his most noteworthy nonfiction works is a book he edited. "Hero of 100 Fights" is about author Ned Buntline and his collection of 24 dime-novel westerns written in the 19th century.
ABR is a nonprofit, internationally distributed literary journal published six times a year. It began in 1977, moved to UHV in 2006 and has a circulation of about 8,000. The journal specializes in reviews of works published by small presses.
For more information about the UHV/ABR Reading Series, call the ABR office at 361-570-4101 or go to www.americanbookreview.org.
The University of Houston-Victoria, located in the heart of the Coastal Bend region since 1973 in Victoria, Texas, offers courses leading to more than 80 academic programs in the schools of Arts & Sciences; Business Administration; and Education, Health Professions & Human Development. UHV provides face-to-face classes at its Victoria campus, as well as an instructional site in Katy, Texas, and online classes that students can take from anywhere. UHV supports the American Association of State Colleges and Universities Opportunities for All initiative to increase awareness about state colleges and universities and the important role they have in providing a high-quality and accessible education to an increasingly diverse student population, as well as contributing to regional and state economic development.