Close
UHV to host Coco book signing
Fans of Disney's "Coco" soon will have the opportunity to get a signed copy of the new movie's novelization at a book signing hosted by the University of Houston-Victoria.
Diana López, a UHV associate professor of creative writing, will sign copies of her book, "Coco: A Story About Music, Shoes and Family," starting at 6 p.m. Dec. 14 at the UHV Center for the Arts, 204 N. Main St. The event is free and open to the public.
"The community response to 'Coco' and the book has just been overwhelming," López said. "The book is more of an adaptation of someone else's story, so I didn't plan to do any signings. But I've had so many people, from schools and students to even my neighbors, asking me to sign their books. It's been a pleasant surprise, and I'm excited to share the book with the community."
During the event, López will read an excerpt from the book and take part in a question-and-answer session. Copies of the book will be available for purchase, and López will sign them.
López has written several children's books, including "Nothing Up My Sleeve," "Ask My Mood Ring How I Feel," "Confetti Girl" and "Choke," which was made into a movie called "The Choking Game" for the Lifetime Movie Network. "Confetti Girl" was chosen as a recipient of the 2012 William Allen White Children's Book Award.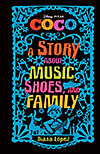 "Part of what I love about being a children's author is when I do a signing, that's often the child's first autographed book," she said. "I once signed a copy of 'Nothing Up My Sleeve' for a boy in Houston, and he clutched the book to him and asked, 'And I can keep this forever?' I love seeing them get so excited over my work."
"Coco" was released in the U.S. on Nov. 22 and has claimed the top movie in the box office ever since. It was released in Mexico on Oct. 27, the weekend before Dia de los Muertos, and was the highest-grossing animated movie in Mexican history.
López's book was released Oct. 10. It is available at major book retailers such as Barnes & Noble and Books-A-Million. It also can be purchased through Amazon and other online retailers.
"Diana is an outstanding writer, and I am pleased to see that her book has garnered so much attention," said Jeffrey Di Leo, dean of the UHV School of Arts & Sciences. "The university is proud to host this event and help members of the community become more familiar with a talented member of UHV's faculty."
The University of Houston-Victoria, located in the heart of the Coastal Bend region since 1973 in Victoria, Texas, offers courses leading to more than 80 academic programs in the schools of Arts & Sciences; Business Administration; and Education, Health Professions & Human Development. UHV provides face-to-face classes at its Victoria campus, as well as an instructional site in Katy, Texas, and online classes that students can take from anywhere. UHV supports the American Association of State Colleges and Universities Opportunities for All initiative to increase awareness about state colleges and universities and the important role they have in providing a high-quality and accessible education to an increasingly diverse student population, as well as contributing to regional and state economic development.