Close
Spring reading series begins with story of overcoming domestic violence
Lacy M. Johnson was just beginning to think of herself as a writer when she was kidnapped and abused by her ex-boyfriend, and that experience had a lasting impact on her career.
"It didn't change my plans, but it definitely changed my story," Johnson said. "My book, 'The Other Side,' became a way for me to grapple with how to move on from this story and end that chapter."
Johnson is the opening author in the spring University of Houston-Victoria/American Book Review Reading Series. Her reading will begin at noon Jan. 25 in the UHV University West Alcorn Auditorium, 3007 N. Ben Wilson St. It is free and open to the public. Johnson originally was scheduled to be the first speaker in the fall 2017 series, but her presentation was rescheduled because of Hurricane Harvey.
"Lacy Johnson's story is told in a bold, raw narrative that has a severe impact on the reader," said Jeffrey Di Leo, ABR editor and publisher, and dean of the UHV School of Arts & Sciences. "'The Other Side' is one of the most thoughtful meditations on memory I've read in a long while. I look forward to her presentation to the Victoria community."
Johnson is an assistant professor of English and creative nonfiction at Rice University as well as an author, artist, curator and activist. Her memoir, "The Other Side," is known for its frank and fearless confrontation of the epidemic of violence against women. It was named a finalist for the National Book Critics Circle Award in Autobiography. She also is the author of "Trespasses: A Memoir." Her writing has appeared in the Los Angeles Times, Tin House, Creative Nonfiction and many other publications. She teaches creative nonfiction at Rice and Sierra Nevada College.
Johnson was kidnapped and held prisoner in a soundproof room in a basement apartment by her ex-boyfriend with the intention of raping and killing her. She escaped, but her abuser was not caught. "The Other Side" is the account of that passionate and then abusive relationship, the events leading to the kidnapping, her escape and her struggle to recover. Johnson used police reports, psychological evaluations and neurobiological investigations in her book to look at troubling and timely questions about gender roles and the epidemic of violence against women.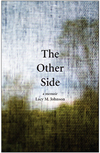 After she wrote and published "The Other Side," Johnson found the process of doing readings and publicly sharing her story with others brought up a totally different set of difficulties.
"Speaking publicly about this experience is very different from when it's written in a book," she said. "There's a real stigma surrounding the sharing of these experiences, and I had to examine why it made me so nervous to talk about it. I didn't want to be known as that person who was kidnapped. I've since come to realize that those experiences are not mutually exclusive from who I am now and who I can become in the future."
Although that stigma still exists, Johnson is encouraged to see that movements such as "Me Too" and its predecessors give women a chance to share their own traumatic experiences and encourage change in society.
"It really underlines how difficult it is for women to share stories about violence because society tends to challenge them on their own experiences," she said. "It's the only crime where the victim is subject to doubt. In murder, there's a body. In a robbery, something is stolen. Sexual violence is the only crime where the victim is consistently subject to doubt."
Johnson plans to read from "The Other Side" as well as her latest work in progress. The new book examines and challenges society's idea of justice.
"During my readings and presentations, I almost always came across someone who wanted to know what I want to happen to the man who did this to me," Johnson said. "Usually, they ask if I want him dead. This book will look at that question and talk about what justice should be. Vengeance and retribution are not justice, so how else should we think about it?"
ABR is a nonprofit, internationally distributed literary journal published six times a year. It began in 1977, moved to UHV 11 years ago and has a circulation of about 8,000. The journal specializes in reviews of works published by small presses.
For more information about the UHV/ABR Reading Series, call the ABR office at 361-570-4101 or go to www.americanbookreview.org.
The University of Houston-Victoria, located in the heart of the Coastal Bend region since 1973 in Victoria, Texas, offers courses leading to more than 80 academic programs in the schools of Arts & Sciences; Business Administration; and Education, Health Professions & Human Development. UHV provides face-to-face classes at its Victoria campus, as well as an instructional site in Katy, Texas, and online classes that students can take from anywhere. UHV supports the American Association of State Colleges and Universities Opportunities for All initiative to increase awareness about state colleges and universities and the important role they have in providing a high-quality and accessible education to an increasingly diverse student population, as well as contributing to regional and state economic development.