Close
UHV students help Rockport families after Hurricane Harvey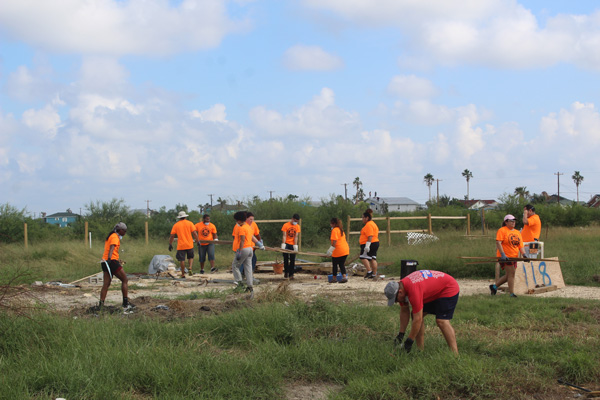 UHV students work together in October 2017 to clear away debris from Hurricane Harvey and locate a water pipe for a property owner in Rockport. A group of 26 students took part in the university's fall 2017 Jags Join In: Day of Service trip to the coastal community to help clean up after the hurricane.
Victor Nenque has fond memories of yearly family vacations at Rockport, so seeing the devastation to the small, coastal town caused by Hurricane Harvey was a shock.
"There was so much damage, it was just breathtaking," Nenque said. "Every house, trailer and building was damaged or completely gone. You couldn't tell what street you were on because all the signs had blown away. The only thing that stayed the same was the ocean. Even the beach was covered in trash and debris."
Nenque, a senior from Laredo, was one of 26 University of Houston-Victoria students who took part in the university's Jags Join In: Day of Service trip to Rockport in the fall to assist with cleanup after the hurricane. The students rode a bus to the coastal community. The trip was funded by a We Stand Strong Against Disasters grant from Youth Service America as part of a Kindness Rising campaign and the #LeadASAP initiative.
"After the hurricane, we had a lot of students who said they wanted to help," said Sara Weinstein, a UHV Student Life & Services coordinator. "We were able to coordinate with a local church and find two locations where our students could help families begin the recovery process."
Students visited two sites during the trip. At the first location, they helped a woman whose trailer home was destroyed by the hurricane. Students cleared trash and debris and also helped dig to locate a water line so the woman could hook up a new trailer and have running water.
"The woman was so happy when we found the pipe," said Jocelyne Martinez, a UHV junior from Austin. "She started dancing around and jumping up and down. It was great to know that we were able to help her and make her that happy in the midst of everything she had lost. She said the work we did in a day would have taken her weeks."
At the second location, students helped a husband and wife clear away fallen trees and branches so the couple could begin the process of getting their house fixed. As the students worked together at both sites, it was amazing to see how hope spread through their actions, Weinstein said.
"We had a great group sign up, and the students immediately got to work to do as much as possible," she said. "There was a sense of excitement that they were making a difference, and the people we were helping were so grateful and pleased that our students came."
For Martinez, the trip was part of a personal decision to take part in more community service that semester.
"My class workload wasn't as strenuous as previous semesters, so I wanted to do something good and help people," she said. "Community service can be hard, but I took away good memories from using my time to help others and do some good."
Looking back on the trip, Nenque remembers how positive and hopeful the people of Rockport were despite their circumstances.
"It was amazing to see how no one was feeling sorry for themselves," Nenque said. "They were so ready to rebuild and get on with life. I remember seeing an American flag in the window of a trailer. I've seen similar images on the news after other disasters, but seeing it for myself in the midst of all that destruction was incredible."
The University of Houston-Victoria, located in the heart of the Coastal Bend region since 1973 in Victoria, Texas, offers courses leading to more than 80 academic programs in the schools of Arts & Sciences; Business Administration; and Education, Health Professions & Human Development. UHV provides face-to-face classes at its Victoria campus, as well as an instructional site in Katy, Texas, and online classes that students can take from anywhere. UHV supports the American Association of State Colleges and Universities Opportunities for All initiative to increase awareness about state colleges and universities and the important role they have in providing a high-quality and accessible education to an increasingly diverse student population, as well as contributing to regional and state economic development.