Close
Author examines connections between natural, manmade systems
When she was growing up on her family's cattle ranch and crop farm in Missouri, Debra Di Blasi saw firsthand how events in the natural landscape affect manmade systems.
"We tend to think of stories in terms of human characters – protagonists and antagonists, primary, secondary and peripheral roles in narratives that focus on people interacting with each other," Di Blasi said. "A narrative – whether short story, novel, film, painting or symphony – is a collection of interconnected systems working together to form a whole. And because we live in a time when biomes are being decimated, the role of landscape in our lives is critical."
Di Blasi is the next speaker in the spring University of Houston-Victoria/American Book Review Reading Series. Her reading will begin at noon March 22 in the UHV University West Alcorn Auditorium, 3007 N. Ben Wilson St. It is free and open to the public.
"Debra Di Blasi's writing walks the fine line between a minimalist approach while retaining brilliant details," said Jeffrey Di Leo, ABR editor and publisher, and dean of the UHV School of Arts & Sciences. "She has a unique perspective on the relationships between nature and man, and her presentation will show our audience a new side to life."
Instead of reading from one specific book, Di Blasi plans to read excerpts from many of her works. She hopes to use the different passages to illustrate something she has been exploring from the beginning of her writing and reading life: landscape as character.
Her fascination with landscape began back on her family land. Although it was a large ranch and farm, nearly half of the land's acres were raw timberland, she said. A creek ran through the property, and there were many ponds and a wealth of animals, both domesticated and wild.
"Those acres shaped me and my idiosyncratic view of life," Di Blasi said. "They taught me a lot about the way natural and manmade systems are intricately connected, and how altering one affects all others, such as how a climate event like a drought can reshape a young couple's relationship to each other and to themselves."
Although she originally wanted to be a war correspondent, Di Blasi got sidetracked studying creative writing at the University of Missouri-Columbia. While there she discovered that her passion wasn't focused so much on being a writer as it was on the act of writing.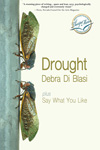 "From early childhood on, I've sought to live an exciting, well-considered life," she said. "The nuances of text and image help me better understand the world and the complexity of existence. I think this is an important difference, and I wish more young writers concentrated on living exceptionally interesting lives instead of trying to become some vague and often consumerist notion of 'writer.' After you've been publishing your writing for more than 30 years, you understand just how vapid and futile and unrewarding the chase for fame really is."
During her presentation, Di Blasi hopes the audience will see how little things can be just as meaningful and fundamental as large things.
"I hope the audience learns that spending time looking closely and frequently at the natural world – from the sky down to a blade of grass – is never a waste of time and certainly not a waste for serious writers," she said. "And of course, I want them to consider every landscape as a unique and highly complex character whose 'personality' provides a wealth of contemplation."
Other writers scheduled for the spring UHV/ABR Reading Series are:
Matt Bell, April 12 – Bell is the author of the novels "Scrapper" and "In the House Upon the Dirt Between the Lake and the Woods," as well as the short story collection "A Tree or a Person or a Wall," a nonfiction book about the classic video game "Baldur's Gate II," and several other titles. His writing has appeared in The New York Times, Tin House, Conjunctions, Fairy Tale Review, American Short Fiction and many other publications. A native of Michigan, he teaches in the creative writing program at Arizona State University.
Michael Joyce, May 3 – Joyce's 13 books include seven novels, most recently "Foucault, in Winter, in the Linnaeus Garden," a collection of poetry titled "A Hagiography of Heaven and Vicinity," two book-length poetic sequences titled "Biennial" and "Paris Views," a mixed collection of media essays and short fiction from SUNY, and two influential collections of essays about digital media from the University of Michigan Press. Some of his hypertext fictions include "On the Birthday of the Stranger" in the inaugural edition of Evergreen Review online, as well as "Twilight, A Symphony" and "Twelve Blue." His first print novel, "The War Outside Ireland," won the Great Lakes New Writers Award.
ABR is a nonprofit, internationally distributed literary journal published six times a year. It began in 1977, moved to UHV in 2006 and has a circulation of about 8,000. The journal specializes in reviews of works published by small presses.
For more information about the UHV/ABR Reading Series, call the ABR office at 361-570-4101 or go to www.americanbookreview.org.
The University of Houston-Victoria, located in the heart of the Coastal Bend region since 1973 in Victoria, Texas, offers courses leading to more than 80 academic programs in the schools of Arts & Sciences; Business Administration; and Education, Health Professions & Human Development. UHV provides face-to-face classes at its Victoria campus, as well as an instructional site in Katy, Texas, and online classes that students can take from anywhere. UHV supports the American Association of State Colleges and Universities Opportunities for All initiative to increase awareness about state colleges and universities and the important role they have in providing a high-quality and accessible education to an increasingly diverse student population, as well as contributing to regional and state economic development.