Close
Inventive, imaginative stories to be presented by next ABR author
When he was young, Matt Bell embraced imaginative reading but never expected to be a full-time writer with his work featured in the New York Times, and now area residents have a chance to meet him on April 12.
"I write in a combination of genres, including experimental fiction," Bell said. "One goal is to push the language, to try for new kinds of prose and sentences versus writing in a more straightforward manner. I hope my readers relate to the stories and find them enjoyable."
Bell is the next speaker in the spring University of Houston-Victoria/American Book Review Reading Series. His reading will begin at 7 p.m. April 12 at the UHV Downtown Center for the Arts, 204 N. Main St. It is free and open to the public.
"Bell is a daring writer whose storytelling inspires readers to challenge their worldviews in a transformative way," said Jeffrey Di Leo, ABR editor and publisher, and dean of the UHV School of Arts & Sciences. "He has a unique way of bringing out real-life experiences through his stories, and his presentation will allow our audience to relate to those experiences in a memorable way. Bell plans to read from his latest novel, "Scrapper," a detective story about a child abduction in Detroit, and "A Tree or a Person or a Wall," a short story collection of 10 years of his work.
Bell's work is hybrid fiction made up of different genres, such as science fiction, magical realism and fairy tales, he said. Though his writing may be grim in certain ways, there are other elements that offset that and allow it to be enjoyable to the reader in a way that matters to them, he said.
"There are countless ways to be a writer," Bell said. "Many writers have something to say, and most want to convince the reader of it. My goal in my stories is to offer readers a place to experience and interpret the events in a way that means something personal to them."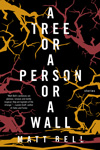 Bell hopes the audience will find a space for their own imagination and entertainment when they read his stories.
"I write from the genres I grew up on like science fiction and fantasy and the detective novel," Bell said. "They come out in my work in different ways, and really, I just want the readers to feel the emotions behind the story in some surprising way."
On May 3, Michael Joyce will be the final writer scheduled for the spring UHV/ABR Reading Series. Joyce's 13 books include seven novels, most recently "Foucault, in Winter, in the Linnaeus Garden," a collection of poetry titled "A Hagiography of Heaven and Vicinity," two book-length poetic sequences titled "Biennial" and "Paris Views," a mixed collection of media essays and short fiction from the State University of New York Press, and two influential collections of essays about digital media from the University of Michigan Press. Some of his hypertext fictions include "On the Birthday of the Stranger" in the inaugural edition of Evergreen Review online, as well as "Twilight, A Symphony" and "Twelve Blue." His first print novel, "The War Outside Ireland," won the Great Lakes New Writers Award.
ABR is a nonprofit, internationally distributed literary journal published six times a year. It began in 1977, moved to UHV in 2006 and has a circulation of about 8,000. The journal specializes in reviews of works published by small presses.
For more information about the UHV/ABR Reading Series, call the ABR office at 361-570-4101 or go to www.americanbookreview.org.
The University of Houston-Victoria, located in the heart of the Coastal Bend region since 1973 in Victoria, Texas, offers courses leading to more than 80 academic programs in the schools of Arts & Sciences; Business Administration; and Education, Health Professions & Human Development. UHV provides face-to-face classes at its Victoria campus, as well as an instructional site in Katy, Texas, and online classes that students can take from anywhere. UHV supports the American Association of State Colleges and Universities Opportunities for All initiative to increase awareness about state colleges and universities and the important role they have in providing a high-quality and accessible education to an increasingly diverse student population, as well as contributing to regional and state economic development.