Close
UHV students to host international festival (with video)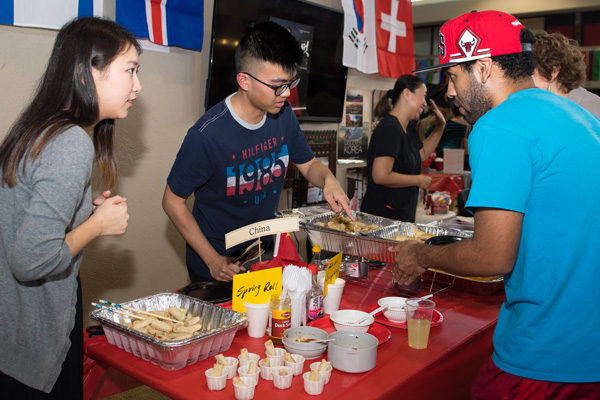 Festival attendees sample food from China during the 2017 UHV International Festival. The 2018 festival will be on April 11 at Jaguar Hall Commons and will feature food, dances and cultural displays from more than 10 countries.
Crossroads residents are invited to experience food, dances, music and more from more than 10 cultures as part of the University of Houston-Victoria's International Festival.
UHV's international students plan to share elements of their cultures with the community during the festival from 6 to 8:30 p.m. April 11 in Jaguar Hall Commons, 2705 Houston Highway. The event is free and open to the public. Shuttle buses will be available to transport attendees to and from parking at University West on the main UHV campus.
"We are excited to have this opportunity to share our cultures with other students and the community," said Loveth Ohenhen, a UHV graduate student from Nigeria. "There's going to be so much food and entertainment. It will create a strong global atmosphere on campus."
The festival will begin with a flag ceremony featuring flags from at least 25 countries represented by UHV students. Throughout the event, there will be dances and cultural displays from more than 10 countries, said Ludmi Herath, UHV International Programs director. Last year's event was attended by more than 300 people.
"Our international students have been working so hard to bring a great festival to UHV after last year's success," Herath said. "This festival is an outstanding way for people who may not have the opportunity to travel to experience foreign cultures. The students love to share information about their homelands with others, and I hope there will be lots of people taking part in this event."
The performances will include a Chinese lion dance as well as dances from countries and cultures including Hawaiian, South African, Indian, Pakistani and Native American. There also will be an international fashion show and a song performed by a UHV student.
During the event, attendees can sample food from booths representing a variety of countries including the Bahamas, China, India, Nepal, Pakistan, Sri Lanka, Italy, Nigeria, Venezuela, Mexico, Malaysia, Morocco and Mauritania. There will be games and cultural displays, as well as henna tattooing from India and Pakistan. Pizza also will be provided, and coffee and soda can be purchased from Jaguar Hall Dining for a dollar each.
"Last year was an incredible experience," said Aarushi Kumar, a UHV junior from India. "People wore traditional clothes from their native countries. I really enjoyed getting the opportunity to explain to people what my outfit was and how it represented my culture."
The event is organized by UHV International Programs. The Victoria Northside Rotary Club gave a $2,500 contribution and UHV Student Life & Services gave $400 to help fund the event. A video featuring images from the 2017 International Festival is available online.
To learn more about the International Festival, contact Herath at 361-570-4109 or herathl@uhv.edu.
The University of Houston-Victoria, located in the heart of the Coastal Bend region since 1973 in Victoria, Texas, offers courses leading to more than 80 academic programs in the schools of Arts & Sciences; Business Administration; and Education, Health Professions & Human Development. UHV provides face-to-face classes at its Victoria campus, as well as an instructional site in Katy, Texas, and online classes that students can take from anywhere. UHV supports the American Association of State Colleges and Universities Opportunities for All initiative to increase awareness about state colleges and universities and the important role they have in providing a high-quality and accessible education to an increasingly diverse student population, as well as contributing to regional and state economic development.