Close
UHV art students showcase pieces at Victoria Art League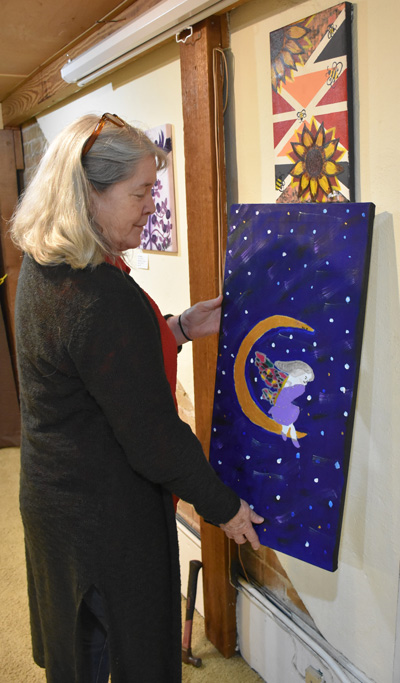 Cynthia Miller, UHV artist in residence, adjusts the position Friday of an original painting by a UHV art student. The painting is a representation of a character from a short story the student wrote and is one of 39 pieces on display as part of the UHV Student Arts Show.
Dozens of artworks made by University of Houston-Victoria students fill a side gallery at the Victoria Art League as part of an April art show that displays pieces students have made during the university's art classes.
The UHV Student Arts Show features 39 paintings and drawings by 32 students. The show's last day will be April 21 at the Judy and Jim Fieg Gallery of the Victoria Art League, 905 S. Bridge St. The Art League is open from 1 to 5 p.m. Tuesday through Saturday.
A public reception will be from 5 to 7 p.m. Friday, April 13. A shuttle will be available to transport students from Jaguar Hall to the reception and back.
"Showcasing student art can be tricky because they still are learning and working on mastering their skills, but it's also a great learning platform for them," said Cynthia Miller, UHV artist in residence. "Sometimes it helps when students have the opportunity to see their work in conjunction with others' pieces. It gives them a new perspective on what they've been working on for so long."
The students whose pieces are on display are from three spring art courses offered by UHV: "Beginning Drawing," "Beginning Painting" and "Advanced Painting." Many of the students stretched their own canvases over wood frames, and many of the pieces are available for sale.
"UHV is proud of the work these students have done, and we want to share their progress with the community," said Jeffrey Di Leo, dean of the UHV School of Arts & Sciences. "This is our students' first exhibit, and I hope to see many more in the future."
Many of the pieces are made from students' observation assignments in class. There are charcoal sketches showing value studies of light and dark, and a few students painted their own transcriptions of famous pieces of art.
"Art is about communication and how a person sees the world," Miller said. "When we look at other artists' work in class, the idea is not to copy it but to transcribe it into each individual's own 'language' or vision. How they experience the original affects what they create in the transcription."
To learn more about the exhibit, contact Miller at millerce@uhv.edu. Pieces that are purchased will be marked as sold and left on display until the end of the exhibit, when they will be available to take home.
The University of Houston-Victoria, located in the heart of the Coastal Bend region since 1973 in Victoria, Texas, offers courses leading to more than 80 academic programs in the schools of Arts & Sciences; Business Administration; and Education, Health Professions & Human Development. UHV provides face-to-face classes at its Victoria campus, as well as an instructional site in Katy, Texas, and online classes that students can take from anywhere. UHV supports the American Association of State Colleges and Universities Opportunities for All initiative to increase awareness about state colleges and universities and the important role they have in providing a high-quality and accessible education to an increasingly diverse student population, as well as contributing to regional and state economic development.