Close
Author examines perception of humanity through media
Michael Joyce has never been one who thinks he has a specific message in his writing, but he does share with the reader an awareness of how people consider their humanity.
"We are part of a global community, and that can be precarious and transformative," said Joyce, a professor of English at Vassar College. "As humans, we're constantly trying to get our feet under us and live without shutting off the awareness of the world at large."
Joyce is the final speaker in the spring University of Houston-Victoria/American Book Review Reading Series. His reading will begin at noon May 3 in the UHV University West Alcorn Auditorium, 3007 N. Ben Wilson St. It is free and open to the public.
"Michael Joyce is a groundbreaking author whose work has reflected the constant growth and shift of media and information in our culture," said Jeffrey Di Leo, ABR editor and publisher, and dean of the UHV School of Arts & Sciences. "It is amazing to see how he can turn something abstract into a narrative protagonist."
During his presentation, Joyce plans to read from his latest novel, "Media: A Picaresque," which is due to be released in October. The story follows a character as he goes around the world from 1987, just before the public rise of the internet, to 2001, just before the tragic events of Sept. 11.
"The story is a journey through the development of 20th-century media culture," Joyce said. "The nameless narrator is involved in media, and he has this belief that there are doors into the universe that we can see daily. The events of 9-11 brought about an end to a time of innocence in our media culture, and it's striking to look back and see how much has changed since that time."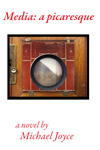 Joyce considers his newest book to be a bracket to his previous book "Was Annales Nomadique: A Novel of Internet." Rather than follow a single character the half-poem, half-narrative story follows the flow of information itself as it moves through different locales and characters.
"I wanted to share a view of how we use and view information and media in terms of human nature," Joyce said. "A lot of my work tends to follow a theme that focuses on what human nature is, and how it relates to things such as religion, community, information and media, and what fosters or threatens who we are. In a way, that's the purpose of all literature. It shows us how we're linked and encourages us to make the most of our time together."
ABR is a nonprofit, internationally distributed literary journal published six times a year. It began in 1977, moved to UHV in 2006 and has a circulation of about 8,000. The journal specializes in reviews of works published by small presses.
For more information about the UHV/ABR Reading Series, call the ABR office at 361-570-4101 or go to www.americanbookreview.org.
The University of Houston-Victoria, located in the heart of the Coastal Bend region since 1973 in Victoria, Texas, offers courses leading to more than 80 academic programs in the schools of Arts & Sciences; Business Administration; and Education, Health Professions & Human Development. UHV provides face-to-face classes at its Victoria campus, as well as an instructional site in Katy, Texas, and online classes that students can take from anywhere. UHV supports the American Association of State Colleges and Universities Opportunities for All initiative to increase awareness about state colleges and universities and the important role they have in providing a high-quality and accessible education to an increasingly diverse student population, as well as contributing to regional and state economic development.