Close
UHV president, mascot compete to raise money for nonprofits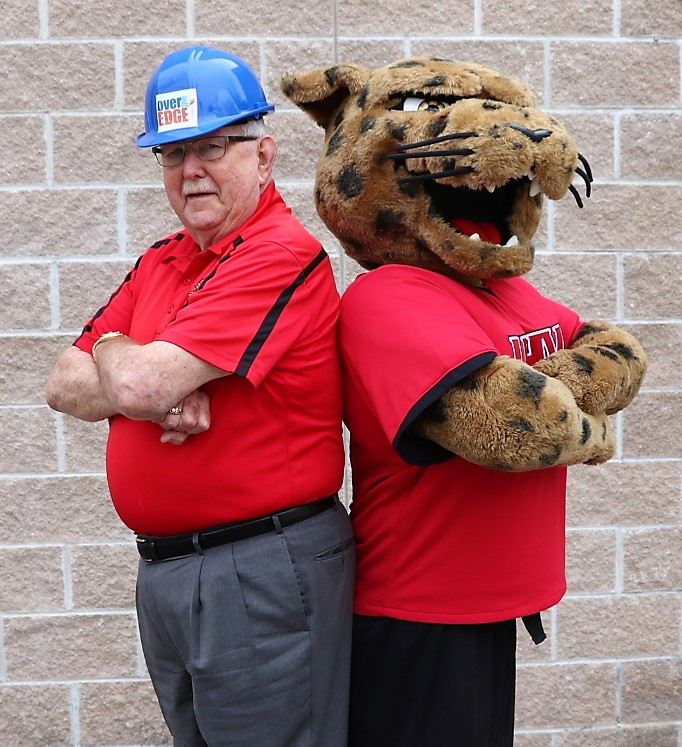 UHV President Vic Morgan and jaX get ready to compete in the Nov. 3 Over the Edge fundraiser event during which they will rappel down One O'Connor Plaza in downtown Victoria.
What happens when a Nov. 3 fundraising event allows the University of Houston-Victoria's mascot and ambitious university president to raise money to rappel down a 12-story office building? A good old-fashioned competition begins.
UHV President Vic Morgan is competing against UHV's jaguar mascot, jaX, in the Over the Edge event to be the first to raise $1,000. Whoever wins will get to rappel down the 12-story downtown office building, One O'Connor Plaza, ahead of the other. Funds raised will benefit three Victoria nonprofit organizations: the Hispanic Council of Victoria, Challenged Athletes Dream Complex, and Victoria Business and Education Coalition.
"At UHV, it is our goal to give back to the region in as many ways as we possibly can," said Michael Wilkinson, director of UHV Student Life & Services. "We have expanded our civic engagement initiatives through Student Life & Services every year, and it has helped cultivate a service-minded student body. Over the Edge is a unique opportunity for us to continue that effort in an exciting and different way."
The university's participation in the fundraiser has sparked a friendly competition between two familiar faces seen throughout campus, and the students, faculty and staff are encouraged to participate by donating to the cause and cheering for their university favorites.
As the UHV mascot, jaX has had the privilege of working with Dr. Morgan and often participates in community fundraisers such as Over the Edge, Wilkinson said. This fundraiser is a competition that jaX wants to win to show the community the spirit of #JAXNATION.
"Win or lose, we're in this competition together as a university to help support local nonprofit organizations in our community and foster an encouraging atmosphere for them," Morgan said. "When I set goals, I like to aim high – in this case 12-stories high. Help me raise $1,000 to send me Over the Edge first to show the university, nonprofits and community that they can win in setting high goals, too."
Over the Edge supports three local nonprofit organizations. The Hispanic Council of Victoria helps promote leadership and supports the economic development, growth and education of the Victoria County Hispanic community. Challenged Athletes Dream Complex earns funds to be able to partner with the City of Victoria to build a new integrated playground where children without physical and mental challenges can play with children who do have these challenges. The Victoria Business and Education Coalition increases support for Victoria youth through mentoring, character building activities, job readiness training and career exploration.
Members of the three nonprofits benefiting from the event have expressed gratitude toward the event participants. Lanell Mantey, executive director of VBEC, knows firsthand what it's like to see community leaders like the ones at UHV participating in a cause that will benefit her group.
"UHV's participation in Over the Edge is an energetic way to raise funds for our local organizations and increase awareness about how the community can get involved and make a difference in others' lives," Mantey said. "At VBEC, I encourage children to set high goals for themselves, and they should feel that the community cares about their success. This is a perfect opportunity for them to see community leaders and mentors achieve those heights."
Supporters can choose to participate in the event by attending Over the Edge to watch those who will rappel down the building, donating or raising at least $1,000 and rappelling down themselves.
To donate to President Morgan visit https://otecwe.com/victoria/vic-morgan/ or visit https://otecwe.com/victoria/jax-the-jaguar/ to donate to jaX.
The University of Houston-Victoria, located in the heart of the Coastal Bend region since 1973 in Victoria, Texas, offers courses leading to more than 80 academic programs in the schools of Arts & Sciences; Business Administration; and Education, Health Professions & Human Development. UHV provides face-to-face classes at its Victoria campus, as well as an instructional site in Katy, Texas, and online classes that students can take from anywhere. UHV supports the American Association of State Colleges and Universities Opportunities for All initiative to increase awareness about state colleges and universities and the important role they have in providing a high-quality and accessible education to an increasingly diverse student population, as well as contributing to regional and state economic development.