Close
Students learn importance of math, robotics during UHV event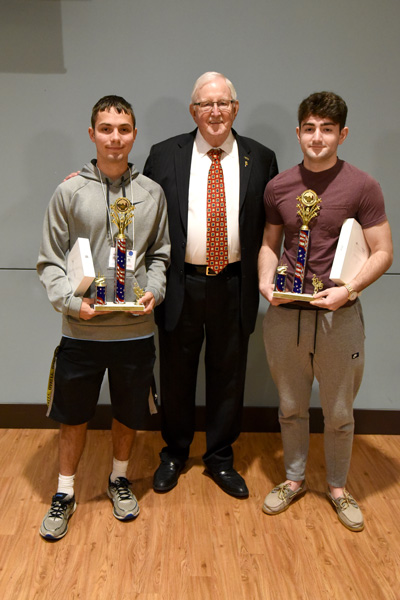 Drew Powell, left, a Hallettsville High School senior, and Michael Di Santo, right, a Victoria West High School senior, stand with UHV president Vic Morgan during Tuesday's UHV Mathematics & Robotics Awareness Day after winning first place in the computer science and senior mathematics tests.
Students tossed their discarded card pieces in the air Tuesday as they tried out a magic trick that uses mathematics to match the halves without looking at the cards.
"It's a trick I learned when watching a Penn and Teller show in Las Vegas," said Ricardo Teixeira, a UHV assistant professor of mathematics. "A lot of card and magic tricks use mathematics, and I like to use those principles to inspire young people and show them how many different ways math can be applied."
Teixeira's "Mathemagics" presentation was part of the 23rd annual Mathematics & Robotics Awareness Day at the University of Houston-Victoria. A group of 203 high school students from nine area schools and one homeschooler took part in activities that included mathematics and computer science tests, learning sessions and technology demonstrations. High schools participating in the event were Austwell-Tivoli, Bloomington, Calhoun, Edna, Faith Academy, Goliad, Hallettsville, Sacred Heart Catholic School in Hallettsville, St. Joseph in Victoria, and Victoria West.
A grant from Alcoa Foundation funded the event as well as robotics courses for high school students. The grant also will fund summer math and robotics camps at UHV for 14- through 18-year-olds.
"Math & Robotics Awareness Day always is an exciting event that brings in great students," said Jeffrey Di Leo, dean of the UHV School of Arts & Sciences. "As UHV is taking steps to expand its space for Science, Technology, Engineering and Mathematics programs, it is encouraging to see so many students taking an interest in these subjects."
During the day, students attended learning sessions focusing on "Mathemagics," how to use a Graphical User Interface to write computer programs, and the history and mathematics of the Rubik's cube. Each session offered demonstrations about how math and technology can be used in everyday life.
Students also were able to visit expo booths set up by various groups and companies, including the Calhoun High School robotics class, Caterpillar, CivilCorp, Formosa, UHV Admissions & Student Recruitment, the Victoria Independent School District engineering class, and a special presentation by Daniel White, UHV director of the graduate biomedical science program.
Recipients of the top three computer science scores received a trophy and an iPad tablet. The winners for the computer science contest were:
First – Drew Powell, Hallettsville High School
Second – Alex Liu, Calhoun High School
Third – Jack Buchanan, Victoria West High School
Powell already has tested his computer science knowledge in a University Interscholastic League competition, and he will be taking the computer science Advanced Placement test before the end of the school year.
"I started coming to the event my freshman year, but I just started studying computer science this year," Powell said. "I'm pretty competitive, and it feels good to finish the year with a win."
The mathematics tests were divided by grade. The second- and third-place winners received medals, and the first-place students in each grade received a trophy and an iPad tablet. The winners for the math contest by grade and high school were:
Freshmen – Jessica Zhang, Calhoun, first; Orlando Di Leo, Victoria West, second; Kelly Xu, Calhoun, third.
Sophomores – John Cesarz, Sacred Heart Catholic School, first; Erin Dent, St. Joseph, second; Jessica Calzado, Calhoun, third.
Juniors – Marco Di Leo, Victoria West, first; James Fitzgerald, Victoria West, second; Pranav Jain, St. Joseph, third.
Seniors – Michael Di Santo, Victoria West, first; Jordan Pyatt, St. Joseph, second; Emily Lowery, Victoria West, third.
Di Santo has been attending the event since he was a freshman. He prepared for the mathematics test by looking at questions from previous years.
"My teacher told me I would do well, and she was right," Di Santo said. "It feels great to know that all the preparation I did paid off."
The University of Houston-Victoria, located in the heart of the Coastal Bend region since 1973 in Victoria, Texas, offers courses leading to more than 80 academic programs in the schools of Arts & Sciences; Business Administration; and Education, Health Professions & Human Development. UHV provides face-to-face classes at its Victoria campus, as well as an instructional site in Katy, Texas, and online classes that students can take from anywhere. UHV supports the American Association of State Colleges and Universities Opportunities for All initiative to increase awareness about state colleges and universities and the important role they have in providing a high-quality and accessible education to an increasingly diverse student population, as well as contributing to regional and state economic development.