Close
UHV BBA students make their case at conference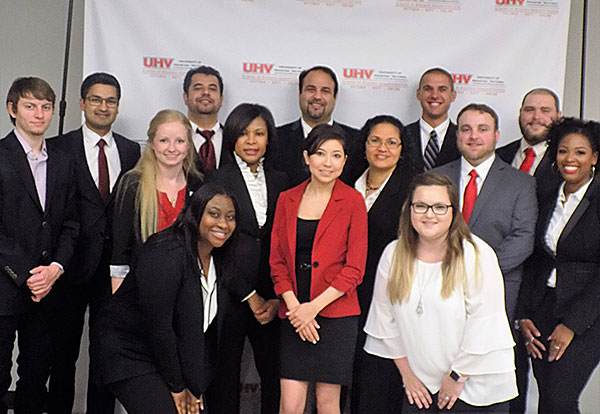 UHV students and Dr. Moghaddam, assistant professor of management, back center, celebrate April 28 after the UHV Bachelor of Business Administration Conference at UHV Katy.
The winning team at the 34th University of Houston-Victoria Bachelor of Business Administration Case Conference learned more than they ever thought they would know about Cinemark and the movie theater industry.
Patrice Capone and Arnela Mujezin of Houston, and Shana Sellew and Priscila DeLeon of Richmond set out to learn as much as they could about the company for their conference analysis.
Ultimately, their expert analysis about the company and ability to draw from what they learned in UHV business classes earned the team first place in the case competition.
"This conference is very significant for our students at UHV," Jifu Wang, professor and associate dean in the UHV School of Business Administration, "It gives students a chance to interact with their peers, faculty and business executives, and make business analyses about a real-world company. They will be able to apply what they have learned in their future careers."
The UHV School of Business Administration held the conference April 28 at UHV Katy. Every semester since 2007, students enrolled in "Strategic Management," the capstone course of the BBA program, have attended the conference and competed as teams in the presentation of a company case analysis. This year's competition featured 121 students on 27 teams.
Cinemark Holdings Inc. is a leader in the motion picture exhibition industry with 533 theaters and 5,964 screens in the U.S. and Latin America. Capone said the team started by studying the company website and its competitors. Next, team members studied Cinemark's annual report public records that had been filed through the U.S. Securities and Exchange Commission. The team also looked up different news stories about the industry.
"We were surprised at how vital concession items actually are to Cinemark's profitability," Capone said. "In addition to ticket sales, the company uses strategic marketing and pricing methods for concession items to generate revenue."
Capone said the help of Kaveh Moghaddam, assistant professor of management, was instrumental in their team's success.
"Dr. Moghaddam was so fast when responding to our submissions and providing excellent feedback throughout the semester," Capone said. "Though our team had different specialties, we leveraged those backgrounds to concentrate on different parts of the paper and made it come together a little easier. For example, those studying accounting did more of the financials and data gathering which really helped the others focus on their expertise."
Capone said her team casually joked about winning at the beginning of the semester and were not actually expecting to win or place in the top three.
"I had no idea we would place, let alone win," she said. "We just knew we would do the best we could and give it our all."
Other teams placing in the BBA competition were:
Second Place – Ibrahim Alyassir and Trang Taylor of Richmond, John Finnegan of Fulshear and Angelica Sanchez of Bakersfield, Calif.
Third Place – Fatima Boulares of Houston, and Fereshteh Kia, Renato Tan and Duong Tran of Katy.
The University of Houston-Victoria, located in the heart of the Coastal Bend region since 1973 in Victoria, Texas, offers courses leading to more than 80 academic programs in the schools of Arts & Sciences; Business Administration; and Education, Health Professions & Human Development. UHV provides face-to-face classes at its Victoria campus, as well as an instructional site in Katy, Texas, and online classes that students can take from anywhere. UHV supports the American Association of State Colleges and Universities Opportunities for All initiative to increase awareness about state colleges and universities and the important role they have in providing a high-quality and accessible education to an increasingly diverse student population, as well as contributing to regional and state economic development.