Close
Area high school students learn robotics, programming in after-school class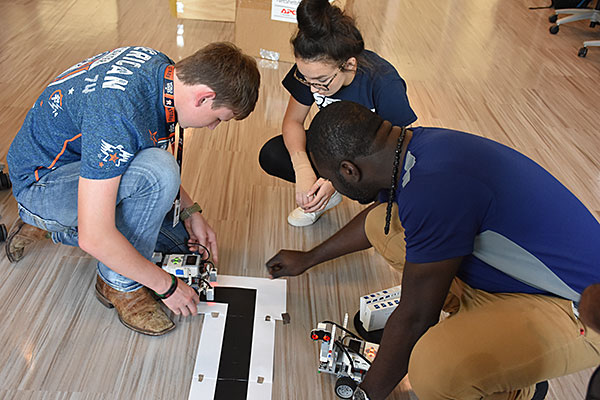 Victoria West High School freshmen Cameron Buchhorn, left, and Bella Zeplin, center, work with Christian Okwuchukwu, a UHV graduate computer information systems student from Nigeria, on May 8 to adjust the sensors on their robot. The high school students are two of 12 who took the university's afterschool robotics course during the spring.
Cameron Buchhorn and Bella Zeplin carefully examined each element of a diagram displayed on their computer on May 8 in a University of Houston-Victoria computer lab.
The Victoria West High School freshmen were working together to create a program that would tell a robot to use its sensors to follow a solid black line. Cameron and Bella were two of 12 high school students who participated in after-school robotics courses hosted by UHV and funded by a grant from Alcoa Foundation.
The weekly course allows students to learn how to build and program robots to fulfill certain functions, such as solve mazes, recognize colors and follow a color-coded path. The class is led by Alireza Tavakkoli, director of the UHV digital gaming and simulation program and an associate professor of computer science.
"Robotics are becoming more and more common in today's world, especially in industrial and manufacturing settings," Tavakkoli said. "These classes allow students to get an early taste of what it's like to work with robots and help them gain programming experience, which they can use in many different applications."
Bella first had the opportunity to work with robots when she attended a Victoria College program called VC Prep that focuses on teaching middle school students about science, technology, engineering and mathematics and the various careers students can pursue in those fields.
After attending the program, Bella decided she wanted to pursue a career in nuclear engineering, and the programming knowledge she's gained in the UHV robotics class will help her as she works toward that goal.
"I've enjoyed learning more about programming and working with sensors," she said. "I didn't know a lot about it in the beginning, but I've gotten some great experience."
Robots have always been interesting to Cameron, and he was excited to get the opportunity to work with them and learn how they work. One day, he plans to become a mechanical or chemical engineer.
"It's fascinating to me how a person can use a computer and numbers to program robots," Cameron said. "It's been a great experience, and I'll be using this knowledge as I work toward becoming an engineer."
In addition to the class, the grant from Alcoa Foundation allows UHV to offer a robotics summer camp, a math camp and a Math & Robotics Awareness Day that allows students to learn about the uses of math and robotics in multiple fields. To apply for the robotics summer camp, go to hsrobotics.aiatuhv.com.
The University of Houston-Victoria, located in the heart of the Coastal Bend region since 1973 in Victoria, Texas, offers courses leading to more than 80 academic programs in the schools of Arts & Sciences; Business Administration; and Education, Health Professions & Human Development. UHV provides face-to-face classes at its Victoria campus, as well as an instructional site in Katy, Texas, and online classes that students can take from anywhere. UHV supports the American Association of State Colleges and Universities Opportunities for All initiative to increase awareness about state colleges and universities and the important role they have in providing a high-quality and accessible education to an increasingly diverse student population, as well as contributing to regional and state economic development.