Close
University breaks ground on new student residence hall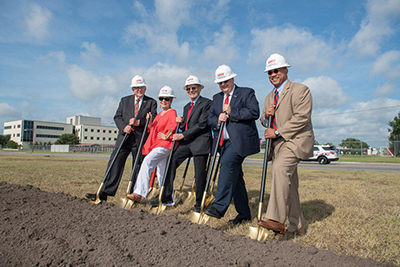 University of Houston-Victoria and UH System leaders prepare to shovel dirt Tuesday to mark the ceremonial start of construction of the university's fourth residence hall. Pictured from left to right are UHV President Vic Morgan, left; Mona Smith; UHV Provost Emeritus Don Smith; David Oliver, vice chancellor and associate vice president for facilities and construction management for the UH System; and Jim Norcom, project manager for facilities, planning and construction for the UH System. About 100 people attended the groundbreaking, which included speeches, shovel and hardhat photo opportunities and refreshments provided by Chick-fil-A.
University of Houston-Victoria and community leaders broke ground Tuesday with ceremonial shovels to signify the beginning of construction on a new student residence hall named after the university's provost emeritus and his wife.
The three-story, 272-bed Don & Mona Smith Hall is slated for completion by August 2019 in time for the fall semester at 3202 N. Ben Wilson St., next to University Commons student center and library that is under construction.
Smith was hired by UHV in 1987 as the dean for Academic Affairs when the university had 22 faculty members and a little more than 1,000 students. In 1993, he became vice president for academic affairs and dean of faculties at the State University of West Georgia. He returned to UHV in 1995 as provost and vice president for academic affairs until his retirement in 2006.
"When the naming of the new residence hall was first announced in December 2016, it came as a complete surprise to my wife, Mona, and me," Smith said. "We are, of course, greatly honored and appreciative. When I think of all the people who have helped this university grow, I know that there are many other names that could go on this building along with mine and Mona's, which makes it an even greater honor. Their good work, commitment and steadfast support made possible whatever contribution we were able to make."
As UHV's provost, Smith was involved in the planning for the university's addition of freshmen and sophomores, and helped plan off-campus and online course offerings. He worked on developing partnerships with several community colleges, strengthened UHV's relationship with the UH System and helped UHV transition to UHV Katy. He has been called out of retirement multiple times to serve in interim leadership capacities at UHV, including interim president four different times.
UHV President Vic Morgan said he was pleased to celebrate Smith's service to the university.
"The naming of this facility in the Smiths' honor is a reflection of the esteem in which they are held by both UHV and the Victoria community," Morgan said. "They have contributed to both through their service and commitment to higher education, and it is our distinct privilege to commemorate their service in the naming of this new residence hall."
The $22.8 million, 82,000-square-foot building will feature amenities that include a large classroom, event space and reception area. Each floor will have a common kitchen area and large study room with a computer lab for students. A laundry room will be located on the first floor. Smith Hall will be for upperclassmen. Freshmen will continue to live in Jaguar Hall, Jaguar Court or Jaguar Suites located in Jaguar Village on Houston Highway.
Jay Lambert, vice president for UHV Student Affairs, said he is excited about Smith Hall and the amenities it will have for our students.
"New construction is always exciting, and in this case even more so, since Smith Hall will be located directly next to the new University Commons," Lambert said. "The real excitement comes from being able to house more students on the Victoria campus."
Brandon Lee, director of UHV Residence Life, took part in helping develop a floor plan for the hall.
Students will have two floor plan options in Smith Hall, Lee said. Some amenities still are being considered, but key features for each room include Wi-Fi, basic cable and TV, and furnishings. A TV and gaming lounge also will be located on the first floor and will exit into an outdoor courtyard area that will have seating and sports activities.
"The university's residence life staff and I are very excited to have another residence hall for our students," Lee said. "It's important because it enhances the overall student experience here at UHV."
The university had 622 students living in its residence halls during the fall 2017 semester and is expected to be at capacity this fall. UHV can house 660 students in its three existing residence halls.
"Accommodating student housing through Smith Hall is very important for the growth of the university," said Matthew Alexander, director of capital projects. "In order to meet our mission to bring students to campus for face-to-face classes, it's crucial that we continue to grow and create that campus living place for them to stay."
The construction manager for the project is Morganti Texas Inc., and the architect is Brave Architecture, both based in Houston.
The University of Houston-Victoria, located in the heart of the Coastal Bend region since 1973 in Victoria, Texas, offers courses leading to more than 80 academic programs in the schools of Arts & Sciences; Business Administration; and Education, Health Professions & Human Development. UHV provides face-to-face classes at its Victoria campus, as well as an instructional site in Katy, Texas, and online classes that students can take from anywhere. UHV supports the American Association of State Colleges and Universities Opportunities for All initiative to increase awareness about state colleges and universities and the important role they have in providing a high-quality and accessible education to an increasingly diverse student population, as well as contributing to regional and state economic development.