Close
$100,000 grant to help UHV students with hurricane recovery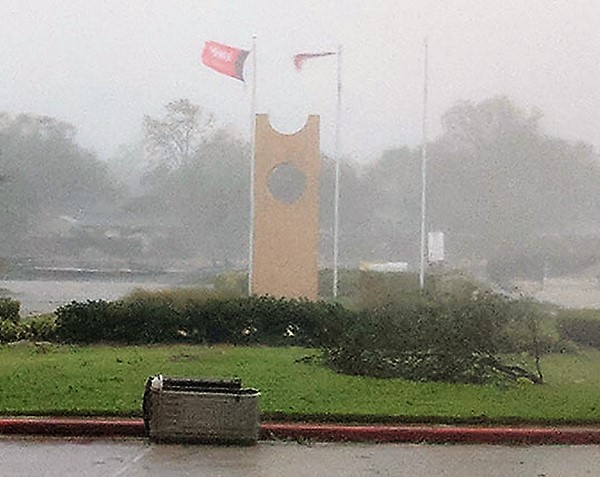 The UHV flag whips in the wind Aug. 25 as Hurricane Harvey blows into Victoria. A $100,000 grant from the Rebuild Texas Fund recently was awarded to UHV to support the university's students impacted by the hurricane.
A $100,000 Rebuild Texas Fund grant will aid University of Houston-Victoria students still dealing with the aftereffects of Hurricane Harvey.
"We appreciate having a partner that will assist UHV students who are still struggling financially after Hurricane Harvey," UHV President Vic Morgan said. "With this grant, our goal is to help them continue their higher education dreams."
The Rebuild Texas Fund grant will be used to provide childcare expenses and other targeted aid to students in need of additional financial assistance. Half of the grant will go toward helping UHV students who have childcare expenses.
"This grant is about rebuilding Texas, and the dream of receiving a university degree is part of that," said Jesse Pisors, UHV vice president for advancement and external relations. "UHV and the Rebuild Texas Fund understand that need and want to continue to do all we can to help."
Shortly after Hurricane Harvey devastated the Texas coast in 2017, the university created the UHV Relief Fund to provide assistance to students who were impacted. Thanks to a number of donations from generous faculty, staff, alumni, friends and organizations, about $50,000 already has been awarded to about 150 students since September.
Jay Lambert, UHV vice president for student affairs, led the UHV Relief Fund Committee and also will administer the Rebuild Texas Fund grants.
"Many of our students were facing financial challenges before Hurricane Harvey," Lambert said. "For some, this magnified their challenges, and for others, it made it impossible to continue their education. This grant will help our students rebuild their lives and help them finish their degrees."
For UHV Master of Business Administration student Hanh Allison, the UHV Relief Fund helped her pay for school expenditures while she paid for car repairs caused by the flood.
"After the storm passed, I opened the door to my car, water came pouring out and the engine later was found to be damaged," Allison said. "I was happy with the $500 I received from the UHV Relief Fund. It really helped me during that time. I know a lot of people were impacted by the hurricane, so I was grateful."
The Rebuild Texas Fund will be distributed through the UHV Financial Aid Office, and students can apply using an online application, Lambert said. A committee will evaluate each application. Past recipients are encouraged to apply, but the goal is to award and help as many students as possible. Childcare grants will require documentation such as receipts. Students are encouraged to apply as early as possible.
"The Rebuild Texas Fund is happy to partner with UHV to assist students who may not have been reached otherwise," said Cristina Cornejo, program officer for the Rebuild Texas Foundation. "We are committed to helping those students continue their education and reach their goals."
The Rebuild Texas Foundation supports the economic recovery of Texas communities devastated by Hurricane Harvey. The foundation is a collaborative project of the Michael and Susan Dell Foundation and the OneStar Foundation. It is funded through the support of nearly 30,000 corporate and individual donors.
"We deeply appreciate the Rebuild Texas Foundation for helping us do more to keep our students in school and achieve their college dreams," Pisors said. "We've been able to do some, but we can do a lot more thanks to them."
UHV students can apply for grant funding by visiting uhv.campuslabs.com/engage/submitter/form/start/195577. For more information, contact Lambert at lambertj1@uhv.edu.
The University of Houston-Victoria, located in the heart of the Coastal Bend region since 1973 in Victoria, Texas, offers courses leading to more than 80 academic programs in the schools of Arts & Sciences; Business Administration; and Education, Health Professions & Human Development. UHV provides face-to-face classes at its Victoria campus, as well as an instructional site in Katy, Texas, and online classes that students can take from anywhere. UHV supports the American Association of State Colleges and Universities Opportunities for All initiative to increase awareness about state colleges and universities and the important role they have in providing a high-quality and accessible education to an increasingly diverse student population, as well as contributing to regional and state economic development.