Close
Book collection donated to UHV in honor of late professor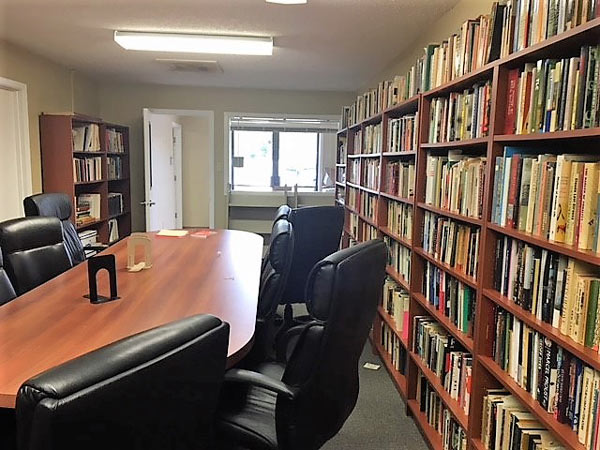 A collection of 2,500 books is housed at the University of Houston-Victoria's Totah Building, 3402 N. Ben Wilson St. The books were donated to UHV by Eva Bueno, professor of Spanish and Portuguese at St. Mary's University in San Antonio, in honor of her late husband, San Antonio writer and professor Terry Caesar.
Area residents now have access to a collection of 2,500 books donated to the University of Houston-Victoria in memory of San Antonio writer and professor Terry Caesar.
Caesar's $25,000 book collection was donated by his wife, Eva Bueno, professor of Spanish and Portuguese at St. Mary's University in San Antonio. Caesar, who was an avid writer and educator, passed away on Feb. 19. He spent his life teaching American literature to college students, traveling, and writing books, essays and reviews. The collection is located in Room 109 of the Totah Building, 3402 N. Ben Wilson St. The books will be available to read in the room during university business hours.
Caesar admired the literary influence and progression UHV was making. He admired the American Book Review Reading Series and interdisciplinary critical theory journal symploke. Jeffrey Di Leo, dean of UHV School of Arts & Sciences, and Caesar met while attending a conference in Chicago. Caesar later contributed to symploke by reviewing writings and ultimately publishing his own work in the journal. The books were donated to UHV, a university that values literature and understands the field of work Caesar did and was passionate about, Bueno said.
"I'm pleased to know that all of his books will be together in one room at UHV," San Antonio resident Bueno said. "It would have been a great pleasure for him that the books will continue their service."
Caesar was born Oct. 23, 1941, in Rockford, Ill. He earned his Bachelor of Arts in English at the University of Redlands in California and graduated from the University of Washington in Seattle with a doctorate in English. He taught American Literature at Clarion University in Pennsylvania until 1999 when he was given the opportunity to launch an English doctoral program at Mukogawa Women's University in Nishinomiya, Japan. He was a Fulbright Visiting Scholar and taught in Egypt, Brazil and Saudi Arabia.
In 1993, he was awarded the Guggenheim Fellowship, considered one of the greatest honors given to U.S. writers and artists. The award allowed Caesar to write another book about travel writing called "Forgiving the Boundaries: Home as Abroad in American Travel Writing."
Caesar's latest books are a collection of essays titled "Speaking of Animals" and a memoir, "Before I Had a Mother." He is the author or co-editor of seven books, including three about academic life, the most recent being "Traveling Through the Boondocks." He moved to Texas in 2003, when he became an adjunct professor at San Antonio College and the University of Texas at San Antonio, and began volunteering with United Way's family services and prison teaching.
"Terry was a longtime friend and colleague of mine," Di Leo said. "This collection will be an asset to students, faculty, staff and community members for many years to come."
Additional books of Caesar's will be added to the collection, Bueno said. She plans to buy back some of the books Caesar donated in the past to other organizations to keep them together in one location. One of the last books Caesar was developing, "The Weight of Reading," is still in manuscript form, and Bueno said she would like to publish it in the future.
"I really am so touched by this collection," Bueno said. "Books do not exist to be entombed. They exist to be read and enjoyed, and to serve as an inspiration to their readers. I know in my heart that these books are going to be important for many generations."
The University of Houston-Victoria, located in the heart of the Coastal Bend region since 1973 in Victoria, Texas, offers courses leading to more than 80 academic programs in the schools of Arts & Sciences; Business Administration; and Education, Health Professions & Human Development. UHV provides face-to-face classes at its Victoria campus, as well as an instructional site in Katy, Texas, and online classes that students can take from anywhere. UHV supports the American Association of State Colleges and Universities Opportunities for All initiative to increase awareness about state colleges and universities and the important role they have in providing a high-quality and accessible education to an increasingly diverse student population, as well as contributing to regional and state economic development.