Close
UHV students learn how culture influences leaders in China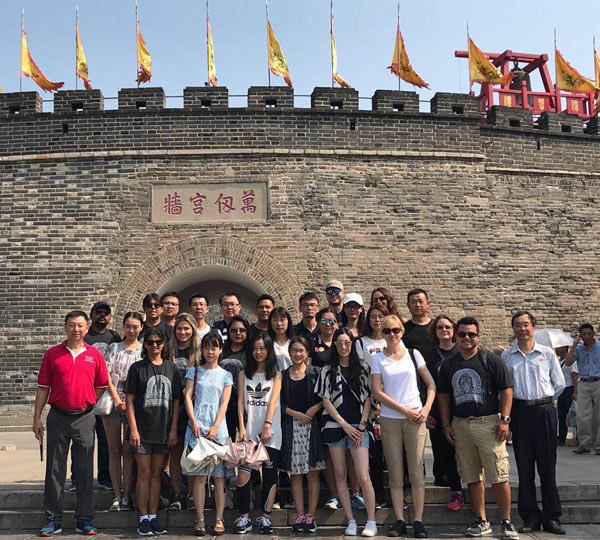 Students and faculty from UHV and two Chinese universities stand at the entrance to Chinese teacher and philosopher Confucius' hometown during the UHV School of Business Administration's two-week study abroad trip in July to China. The students visited many historical sites during their trip and listened to lectures about Chinese business strategies.
Eleven University of Houston-Victoria School of Business Administration students got an up-close look at the history and culture of China and their impact on business strategies as part of a study abroad trip this summer.
"China is a country rich in culture that represents the morals and values of its people and is also a country with a big potential for businesses," said Elizabeth Estrada, a Victoria resident and UHV sophomore majoring in accounting. "I believe that to understand another culture, it is essential to experience it firsthand, and visiting China gave me that opportunity."
The UHV School of Business Administration provided $2,000 scholarships for each student to help pay for the program. A $600,000 donation in 2013 from Chinese businessman Bingxin Wu and his wife, Shuqin Feng, funds the scholarships each year. The donation also established the Wu-Feng Center for International Business at UHV. Wu was awarded a UHV honorary doctorate in 2016.
UHV students were joined on the two-week trip in July by students from the School of Government at the Central University of Finance and Economics, and the Academy of Consumption at the University of International Business and Economics in Beijing. The students from UHV and China were placed in groups during the trip.
"This program is a dialogue of scholars between the East and the West and is the interface of Eastern and Western culture," said Jifu Wang, associate dean of the UHV School of Business Administration. "Participants from the U.S. crossed the Pacific Ocean and gathered with their Chinese counterparts in Beijing and Jinan, where knowledge collided, experiences were exchanged, learning was extended, and Chinese-U.S. friendships were bred and strengthened."
The students started their trip by visiting several sites of cultural and historical significance, such as the Great Wall of China, the Summer Palace, the Lama Temple and the Forbidden City. Later in the trip, they visited the Temple of Confucius. Students also spent a day shopping in the Hongqiao Market and learned about the Chinese style of eating.
"One of the biggest differences between the Chinese and American culture was the food," Estrada said. "Beginning with the table setup, we could see the focus on connections between people. Chinese culture is about sharing, and through the way the food is served on tables equipped with a Lazy Susan in the middle, we could see the harmony of the Chinese culture."
In addition to learning about the history and culture of China, students attended lectures by Wu; Wang; Mo Perwaiz, general manager of Airtech Asia; and Nan Zhao, dean of the Central University of Finance and Economics. The lectures focused on topics such as how Chinese history and culture impacts today's management, how to conduct business in China, leadership strategies and emotional intelligence, and consumption.
As part of one of the lectures, students took a personal assessment to better understand themselves and their leadership styles. For Estrada, one of the things that stood out from her assessment was learning how much culture can impact a person's behavior. The UHV students' results were similar to each other, and the same was true of the Chinese students' assessment scores. But in the midst of their differences, there were still similarities, she said.
"Even though we are different in some aspects, we discovered that all of us scored high on the assessments regarding leadership," Estrada said. "By this, we concluded that regardless of our cultural background, we all can become potential leaders one day."
For information about future UHV School of Business Administration study abroad programs, contact Donna Brinegar, a UHV School of Business Administration academic advisor, at brinegard@uhv.edu or 361-570-4242.
The University of Houston-Victoria, located in the heart of the Coastal Bend region since 1973 in Victoria, Texas, offers courses leading to more than 80 academic programs in the schools of Arts & Sciences; Business Administration; and Education, Health Professions & Human Development. UHV provides face-to-face classes at its Victoria campus, as well as an instructional site in Katy, Texas, and online classes that students can take from anywhere. UHV supports the American Association of State Colleges and Universities Opportunities for All initiative to increase awareness about state colleges and universities and the important role they have in providing a high-quality and accessible education to an increasingly diverse student population, as well as contributing to regional and state economic development.