Close
UHV welcomes students to campus, encourages involvement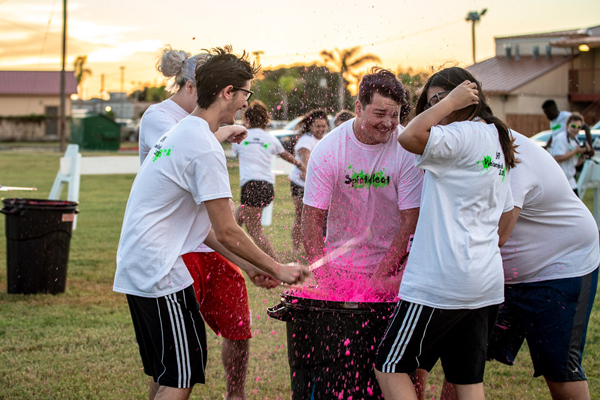 Ezequiel Lopez, center, a UHV freshman from Manvel, participates with other students Aug. 31 in the university's annual Splatterbeat event as part of the closing of the UHV Welcome Week activities.
This year is Alexis Wallace's third time experiencing the University of Houston-Victoria's Welcome Week activities, and now that she's helping at the events, she enjoys it just as much as the first time.
"These events encourage new students to come out of their rooms, get involved and have some fun," said Wallace, an Austin junior. "Every new class that comes in is starting to get more involved, and I love it."
Wallace, a business management major, was one of 140 students who took part in the university's Splatterbeat event at the residence halls to wrap up the first week of classes at UHV. Every year, the university offers a wide range of activities and information sessions to help students prepare for and start the semester.
"The point of Jaguar Journey and Welcome Week is to encourage new students as they start their college journey and also show all of our students the importance of involvement on campus," said Hilary Kofron, UHV Student Life director. "It was cool to see the students come together during Jaguar Journey, and the more they get involved and encourage others to do the same, the better their UHV experience will be."
The weekend before classes began, incoming freshmen and transfer students took part in Jaguar Journey. New students moved into the residence halls on Thursday, Aug. 23, and Jaguar Journey took place from the following Friday to Sunday. Students participated in activities designed to introduce them to their fellow students and UHV. This year, 288 students attended Jaguar Journey.
During Jaguar Journey, students were divided into teams. Each team made a team poster and went through all the weekend activities together, including outdoor games such as capture the flag and the human pyramid. Students also attended workshops about services that are available on campus and took a campus tour to find their class locations. They also took a trip to the YMCA to play dodgeball and swim in the pool. At night, there were activities in the residence halls including a casino night with karaoke, and a performance by the comedian JR Brow. At the end of Jaguar Journey, students attended a closing ceremony, where the results of several Jaguar Journey challenges were announced.
"My favorite parts of Jaguar Journey were the outdoor activities," said Ezequiel Lopez, a freshman from Manvel. "Even though it was really hot and sweaty, we still had a lot of fun interacting once we were in the moment."
For Lopez, Jaguar Journey events helped him get in touch with other new students and make some new friends.
"When you first come in, you start off a little awkward because you don't know people, but then you get close to everybody," he said. "Jaguar Journey does make it easier for you to get to know people."
Welcome Week began Monday morning with a welcome station at the UHV shuttle drop-off a the UHV University Center building. During the first week of classes, several events hosted by multiple departments were held to help students start the year on a positive note and learn about services available at UHV. Events were hosted by the Student Government Association, the Counseling Center, Student Life, Admissions and Recruitment, Financial Aid, Residence Life , Career Services, the Victoria College/UHV Library, International Programs and the Student Success Center.
In addition, students were able to attend nightly activities including a movie night, grocery bingo, and Splatterbeat with DJ Russel.
"There was a lot of planning all over UHV to make sure our students had a great welcome to the university," Kofron said. "It was so great to see so many departments of the university coming together to support students during their first week. It really shows them that we want their time earning a degree to be a positive experience."
The University of Houston-Victoria, located in the heart of the Coastal Bend region since 1973 in Victoria, Texas, offers courses leading to more than 80 academic programs in the schools of Arts & Sciences; Business Administration; and Education, Health Professions & Human Development. UHV provides face-to-face classes at its Victoria campus, as well as an instructional site in Katy, Texas, and online classes that students can take from anywhere. UHV supports the American Association of State Colleges and Universities Opportunities for All initiative to increase awareness about state colleges and universities and the important role they have in providing a high-quality and accessible education to an increasingly diverse student population, as well as contributing to regional and state economic development.