Close
Author finds ways to diverge from ethnic expectations
When Don Lee was in college, he originally planned to study mechanical engineering and oceanography so he could build and pilot submersibles, but an elective creative writing course changed everything.
"I found myself bored silly with all of the prerequisite classes for my major," said the next author in the fall University of Houston-Victoria/American Book Review Reading Series. "I used to read a lot of science fiction and mysteries in high school, and decided to take this creative writing course. That was it. I found my comrades and my true passion."
Lee is an author and director of the Master of Fine Arts in creative writing program at Temple University in Philadelphia, and he will speak at 11 a.m. Nov. 15 in UHV University West Alcorn Auditorium, 3007 N. Ben Wilson St. The event is free and open to the public.
"Don Lee's work offers an unshielded, unexpected view of life," said Jeffrey Di Leo, ABR editor and publisher, and dean of the UHV School of Arts & Sciences. "His emphasis on offering different narratives than the typical cultural identity story has made a lasting impact in fiction. I look forward to hearing his presentation."
During his presentation, Lee plans to read from his latest book, "Lonesome Lies Before Us," and talk about his experience as an Asian American author and the expectations that others tend to place on him. For example, one of the tropes Asian American authors tend to experience is photos or images of women in "traditional dress" on the cover of their books, Lee said.
"Many writers of color have found that their work is expected to fit within a certain ethnic literature box," Lee said. "This expectation covers everything from the story itself to the cover art of the book. The struggle for artists of color can become a question of how to become an artist whose work and success is not necessarily interlaced with his or her ethnic identity."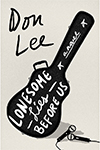 Lee's stories often come from a single spark of inspiration and expand into a full story, he said. His novel "Lonesome Lies Before Us" was inspired by a real life story he heard about a musician who contracted a disease and slowly lost his hearing. While he wondered how a musician could reconcile with that situation, Lee's novel began to take shape. Similarly, in his book "Yellow," Lee was inspired by two of his friends who were poets and had long hair, and he created the "Oriental Hair Poets" characters.
Although the details can spark the inspiration he needs to begin a project, his favorite part is finishing a novel, Lee said.
"Novels can start out so incoherent and fuzzy, and I wonder sometimes if it's going to come to fruition," he said. "But over time, the story coheres and becomes whole. I get real satisfaction from that. I can't control others' reaction to my work, but for me, the primary purpose is the work and pouring my heart into it."
The final writer scheduled for the fall UHV/ABR Reading Series is Shelley Jackson, who will come to UHV on Dec. 7. Jackson is an American writer and artist known for her cross-genre experiments, including her 1995 hyperfiction, "Patchwork Girl," which used tissue, scars, the body and the skeleton as metaphors for the juxtaposition of lexia and link. She also is the author of several children's books and the short story collection "The Melancholy of Anatomy." In 2003, she launched the "Skin Project," a novella published exclusively in the form of tattoos on the skin of volunteers, one word at a time. Jackson's first novel, "Half Life," was published by HarperCollins in 2006. "Half Life" went on to win the 2006 James Tiptree Jr. Award for science fiction and fantasy.
ABR is a nonprofit, internationally distributed literary journal published six times a year. It began in 1977, moved to UHV in 2006 and has a circulation of about 8,000. The journal specializes in reviews of works published by small presses.
Authors are available after each reading to sign copies of their books. Each author also meets with students and attends a community reception.
For more information about the UHV/ABR Reading Series, call the ABR office at 361-570-4101 or go to www.americanbookreview.org.
The University of Houston-Victoria, located in the heart of the Coastal Bend region since 1973 in Victoria, Texas, offers courses leading to more than 80 academic programs in the schools of Arts & Sciences; Business Administration; and Education, Health Professions & Human Development. UHV provides face-to-face classes at its Victoria campus, as well as an instructional site in Katy, Texas, and online classes that students can take from anywhere. UHV supports the American Association of State Colleges and Universities Opportunities for All initiative to increase awareness about state colleges and universities and the important role they have in providing a high-quality and accessible education to an increasingly diverse student population, as well as contributing to regional and state economic development.