Close
University, community come together to celebrate year's successes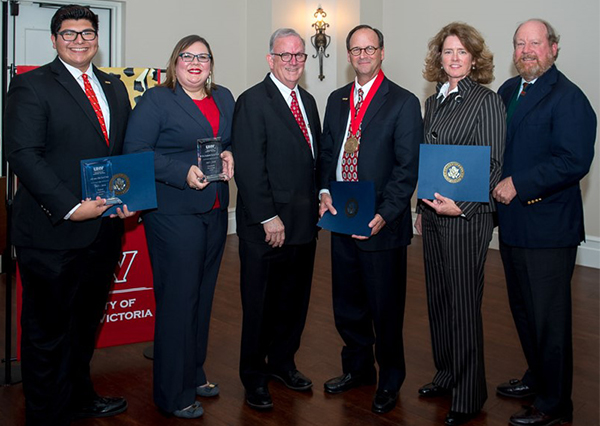 UHV President Bob Glenn, third from left, stands with award recipients Tuesday after the 2017-2018 UHV President's Annual Report & Excellence Awards event at Spring Creek Place Event Center. With Glenn are, from left, Alvaro De La Cruz, a UHV senior who received the Student Leadership Award; Cristina Cornejo, program officer for the Rebuild Texas Fund who accepted the Community Partnership Award for the fund; Roger Welder, a former UH System regent who was awarded the Presidential Medal; and Shannon Wood Bush and Chris Bush, who accepted the People Who Make a Difference Award on behalf of the Bennett-Wood Family.
University and community leaders gathered Tuesday evening to celebrate the 2017-2018 University of Houston-Victoria President's Annual Report & Excellence Awards, including the presentation of awards to a former regent, a family that has donated land to support UHV Athletics and others.
More than 230 people came to Spring Creek Place Event Center for the presentation that highlighted the university's accomplishments and community involvement during the 2018 fiscal year.
The theme for this year's annual report is "Together We Can," which references how the university and the communities it serves came together for a successful 2017-2018 after Hurricane Harvey. The report may be viewed online at UHVAnnualReport.com.
"There are so many successes and achievements to celebrate, despite a rough start to 2017-2018," UHV President Bob Glenn said. "Last year was a testament to the strength and commitment of UHV's faculty and staff, and the support of Victoria and the communities we serve. Together we accomplished great things."
Glenn presented four awards during the ceremony, including the Presidential Medal, which was given to Victoria resident Roger Welder, who served more than six years on the UH System Board of Regents. The medal is the highest award bestowed by the university and is given periodically to recognize individuals who have made distinguished professional and public contributions to UHV, the community it serves or to higher education in general.
Welder was on the Board of Regents from Sept. 1, 2011, to March 12, 2018. During that time, he served terms as chair of both the audit and compliance, and academic and student success committees, as well as serving as vice chair and a member of additional committees. He also has invested in the Victoria community by serving on the boards of First Victoria National Bank, Texas and Southwestern Cattle Raisers Foundation, Victoria Symphony Endowment, Victoria Airport Commission, Victoria Independent School District Education Foundation, Victoria College and numerous other professional, civic and business organizations. In addition, he is a member of the UHV President's Regional Advisory Board.
"I was very proud to serve in this role," Welder said. "There were some big shoes to fill before me. We are blessed to have UHV in our community, and I appreciate all the university has done. I hope we can continue partnering in the future."
Another highlight of the evening was the People Who Make a Difference Award, which pays tribute to those who have supported the university and made a difference in the quality of life of the community. This year, the award was given to the Bennett-Wood Family, who recently donated 65 acres of land to UHV for the development of a new athletics complex near the Victoria Regional Airport.
The Bennett-Wood Family has supported education in the area for generations, including a 1918 donation of land to build the William Wood Elementary School. Recently, the family also announced the donation of land to the Texas Zoo, which houses UHV's live jaguar mascot jaX. The zoo's land will be adjacent to the new UHV Athletics complex.
"I am humbled and honored to be part of the history of UHV," said Shannon Bush, who represented the family at the event. "When this idea came up at a family meeting, we all said, 'Heck yeah!' Now we are excited to see what the future brings."
The UHV Community Partnership Award was given to the Rebuild Texas Fund in recognition of a $100,000 grant the fund awarded to the UHV Relief Fund. The fund was established after Hurricane Harvey to help impacted students. In addition to the donation to UHV, the Rebuild Texas Fund has raised $100 million, supported recovery efforts in 41 counties, and has worked hand in hand with local community leaders to identify needs across critical areas, including community and economic development, education and child care, health, housing, small business, workforce and transportation.
"On behalf of the Rebuild Texas Fund, we are so honored to be recognized for this award, but also just to be part of the community," said Cristina Cornejo, program officer for the fund. "Over the past year, our hope has been to not just rebuild buildings but to rebuild communities and mend spirits. UHV has been a phenomenal partner, and we're excited to be a part of your students' education and building their future."
The Student Leadership Award recognizes a student who demonstrates excellence in leadership and academics. This year's award was given to Alvaro De La Cruz.
De La Cruz is a senior biology major from Converse. During the 2017-2018 year, he served as president of the UHV Student Government Association. He also has held the positions of president of the Pre-Health Student Association, vice president of the Residence Hall Association and has been a resident assistant every year at UHV, including a senior resident assistant during the past two years. During his term as president of the Student Government Association, his administration spearheaded the effort to create the UHV alma mater.
"Receiving this award was such a wonderful surprise," De La Cruz said. "To me, I was just doing what needed to be done. I want to thank everyone who helped me become the person I am today."
In addition to these awards, the event also featured videos about Athletics, Student Life and each of the three academic schools followed by speeches about highlights from the past year. These included:
In the School of Arts & Sciences, the National Science Foundation awarded UHV a $645,677 grant to help increase enrollment, retention and graduation of low-income students majoring in mathematics and computer science.
The School of Business Administration streamlined its Global and Strategic Master of Business Administration programs to accommodate students' changing lifestyles and better prepare them to compete in the business world. This included revamping the credit requirements and fees for both degrees.
In the School of Education, Health Professions & Human Development, the Commission on Collegiate Nursing Education accredited the university's Registered Nurse to Bachelor of Science in Nursing through 2023, and the first 10 nurses graduated from the program.
Student Life was able to provide more than 170 activities for students to engage in, including more than a dozen multicultural events.
UHV men's soccer won its first Red River Athletic Conference regular season title and then went on to win its first RRAC Conference Tournament and earn its first-ever berth to the NAIA Men's Soccer Opening Round Tournament. In addition, the softball team claimed its first RRAC tournament title, as well as its sixth trip to the NAIA National Championship.
The 2017-2018 annual report website features videos shown during the event; faculty, staff, student and alumni highlights; UHV's enrollment and financial figures; a list of donors; and more. Videos filmed at Tuesday's event and an event photo gallery soon will be added to the website.
The University of Houston-Victoria, located in the heart of the Coastal Bend region since 1973 in Victoria, Texas, offers courses leading to more than 80 academic programs in the schools of Arts & Sciences; Business Administration; and Education, Health Professions & Human Development. UHV provides face-to-face classes at its Victoria campus, as well as an instructional site in Katy, Texas, and online classes that students can take from anywhere. UHV supports the American Association of State Colleges and Universities Opportunities for All initiative to increase awareness about state colleges and universities and the important role they have in providing a high-quality and accessible education to an increasingly diverse student population, as well as contributing to regional and state economic development.