Close
UHV receives $1.5 million from Johnson Foundation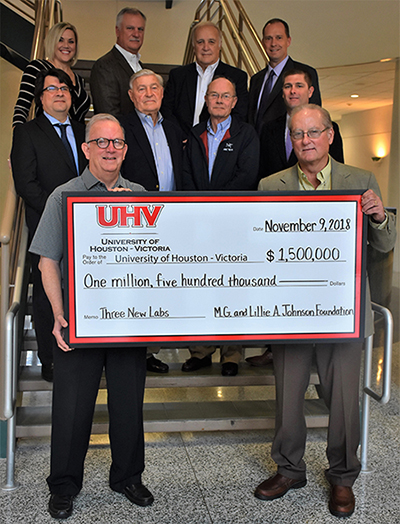 Robert Halepeska, front right, executive vice president of the M.G. and Lillie A. Johnson Foundation, presents a $1.5 million check Nov. 9 to Bob Glenn, University of Houston-Victoria president, front left. This is the largest gift in university history and will be used for the equipping and build-out of health career education related labs that will be housed in the new Science, Technology, Engineering and Mathematics, and Town Plaza Mall buildings. Also pictured are, from top left, Courtney Middleton-Sides, senior director for corporate and foundation relations; Russell Marshall and Terrell Mullins, board members of the foundation; Jesse Pisors, UHV vice president for advancement and external relations; Jeffrey Di Leo, center left, dean of the UHV School of Arts & Sciences; Buddy Brock and Jack Morrison, board members of the foundation; and Matt Alexander, director of UHV capital projects and construction.
The largest donation in the history of the University of Houston-Victoria made this month will allow the university to enhance its health career education offerings for students.
The $1.5 million gift from the M.G. & Lillie A. Johnson Foundation was made on the 30-year anniversary of the foundation's first gift to the university.
"We are extremely grateful to the Johnson Foundation for this remarkable gift," UHV President Bob Glenn said. "Higher education is so important, and using these funds to build-out health-related labs and equip them for our students is critical for the success of the next generation of health professionals."
The donation will help build-out and equip state-of-the-art anatomy and biology, organic chemistry and kinesiology labs located in UHV's new Science, Technology, Engineering & Mathematics building, and a portion of the former Town Plaza Mall that the university owns and is renovating. The labs will provide students with advanced tools to learn about anatomy, physiology, biology, biochemistry and kinesiology, most of which are required areas of study for careers in medicine, dentistry, physical therapy, occupational therapy, gerontology and other health-related professions.
"The M.G. & Lillie A. Johnson Foundation is focused on making a positive difference in the areas of education and health in Victoria and the surrounding region, and a strong, thriving UHV is important," said Robert Halepeska, executive vice president of the foundation. "The foundation has invested in the work of UHV for 30 years, and we are proud of what UHV has become during the past several decades. We are pleased to play a role in helping the university move forward in ways that complement the foundation's focus on health-related education."
The foundation's first gift to the university 30 years ago was a $100,000 donation made in December 1988 to establish the Johnson Foundation Scholarship Endowment, said Jesse Pisors, UHV vice president for advancement and external relations. The foundation consistently has given to the university since then.
"We are deeply grateful for this gift, and it is especially meaningful coming from a longstanding donor who has a history of giving to the university at a transformational level," Pisors said.
The organic chemistry, and biology and anatomy labs will be housed in UHV's new STEM building. A groundbreaking ceremony for the building will take place at 11:30 a.m. Friday on the south side of UHV University Center, 3007 N. Ben Wilson St. The building is slated for completion in fall 2020.
The 58,464-square-foot, three-story STEM building also will include lab space for computer science, microbiology, physics, computer engineering and digital gaming; classrooms; faculty and staff offices; a seminar room; gathering spaces; and an immersive 210-degree screen lab. The screen in this lab room will provide images that appear to surround the user, providing an interactive experience.
"This gift will allow generations of UHV students to use state-of-the-art lab equipment in their science education pursuits," said Jeffrey Di Leo, dean of the UHV School of Arts & Sciences. "We hope the expanded research opportunities this equipment provides will challenge our students to explore the sciences in greater depth."
In addition, this gift will allow the School of Education, Health Professions & Human Development to equip and build a kinesiology lab for undergraduate and graduate students majoring in kinesiology, said Fred Litton, dean of the school. A master's degree in kinesiology is under development. The exercise science lab will be housed in a portion of what was once Town Plaza Mall at Airline Road and Laurent Street. The renovated building will house the UHV Small Business Development Center, the Regional Economic Development Center, climate-controlled space for records retention, and storage and administrative offices. The first phase of the building's renovation is expected to begin in April.
"This gift is extremely exciting and much appreciated at a time when we want to be able to expand the programs we offer to students," Litton said. "The kinesiology lab will allow us a more competitive playing field with other universities."
Some of the equipment expected to be purchased for the three labs with part of the $1.5 million gift include sterilizers, desktop incinerators, chemical analyzers, blood pressure measurement devices, body composition analyzers and ultrasound devices for testing and diagnoses, said Courtney Middleton-Sides, UHV senior director of corporate and foundation relations. These items will help UHV students receive the hands-on experiences they will need to enter the medical field.
"I continue to be humbled by the generosity of the M.G. and Lillie A. Johnson Foundation," Middleton-Sides said. "The foundation's support makes a substantial impact on the university and significantly enhances the academic future of our students."
The University of Houston-Victoria, located in the heart of the Coastal Bend region since 1973 in Victoria, Texas, offers courses leading to more than 80 academic programs in the schools of Arts & Sciences; Business Administration; and Education, Health Professions & Human Development. UHV provides face-to-face classes at its Victoria campus, as well as an instructional site in Katy, Texas, and online classes that students can take from anywhere. UHV supports the American Association of State Colleges and Universities Opportunities for All initiative to increase awareness about state colleges and universities and the important role they have in providing a high-quality and accessible education to an increasingly diverse student population, as well as contributing to regional and state economic development.