Close
UHV breaks ground on new STEM building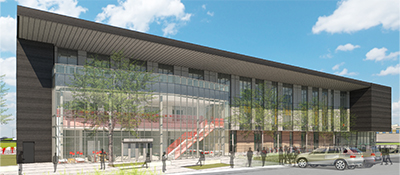 This artist's rendering shows what the new UHV Science, Technology, Engineering & Mathematics building is expected to look like once completed.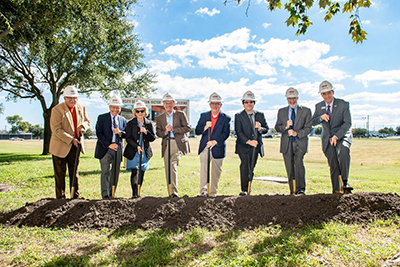 University of Houston-Victoria and community leaders get ready to shovel dirt Friday to mark the ceremonial start of construction on the university's new Science, Technology, Engineering & Mathematics building. From left are Vic Morgan, former UHV president; Wayne Beran, UHV vice president for administration and finance; State Rep. Geanie Morrison; Jack Morrison, board member of the M.G. & Lillie A. Johnson Foundation, UHV President Bob Glenn; Jeffrey Di Leo, dean of the UHV School of Arts & Sciences; David Cockrum, UHV interim provost and vice president for academic affairs; and Jesse Pisors, vice president for advancement and external relations.
Community and University of Houston-Victoria leaders broke ground Friday with golden ceremonial shovels to signify the beginning of construction on the university's new 58,464-square-foot Science, Technology, Engineering & Mathematics building.
"This new STEM building will vastly improve our ability to offer additional science programs and allow our students ready employment in the Coastal Bend," UHV President Bob Glenn said. "We are fortunate to have strong industries in this region with a need for scientists and engineers. We want to provide these exceptional companies with the employees they need, which also will help ensure the prosperity of our region for years to come."
UHV students, alumni, faculty and staff were joined by community leaders for the groundbreaking celebration. Also attending were members of UH System Facilities Planning & Construction and representatives from companies working on the building.
The new STEM building will be located on the south side of the UHV University Center, directly across from UHV University North, 3007 N. Ben Wilson St. Construction on the three-story building will begin this month and is slated for completion by fall 2020.
"This building is critical for us to continue the pathway to becoming a destination university," said Wayne Beran, UHV vice president for administration and finance. "The building will attract many students interested in science and medical fields, and open up other courses of study in the future."
A 120-seat classroom; computer software and study rooms; motion capture, robotics and gaming labs; and a computer software server room will be located on the first floor, along with study spaces and spots for students to collaborate. In addition, an immersive 210-degree screen lab will be featured. The screen in this lab will display images that appear to surround the user, providing an interactive experience.
"The visually immersive display can support learning in game-like educational virtual reality," said Yun Wan, a professor of computer information systems and chair of the Science, Technology and Mathematics Division in the UHV School of Arts & Sciences. "We will use this lab to conduct experiments and research related to gaming design, allowing students to comfortably test their designs in a virtual reality environment."
The second floor will feature labs for biology, anatomy, physiology, microbiology and biochemistry for students pursuing health careers. Rooms for cellular and molecular biology, plant biology and ecology research also will be included, as well as rooms for microscopy and sterilization.
"We have an outstanding faculty, and this new building will be their home to showcase and share with our students and community their passion for the sciences," said Jeffrey Di Leo, dean of the UHV School of Arts & Sciences. "We are excited that popular programs, including computer science and biology, now will have a dedicated floor. With these dedicated spaces, faculty and students will be able to configure teaching and research more effectively and conveniently."
The third floor will feature additional science labs, including organic chemistry, chemistry and physics. The floor also will house a research room for biology; a chemistry prep room; several offices, workrooms and study rooms; and a classroom. In addition, an outdoor terrace will overlook the University Center and University North buildings.
The layout of the STEM building was designed to feature collaborative study and work areas, and state-of-the-art equipment that faculty and students can use, said Matt Alexander, UHV director of capital projects.
"We planned for spaces that would encourage students in different classes to work together, increase the look and feel of the university campus, and allow students to remain on the main part of the UHV campus rather than commuting back and forth between the buildings and Jaguar Village," Alexander said.
The STEM building will cost $28 million to construct. The general contractor for the project is BE&K Building Group of Houston, and the architect is SmithGroup, based out of Dallas.
A $1.5 million gift from the M.G. & Lillie A. Johnson Foundation was announced by the university on Thursday and will help build-out and equip state-of-the-art anatomy and biology, and organic chemistry labs located in the new STEM building. The gift also will help build a kinesiology lab that will be housed in the former Town Plaza Mall that the university owns and is renovating. The STEM labs will provide students with advanced tools to learn about anatomy, physiology, biology, biochemistry, most of which are required areas of study for careers in medicine, physical therapy, occupational therapy and other health-related professions.
"This building represents growth for UHV and the region it serves, including increased employment opportunities for students," Glenn said. "If this building doesn't make people excited about the future of Victoria, I don't know what will."
The University of Houston-Victoria, located in the heart of the Coastal Bend region since 1973 in Victoria, Texas, offers courses leading to more than 80 academic programs in the schools of Arts & Sciences; Business Administration; and Education, Health Professions & Human Development. UHV provides face-to-face classes at its Victoria campus, as well as an instructional site in Katy, Texas, and online classes that students can take from anywhere. UHV supports the American Association of State Colleges and Universities Opportunities for All initiative to increase awareness about state colleges and universities and the important role they have in providing a high-quality and accessible education to an increasingly diverse student population, as well as contributing to regional and state economic development.