Close
UHV business students present case at BBA conference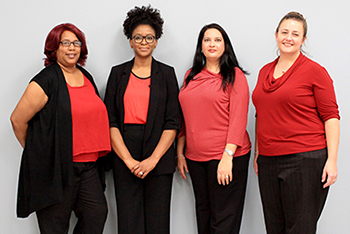 UHV students Brenda Browder, left, Chinelo Umeh, Kimberly Peyronel-Howson and Deborah Roberts pose for a team photo during the UHV School of Business Administration's Bachelor of Business Administration Case Conference. The students tied for first place.
The 35th University of Houston-Victoria Bachelor of Business Administration Case Conference ended in a tie for first place after 125 students on 30 teams presented ways that Encore Wire Corporation could improve its business.
This year, two winning teams took home the first-place award for their presentations. The first team included Brenda Browder of East Bernard, Kimberly Peyronel-Howson of Allen, Deborah Roberts of Galveston and Chinelo Umeh of Humble. On the second team were Kealeigh Alex of Edna, and Ethan Hoover and Hannah Staten of Victoria.
"I wish all alum, potential students, employers and donors could have observed our recent BBA conference," said Charles Stowe, UHV School of Business Administration interim dean. "They would have chanted 'You're hired!' in response to the team presentations. Quality business education is not limited to abstract theories at UHV. We believe in providing our students with real-world skill sets and practice in creative thinking to be able to offer multiple solutions to solving problems. Our faculty deserve the credit. They deliver a superb curriculum."
The UHV School of Business Administration held the Dec. 1 conference at UHV Katy. Every semester since 2007, students enrolled in "Strategic Management," the capstone course of the BBA program, have attended the conference and competed as teams in the presentation of a company case analysis.
Encore Wire Corporation manufactures copper and aluminum wiring for residential, commercial and industrial buildings. The company was founded in 1989 in McKinney.
During the conference, students must present information from different analyses of the company to a panel of judges made up of UHV faculty, alumni and community business leaders, who give scores to individuals and teams. Although the conference is a competition, it also is a celebration of the completion of students' degrees, said Charlie Huang, UHV associate professor of management.
"The conference is a real challenge for our students, because they must take everything they learned during the previous years and apply it in a practical setting," Huang said. "It is an exciting time for everyone, and all of the students deserve congratulations for their hard work. Their success speaks to the excellence of our entire program."
The key to success for one winning team was working off each other's strengths, said Peyronel-Howson, who received her BBA in healthcare administration Saturday. The process of collecting and analyzing data about the company was challenging, but being able to use everything the team learned while earning their degrees was rewarding.
"I was privileged to work with such an amazing, intelligent group of ladies," she said. "We were able to go into our presentation with confidence because we worked well together and our preparation was excellent. We knew we did well, but it was a wonderful surprise to find out we tied for first place. We're all so proud of each other."
When Alex's team began preparing for the conference, they looked at press releases about previous conference winners to see what they needed to do to win. After collecting information and doing different analyses, her team made some recommendations to help the company compete with others more effectively.
"The company is already doing a lot with metal wires, but fiber optics and Wi-Fi capability are everywhere now," Alex said. "We suggested that the company should look into offering these options as well. After all the hard work we put in, it was amazing to get first place."
Other teams placing in the BBA competition were:
Second Place – Jacquelynn Esquivel of Katy, Alejandro Garcia of Inez, Claudia Haas of Port Lavaca, Jacquie Haney of Victoria and Mubeen Walimomin of Sugar Land.
Third Place – Erik Christensen, Jacklyn Foster and Dana Wimer of Katy; Dilveer Mand of Cypress and Gabriela Velastegui of Houston.
The University of Houston-Victoria, located in the heart of the Coastal Bend region since 1973 in Victoria, Texas, offers courses leading to more than 80 academic programs in the schools of Arts & Sciences; Business Administration; and Education, Health Professions & Human Development. UHV provides face-to-face classes at its Victoria campus, as well as an instructional site in Katy, Texas, and online classes that students can take from anywhere. UHV supports the American Association of State Colleges and Universities Opportunities for All initiative to increase awareness about state colleges and universities and the important role they have in providing a high-quality and accessible education to an increasingly diverse student population, as well as contributing to regional and state economic development.