Close
'Keepin' it Fresh at UHV' selected as university's 2019 Homecoming theme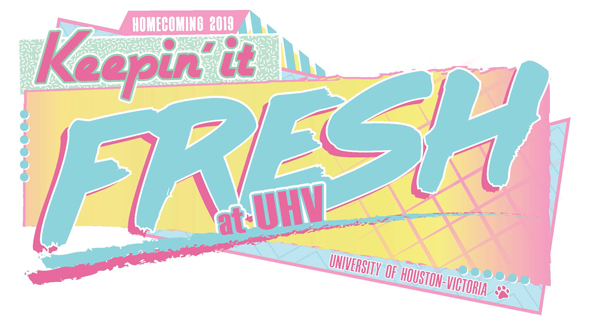 The University of Houston-Victoria is bringing back the '90s during its 2019 Homecoming.
"Keepin' it Fresh at UHV" will be this year's Homecoming theme, and attendees during the week's activities will get to experience some flashbacks to the decade.
"We're really excited about the theme," said Hilary Kofron, UHV Student Life director and co-chair of the 2019 Homecoming Committee. "Voting results were narrowed down to top three options, and the '90s theme won by far, so we know students, faculty and staff are invested in Homecoming and will be engaged during the week's activities."
The event is a way for the university to unite employees, students, community members and alumni.
"Homecoming is a great tradition and an opportunity to celebrate higher education," UHV President Bob Glenn said. "Alumni are able to return to campus and remember why they came here in the first place and all the reasons they were proud to be UHV Jaguars. It's all about connecting to the fact that UHV has a deep, lasting impact on those who are and were able to be part of this great learning community."
UHV students, faculty and staff were able to vote on this year's theme. Kofron said the voting response this year was faster, more engaged and nearly triple the amount of last year.
The week will begin Feb. 25, with a kickoff that will be free and open to the public. Homecoming will continue with activities every day leading up to a dance on March 2, following a UHV baseball doubleheader game against Wiley College at noon. The Homecoming king and queen will be crowned between games. Another event scheduled is a magic show that will take place before the annual 1973 Breakfast for students held Feb. 26.
Some of the other returning events for Homecoming will include an alumni banquet on March 1 with guest entertainment, the president's tailgate and a luncheon for retired faculty and staff.
Kira Mudd, UHV director of alumni relations and annual giving, said last year's alumni banquet had a tremendous turnout and brought about 200 attendees to UHV. The event will include a seated dinner followed by entertainment. The event provides a festive platform for recognizing selected distinguished alumni, she said.
"The Alumni Banquet is the biggest alumni event of the year," Mudd said. "It is a time to celebrate and reunite with our alumni over dinner and showcase UHV highlights during the program. Alumni who graduated in 1974 to the most recent graduating classes are seen in attendance. We absolutely love hosting them and look forward to it each year."
This year's Homecoming events also will include a spirit cup showcase; a powderpuff football game; and the fourth annual talent show.
Deshavian Williams, UHV's 2018-2019 Student Government Association president and co-chair of the 2019 Homecoming Committee, said he's most excited about everything related to the theme from creative decorations to the social events. Williams expects the fun, nostalgic theme to encourage community members to participate.
"Last semester, I discovered a few old pictures of the Student Government Association in the 1990s," Williams said. "'Keepin it Fresh' at UHV became a theme inspired by those photos and the stories underneath them. We're excited to see everyone on campus and the community show their pride, cheer on Athletics, meet new people and network with alumni. We hope this theme gets everyone involved."
For more information about Homecoming, contact Kofron at kofronh@uhv.edu. To learn more about the Alumni Banquet, contact Mudd at muddke@uhv.edu.
The University of Houston-Victoria, located in the heart of the Coastal Bend region since 1973 in Victoria, Texas, offers courses leading to more than 80 academic programs in the schools of Arts & Sciences; Business Administration; and Education, Health Professions & Human Development. UHV provides face-to-face classes at its Victoria campus, as well as an instructional site in Katy, Texas, and online classes that students can take from anywhere. UHV supports the American Association of State Colleges and Universities Opportunities for All initiative to increase awareness about state colleges and universities and the important role they have in providing a high-quality and accessible education to an increasingly diverse student population, as well as contributing to regional and state economic development.