Close
UHV SBDC director to retire at end of month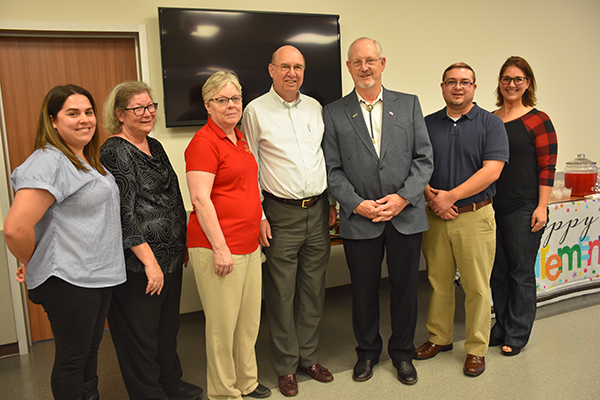 Joe Humphreys, UHV Small Business Development Center director, third from the right; celebrates Jan. 17 at UHV during a retirement reception with faculty and staff. Humphreys' last day at the university will be Jan. 31. With Humphreys are UHV SBDC staff members Whitney Schroeder, left, training coordinator; Jean Smith, coordinator of the Regional Center for Economic Development; Shirley Sommer and Donald Jirkovsky, business advisors; Mark Martinez, senior business advisor; and Lindsey Young, finance & operations manager.
The executive director of the University of Houston-Victoria Small Business Development Center and Regional Center for Economic Development and Entrepreneurship is retiring at the end of January after 12 years at the university guiding small business owners to success.
Joe Humphreys will retire Jan. 31 from the UHV SBDC, which provides quality counseling, training and technical assistance to existing and start-up small businesses in an 11-county area. UHV's economic development center partners with 10 counties surrounding Victoria to realize rural job creation, increase community awareness and involvement in regional economic development, and better prepare the region for economic stability.
"Joe has operated the SBDC with the highest integrity, giving solid business advice and creating a highly trained and respected staff," said Wayne Beran, UHV vice president for administration and finance. "He has been steadfast in his commitment to the SBDC, the university and the communities the SBDC serves. He leaves his mark on an organization that will continue the good work he supported so well."
Humphreys started working at the UHV SBDC in 2006 as a business advisor. Soon after, he served as interim director for a little more than a year before being asked to step into the assistant director role from 2008 to 2011. In 2011, Humphreys was promoted to executive director of the UHV SBDC. He later would lead the economic development center once it was established in 2015.
"Working for the past six years with a boss like Joe has been a positive experience and has helped me grow professionally," said Whitney Schroeder, UHV SBDC training coordinator. "He always has encouraged and supported his team, focusing on our lessons learned rather than our shortcomings. He's like that unicorn manager who everyone wants to have but is hard to find!"
Humphreys brought more than 35 years of small business ownership and management experience in the service and retail industries to the SBDC and economic development center. He successfully ran his own company Humphrey's Moving & Storage for a while before opening Ritz Food Mart in El Campo, and later, ventured into operations management for Armstrong Warehouse & Transfer. Humphreys has worked with more than 800 entrepreneurs and small business owners through his expertise in accounting, financial statements, and financial and business planning.
"The most rewarding experience is to hear from a client 'I couldn't have done it without your help,'" Humphreys said. "I've learned so much, built great relationships and have had a wonderful experience working with entrepreneurs and my team at the SBDC. It's been absolutely rewarding."
Under Humphrey's leadership, the UHV SBDC earned the SBDC Excellence and Innovation Award during the Small Business Week Awards hosted by the San Antonio region Small Business Administration in May 2015. At that same ceremony, a first-time Victoria small business owner was awarded the region's Small Business Person of the Year Award. Diane Kliem, president of Kliem & Associates Attorneys at Law, was recognized for successfully starting her firm after working with the UHV SBDC. While working for Humphreys, Lisa Barr, a UHV SBDC senior business advisor, received the State Star award for the SouthWest Texas Border Region SBDC three times.
Leadercast, the world's largest one-day leadership conference that is broadcast live from Atlanta to hundreds of locations around the world, has been hosted by the UHV SBDC in Victoria for the past seven years. Leadercast Women, a similar format tailored to female leaders, was added in 2017 in Victoria.
Helping business owners with transitions and exit strategies, and determining the value of their businesses is Humphrey's passion, he said. Many clients have gone on to be successful business owners, and some would return their gratitude by meeting him for lunch and updating him about how their businesses were doing.
"It always was important for me to help clients by asking them tough questions they may not have otherwise considered," he said. "My advice to them each time was 'you don't know what you don't know,' so let's talk about those things."
In addition to coaching small business owners, Humphreys has worked with Mary Peters, associate director of the South-West Texas Border SBDC, for the past 12 years to expand the economic development in the region the UHV SBDC serves. One way he contributed was by collaborating with other centers through mentorship, Peters said. Humphreys started a Directors Only Forum within the South-West Texas Border SBDC, which helped foster relationships between directors and encourage growth.
"Our SBDC organization's values are based on the servant-leadership mindset a basketball team would have – it's not about how many points you score as an individual, it's about how many assists you can make to benefit the entire team," Peters said. "Joe is a prime example of this type of leader, and we'll truly miss working with him."
Humphreys plans to spend his retirement gardening, doing woodwork and metalwork in his shop, and spending time with his wife, Diana, who recently retired. The couple will celebrate 49 years of marriage this year.
A search to fill the UHV SBDC executive director position is underway.
The University of Houston-Victoria, located in the heart of the Coastal Bend region since 1973 in Victoria, Texas, offers courses leading to more than 80 academic programs in the schools of Arts & Sciences; Business Administration; and Education, Health Professions & Human Development. UHV provides face-to-face classes at its Victoria campus, as well as an instructional site in Katy, Texas, and online classes that students can take from anywhere. UHV supports the American Association of State Colleges and Universities Opportunities for All initiative to increase awareness about state colleges and universities and the important role they have in providing a high-quality and accessible education to an increasingly diverse student population, as well as contributing to regional and state economic development.