Close
UHV, VC recognize winners of Black History Month poster contest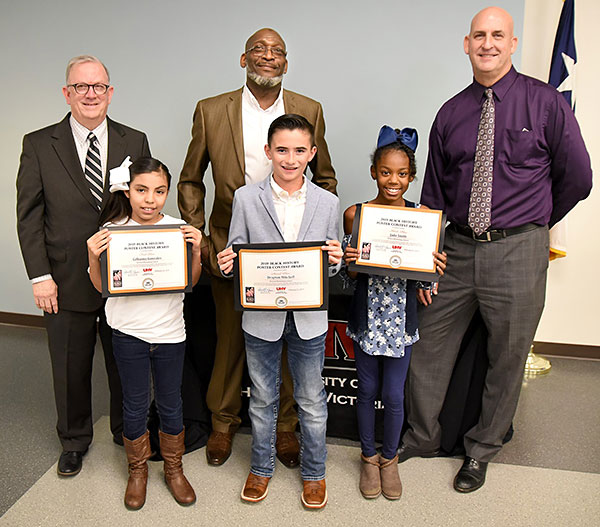 Winners of the Black History Month Poster Contest display their award certificates Monday after the contest reception at UHV. Pictured from front left are first-place winner Gillianna Gonzales, a De Leon Elementary School student; Drayton Mitchell, De Leon Elementary, second place; and Jada Smith, Vickers Elementary School, third place. Behind them are UHV President Bob Glenn, left; James Murphy Jr., president of the Victoria Black History Committee; and Victoria College President David Hinds.
When Gillianna Gonzales was choosing her topic for the Black History Month Poster Contest, she chose a local leader in law enforcement because she wants to be a defense attorney, she said.
Gonzales, a 10-year-old De Leon Elementary School student, won first place on Monday for her poster during the Black History Month Fifth-Grade Poster Contest reception at the University of Houston-Victoria. She received a $2,000 UHV scholarship and a Victoria College summer camp voucher.
The theme for the 2019 contest was Local Black Leaders. Fifth-graders across Victoria Independent School District submitted 114 posters for the contest. The posters were judged by representatives from UHV, Victoria College and the Victoria Black History Committee.
"This poster contest is an excellent opportunity for local students to learn the stories of individuals who shaped history," UHV President Bob Glenn said. "Black History Month is about more than well-known figures such as Harriet Tubman or Martin Luther King Jr. Each community has its own stories of individuals who made a difference, and I am glad that Victoria's students have an opportunity to learn and pass on the stories of some of our local black leaders."
Gonzales' poster featured Willie Hill, the first African American to become a Victoria police officer and sergeant.
"I wanted to do a poster about him because he was a police officer, and I want to be a lawyer," Gonzales said. "Lawyers work with officers. It feels great to win."
Second place was awarded to Drayton Mitchell, an 11-year-old attending De Leon Elementary School. His poster included information about Daniel Webster Wallace, who went from being born a slave in Victoria County to becoming a successful cattle rancher with an estate valued at more than $1 million in 1939. Mitchell won a $1,000 scholarship and a VC summer camp waiver.
"He was a rancher and grew cotton, and my family has done that, too," Mitchell said. "His story reminds me of my family's history."
Jada Smith, a 10-year-old at Vickers Elementary School, won third place for her poster about Harold Cade, a Victoria educator and namesake for VISD's Harold Cade Middle School. Smith received a $500 scholarship and a VC summer camp waiver.
"I'm really proud of myself for doing this project," Smith said. "I'm going to the middle school named after him next year, so I wanted to learn about him. I had a lot of fun making my poster."
Honorable mention selections in the poster contest were:
Emily Charles, Torres Elementary School
Hailey King, Vickers Elementary School
Avery Valentine, De Leon Elementary School
Caleb Vinson, Vickers Elementary School
They received gift bags from UHV and VC.
The ceremony included remarks from Glenn, VC President David Hinds, and James Murphy Jr., president of the Victoria Black History Committee.
The posters will be on display for the public to view through February during regular business hours in the UHV University Center, 3007 N. Ben Wilson St.
The University of Houston-Victoria, located in the heart of the Coastal Bend region since 1973 in Victoria, Texas, offers courses leading to more than 80 academic programs in the schools of Arts & Sciences; Business Administration; and Education, Health Professions & Human Development. UHV provides face-to-face classes at its Victoria campus, as well as an instructional site in Katy, Texas, and online classes that students can take from anywhere. UHV supports the American Association of State Colleges and Universities Opportunities for All initiative to increase awareness about state colleges and universities and the important role they have in providing a high-quality and accessible education to an increasingly diverse student population, as well as contributing to regional and state economic development.