Close
UHV takes home six advertising awards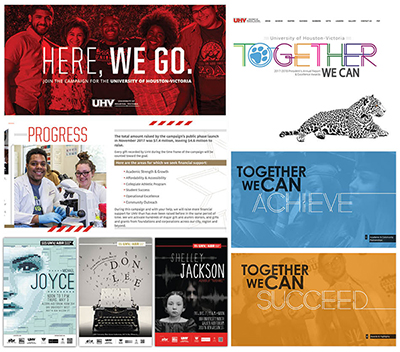 UHV entries recognized Friday with ADDY awards for creative excellence included the UHV Here, We Go brochure, top left; the 2017-2018 President's Annual Report website, right; and a series of three UHV/American Book Review Reading Series posters, lower left.
CORPUS CHRISTI – The University of Houston-Victoria was honored Friday night with six prestigious ADDY awards for advertising excellence, including a Gold ADDY for a brochure about the university's Here, We Go comprehensive fundraising campaign and a Silver ADDY for the 2017-2018 President's Annual Report website.
The awards were announced at the American Advertising Federation-Corpus Christi Chapter's American Advertising Awards and Big Wigs event at the Solomon P. Ortiz Center.
"It is gratifying each year to see the Marketing & Communications team's hard work be recognized by our peers in the advertising industry," said Paula Cobler, director of UHV Marketing & Communications. "We constantly are striving for new, creative ways to represent the university through our website, social media channels, marketing materials and communication pieces."
The Here, We Go brochure was created by graphic designer Mik Samaniego-Lira, while the entire Marketing & Communications staff was involved with putting together the annual report website, which can be viewed at www.uhvannualreport.com.
Other Silver ADDY awards went to Creative Services Manager George Rodriguez for the 2018 UHV Baseball Program cover and three posters advertising the UHV/American Book Review Reading Series. Graphic designers Aby Gonzalez, Larz Cowan and Samaniego-Lira designed the posters.
Two Bronze ADDY awards went to graphic designer Katie Wilson for her poster advertising the 2018 Martín De León Symposium on the Humanities and web developer Felicity Medrano for her animation on the homepage of the annual report website.
"The creativity of UHV's graphic designers showed through in the pieces that won ADDY awards," Rodriguez said. "I am happy that they got the recognitions they deserved."
Members of the department who worked on the annual report website were Cobler; Marci Wallace, web services manager; Eric Chacon, web content management system manager; Rodriguez; Ashley Strevel, communications manager; Warren Diprose, lead web developer for the project; Medrano; Kelsey Mills, web developer; Enkeleta Dervishi, web designer; Cowan; Gonzalez; Samaniego-Lira; Wilson; Lauren Emerson, communications specialist; Aurora Robinson, administrative secretary; JoAnna Montez, senior secretary; and Amber Sturm and Alyssa Alvarado, student workers. Bright Idea Media also assisted with the videos that are part of the website.
"The annual report website is something we work very hard on every year as a team to highlight the university's accomplishments," Wallace said. "The team came together on this project, and it was exciting to use our creativity in this way. Warren worked tirelessly on the website after gathering ideas from the entire team, and Felicity set the bar high with the animation."
The American Advertising Awards is the advertising industry's largest and most representative competition. It attracts more than 40,000 entries in local AAF competitions. The local competitions are the first of a three-tier national competition. All Gold ADDYs automatically are entered into district competition. District winners then compete on the national stage of the American Advertising Awards.
Selection of the most creative entry in each category is based on a scoring process in which a panel of judges evaluates the creative dimensions of every entry. Gold ADDYs are the highest level of creative excellence and are judged to be superior to all other entries in the category. Entries that also are considered outstanding and worthy of recognition receive a Silver ADDY. The number of awards given in each category is determined by the judges based on the relative quality of work in that category.
The University of Houston-Victoria, located in the heart of the Coastal Bend region since 1973 in Victoria, Texas, offers courses leading to more than 80 academic programs in the schools of Arts & Sciences; Business Administration; and Education, Health Professions & Human Development. UHV provides face-to-face classes at its Victoria campus, as well as an instructional site in Katy, Texas, and online classes that students can take from anywhere. UHV supports the American Association of State Colleges and Universities Opportunities for All initiative to increase awareness about state colleges and universities and the important role they have in providing a high-quality and accessible education to an increasingly diverse student population, as well as contributing to regional and state economic development.