Close
UHV retiree looks back on university's growth, successes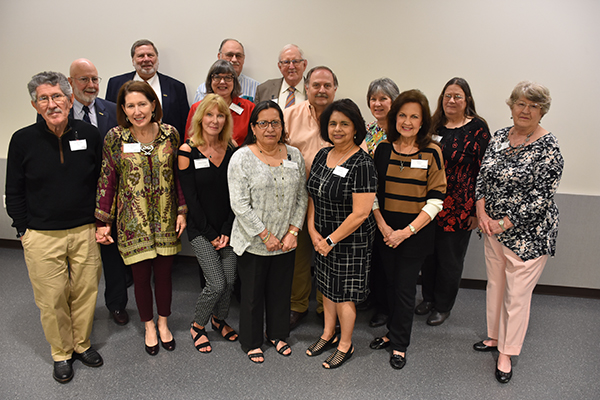 UHV administrators pose on Feb. 27 for a picture with retired faculty and staff, including Margaret Rice, second from the left in front row, after the 2019 Homecoming Retired Faculty and Staff Luncheon. During the event, retirees listened to a presentation about the university's enrollment growth and construction projects.
Margaret Rice's love for the University of Houston-Victoria is no secret. She tells people about it all the time.
"The university does so much for our community and higher education in our area," said Rice, who retired in 2016 as the UHV assistant to the provost and an adult and higher education faculty member in the School of Education, Health Professions & Human Development. "It's been really exciting to be part of the many successes and expansions at UHV, and I love to share those experiences with people."
Rice recently took part in UHV's Homecoming celebration by attending the Feb. 27 UHV Retired Faculty and Staff Luncheon. During the luncheon, retired UHV faculty and staff members listened to updates about the university's growth and construction projects from David Cockrum, UHV interim provost and vice president for academic affairs, and Jesse Pisors, UHV vice president for advancement and external relations.
"Margaret Rice is one of UHV's most ardent and caring supporters, and I am glad she continues to attend our events," Pisors said. "She has been part of some of the university's most exciting developments, and her continued support means so much to us."
Rice, who lives in Victoria, first came to UHV in 1999 as the director of the university's Letting Education Achieve Dreams program. LEAD's overall mission focused on raising the educational attainment levels of those in UHV's service region. The program sent student ambassadors to classes from kindergarten to 12th grade to talk about the importance of education, as well as brought students to the campus for visits. There also were mentoring opportunities, and parents were included in outreach efforts to encourage them to go back to school as well.
"Working with LEAD was fulfilling because I could watch those seeds that were planted in students' lives come to fruition when they enrolled in college," Rice said. "In fact, there have been times when UHV students told me that the LEAD program's presentations are what first got them started thinking about college as a possibility."
Rice had many roles at UHV, including working as director of student services, student outreach, chief of staff, special assistant to the provost and an adjunct faculty member. She also was part of the effort to bring big developments and changes to the university, such as the decision to add freshmen and sophomores to the university.
"It was so gratifying and exciting when UHV received legislative approval in 2009 to add underclassmen," she said. "We worked so hard for years to garner support from the community and the UH System to make it a reality. Getting that approval and then welcoming those first freshmen and sophomores to campus in Fall 2010 were major highlights of my time at UHV."
In addition to her work for the university, Rice and her family also are longtime supporters of higher education. In 2016, Rice's family endowed the Justin Truett Hunt Memorial Scholarship in honor of her father, who supported higher education in the Kenedy area. Hunt previously endowed the Ann Gibson Hunt Endowment at UHV and another scholarship at Baylor University in memory of his wife, who died in 2003.
"Endowed scholarships are a great way to honor someone while also investing in the future success of students," Rice said. "What better way is there to remember your loved ones than to dedicate that memory and your resources toward improving future generations?"
Rice currently serves on the boards of the Victoria Bach Festival and the Kenedy ISD Education Foundation. She also helps manage their family business, is active in Journey Church and spends as much time as possible with her children and grandchildren, she said.
Looking back on her time at the university, Rice is grateful for the opportunities she had to make a positive impact on students and her community.
"There's so much that the university gives to its students and Victoria," she said. "I'm glad to know I was able to be part of this institution and help make a difference in students' lives and in the growth of my community."
The University of Houston-Victoria, located in the heart of the Coastal Bend region since 1973 in Victoria, Texas, offers courses leading to more than 80 academic programs in the schools of Arts & Sciences; Business Administration; and Education, Health Professions & Human Development. UHV provides face-to-face classes at its Victoria campus, as well as an instructional site in Katy, Texas, and online classes that students can take from anywhere. UHV supports the American Association of State Colleges and Universities Opportunities for All initiative to increase awareness about state colleges and universities and the important role they have in providing a high-quality and accessible education to an increasingly diverse student population, as well as contributing to regional and state economic development.