Close
UHV Homecoming king, queen excited to be part of growing tradition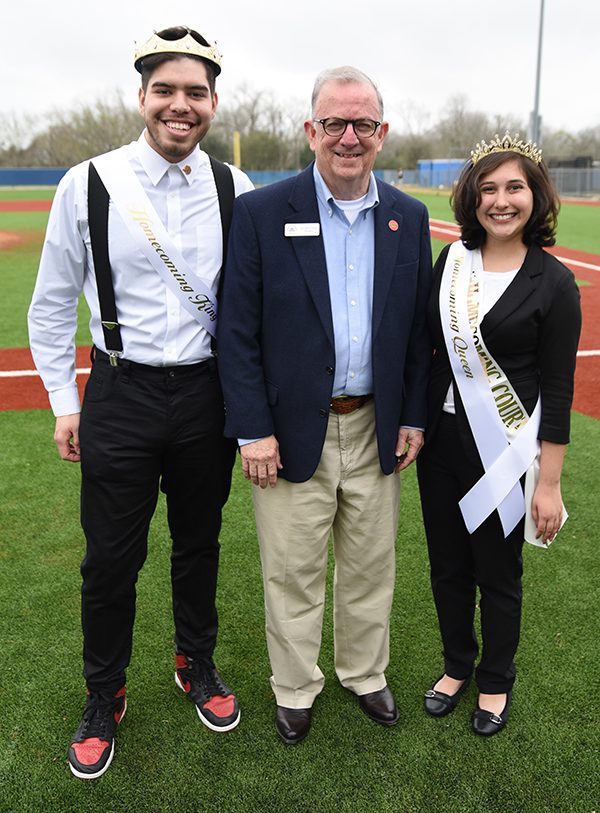 Cesar Gonzalez, left, and Sophia Solano stand with UHV President Bob Glenn Saturday after they were crowned at Riverside Stadium as the university's 2019 Homecoming king and queen.
When Sophia Solano heard her name announced Saturday as the 2019 University of Houston-Victoria Homecoming queen, she was shocked.
"All of the women in this year's Homecoming Court are amazing, and I didn't expect to be the winner," the San Antonio senior said. "There's been so much buildup this week, and it was an amazing moment."
Solano and Cesar Gonzalez, a Rosenberg junior, were crowned the 2019 UHV Homecoming queen and king after the first game of a baseball doubleheader the Jaguars played against Wiley College. Solano and Gonzalez were elected from a group of seven students nominated to be part of the university's Homecoming Court.
The honor is especially meaningful for Gonzalez and Solano because both students serve on the Jaguar Activities Board and were appointed to this year's Homecoming Committee. The committee created and put together many of the student-centered events for Homecoming week.
"Cesar and Sophia are two wonderful young people who exemplify what it means to be a UHV Jaguar," UHV President Bob Glenn said. "I am glad to see them receive this honor, especially after all their hard work helping UHV's students have a wonderful Homecoming experience."
Receiving the Homecoming king crown is an exciting honor for Gonzalez because UHV was his first and only choice when applying for college. He spoke to a UHV recruiter, who visited his high school, and decided UHV was the right place for him.
Now, Gonzalez is pursuing a Bachelor of Business Administration in both management and marketing, and he plans to become a Certified Public Accountant and find a job in the business world after he earns his degree.
"Eventually, I want to start my own business and work in fashion," he said. "I see there are a lot of problems in the industry, and I want to bring some solutions."
Gonzalez's love for fashion became part of this year's Homecoming celebrations. He chose and ordered the '90s-style track suit worn by jaX, UHV's mascot, to match the "Keepin' it Fresh at UHV" theme.
Solano is pursuing her Bachelor of Science in Interdisciplinary Studies with a focus on fourth- to eighth-grade education. After graduation, she hopes to get a teaching job in the Victoria Independent School District. She eventually wants to earn her master's degree and become a school counselor. She chose to come to UHV because of the university's small size and its feeling of safety and familiarity.
"There's such a welcoming atmosphere here," she said. "I wanted to be part of this because there's so much growth. I wanted to take the chance to make my mark here and be part of making new traditions for future students."
During her time at UHV, Solano has seen Homecoming develop in exciting ways. Being part of the Homecoming Committee during her senior year has made this year's experience even more special.
"I remember the first Homecoming baseball game I ever went to, and now this has grown into such an exciting, popular event," she said. "We even have cheerleaders now. I can't wait to see what Homecoming will become in the years ahead."
The University of Houston-Victoria, located in the heart of the Coastal Bend region since 1973 in Victoria, Texas, offers courses leading to more than 80 academic programs in the schools of Arts & Sciences; Business Administration; and Education, Health Professions & Human Development. UHV provides face-to-face classes at its Victoria campus, as well as an instructional site in Katy, Texas, and online classes that students can take from anywhere. UHV supports the American Association of State Colleges and Universities Opportunities for All initiative to increase awareness about state colleges and universities and the important role they have in providing a high-quality and accessible education to an increasingly diverse student population, as well as contributing to regional and state economic development.