Close
Crossroads students get unique perspective on math, robotics at 24th annual event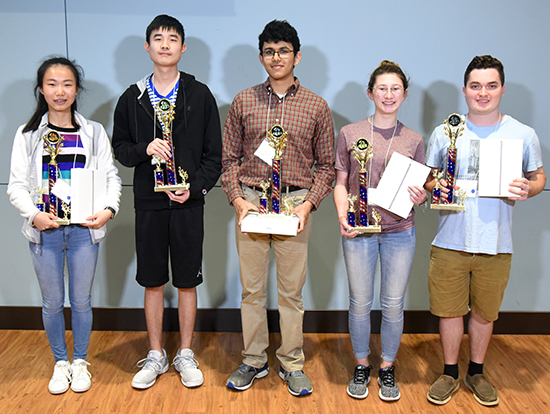 Area high school students who placed first in their class show their awards during Thursday's UHV Mathematics & Robotics Awareness Day. From left are Jessica Zhang, Ian Chen, Pranav Jain and Bekka Alex. Trevor Bellamy, right, was the overall winner of the event's computer science contest.
Students learned Thursday about the affects of Artificial Intelligence using intelligent assistant Siri on their Apple devices.
"I always look forward to this event," said Ricardo Teixeira, a UHV assistant professor of mathematics. "It's such a great opportunity for students to learn while considering attending college after high school. It's also a good opportunity to work with teachers and bridge gaps between the schools. We're really happy to see there's a benefit for all who participate."
Teixeira's "Mathemagics" presentation was part of the 24th annual Mathematics & Robotics Awareness Day at the University of Houston-Victoria. A group of 155 high school students from 10 area high schools took part in activities that included mathematics and computer science tests, learning sessions and technology demonstrations. High schools with students participating in the event were Beeville, Calhoun, Edna, Goliad, Hallettsville, Liberty Academy, Sacred Heart in Hallettsville, St. Joseph, Career and Technology Institute, and Victoria West.
A grant from Alcoa Foundation funded the event as well as robotics courses for high school students. The grant also will fund summer math and robotics camps at UHV for 14- through 18-year-olds. For more information, visit www.uhv.edu/stem-events.
During the day, students attended learning sessions focusing on "Mathemagics," presented by Teixeira; the concept of emotions incorporated into Artificial Intelligence, led by Rogerio Silva, a UHV assistant professor of computer science; and computer algorithms applied to strategy games, taught by Hongyu Guo, a UHV associate professor of computer science. Each session offered demonstrations about how math and technology can be used in everyday life.
Students also were able to visit booths set up by various groups and companies, including Caterpillar, CivilCorp, UHV Admissions & Student Recruitment, UHV School of Arts & Sciences, a Victoria Independent School District engineering class, Daniel White, director of the UHV in Biomedical Sciences graduate program; and students from Amjad Nusayr's high school robotics course.
Recipients of the top three computer science scores won a trophy and an iPad tablet. The winners for the computer science contest were:
First – Trevor Bellamy, Goliad High School
Second – Daniel Beaver, Calhoun High School
Third – Luke Renner, Hallettsville High School
This was Renner's first year attending the event. He said he found Teixeira to be a great teacher.
"The 'Mathemagics' tricks were really interesting," Chen said. "I had a lot of fun, and you'll see me here again next year, maybe in third place, maybe higher."
The mathematics tests were divided by grade. The second- and third-place winners received medals, and the first-place students in each grade won a trophy and an iPad tablet. The winners of the math contest by grade and high school were:
Freshmen – Ian Chen, Calhoun, first; Kary Xu, Calhoun, second; John Andruss, Victoria West, third.
Sophomores – Jessica Zhang, Calhoun, first; Orlando Di Leo, Victoria West, second; Kelly Xu, Calhoun, third.
Juniors – Bekka Alex, Hallettsville, first; Michael Van Hooten, Victoria West, second; John Cesarz, Sacred Heart–Hallettsville, third.
Seniors – Pranav Jain, St. Joseph, first; Chris Ralston, Victoria West, second; Marco Di Leo, Victoria West, third.
Jain has been a participant in the event since he was a freshman and recently was admitted to the Texas A&M University Engineering to Medicine program that guarantees him a spot in medical school upon post-secondary graduation.
"I always attend these and the summer events because I learn a lot," he said. "This year, I especially enjoyed seeing the anatomy machine because it was fascinating getting to see through the human body."
The University of Houston-Victoria, located in the heart of the Coastal Bend region since 1973 in Victoria, Texas, offers courses leading to more than 80 academic programs in the schools of Arts & Sciences; Business Administration; and Education, Health Professions & Human Development. UHV provides face-to-face classes at its Victoria campus, as well as an instructional site in Katy, Texas, and online classes that students can take from anywhere. UHV supports the American Association of State Colleges and Universities Opportunities for All initiative to increase awareness about state colleges and universities and the important role they have in providing a high-quality and accessible education to an increasingly diverse student population, as well as contributing to regional and state economic development.