Close
UHV alumna struts her way through New York fashion industry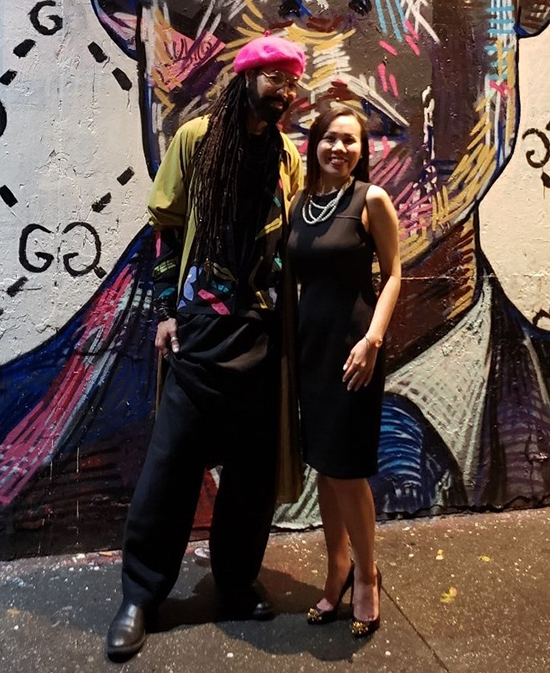 UHV alumna Ngoc Pham, right, and Ty Hunter, an established stylist for American singer-songwriter Beyoncé, stand April 12 in front of the Ideal Glass Studio in Manhattan. The Ideal Glass Studio and Find Your ID NYC, the company for which Pham works, coproduced "The Harlem Effect: A Night with Dapper Dan," a fashion show for an iconic Gucci designer.
Ngoc Pham of Brooklyn, N.Y., was posed for success in the fashion industry after graduating in 2013 from the University of Houston-Victoria with a Master of Business Administration with concentrations in marketing and accounting.
While commuting in New York, Pham, a 31-year-old assistant professor of marketing and international business at Brooklyn College, met Imani Jones, CEO of Find Your ID NYC, a global creative agency that focuses on brand development and strategy, events and content creation. They realized they shared many passions, Pham said. She remembered they both wanted to build a bridge between schools and the fashion industry.
"Imani found out I was a Brooklyn College professor, and I moved to New York to start my job in August 2018," Pham said. "I've always tried to reach out for internship and job opportunities for my students since I started teaching. When I started teaching in 2016, I would contact local businesses to find job opportunities to help my students and get them some experience. I've taught fashion marketing before. Imani asked if I wanted to help her out with her New York Fashion Week show for 2018, and I said 'Yeah, sure!'"
After Fashion Week, Pham became the marketing director of Find Your ID NYC. Her company recently coproduced a show for iconic Gucci designer Dapper Dan. The show had guests included such as Beyoncé's stylist, Ty Hunter, she said. She enjoys sharing the spotlight with her students at Brooklyn College by teaching them about the fashion marketing industry. She also will host a May 7 Spring Fashion and Music Festival at Brooklyn College for her students.
"I am very proud of what I am doing for my company," Pham said. "The more I understand the fashion industry, the more I realize we need a strong marketing campaign and strategy behind each of the fashion shows. That's the reason I want to combine fashion and marketing as a career."
Pham, who is originally from Vietnam, moved to Houston before enrolling at the University of Houston-Victoria for her master's degree. She later earned a doctorate in marketing from the University of Texas Rio Grande Valley. During her doctoral studies, her dissertation investigated the hormonal influences on women's consumption behavior towards fashion products.
"During my time at UHV, I was motivated very much by the professors," Pham said. "They went above and beyond to help me find out who I am and what I want to do with my life.
Pham's advice to students interested in fashion marketing is to earn a degree and have some basic knowledge in business to avoid traps in the industry. It's easy for people to lose their way and a sense of who they are, so in addition to a higher education, Pham encourages interested students to be willing to work hard, have a firm foundation in their identities, and be ethical and kind to others.
"Without the help of my professors, including Jifu Wang, Jun Yang and Olga Chapa, and my mentor, Rosie McCusker, I might not have become a professor and be doing what I am doing right now," she said. "They provided great advice and inspired me to enter a career like theirs – a professor who helps others."
Alumni Feature is an online piece highlighting the exceptional alumni who graduated from the University of Houston-Victoria. To nominate a UHV alumni, contact Ashley Strevel, UHV communications manager, or call 361-570-4290.
The University of Houston-Victoria, located in the heart of the Coastal Bend region since 1973 in Victoria, Texas, offers courses leading to more than 80 academic programs in the schools of Arts & Sciences; Business Administration; and Education, Health Professions & Human Development. UHV provides face-to-face classes at its Victoria campus, as well as an instructional site in Katy, Texas, and online classes that students can take from anywhere. UHV supports the American Association of State Colleges and Universities Opportunities for All initiative to increase awareness about state colleges and universities and the important role they have in providing a high-quality and accessible education to an increasingly diverse student population, as well as contributing to regional and state economic development.
Contact:
Lisa Shapiro, Special to UHV
361-570-4296
Share: