Close
Book collection, portrait donated to UHV in honor of longtime supporter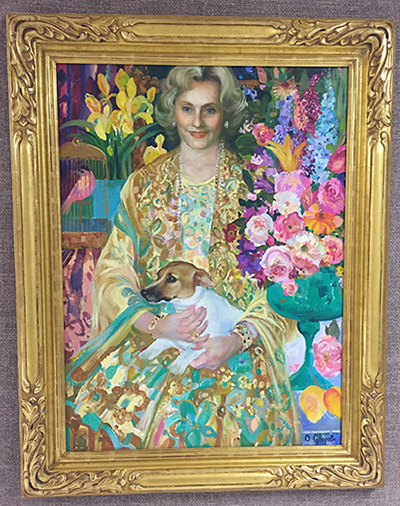 A portrait of Dorothy Alcorn, the first University of Houston System regent from the Victoria area and a longtime UHV supporter, hangs on the wall outside of the Alcorn Auditorium in UHV University West. Alcorn Auditorium is home to the UHV/American Book Review Reading Series and in 1993 was named in Alcorn's honor. The Alcorn family donated the portrait and a collection of 2,227 books to the university in her memory.
The University of Houston-Victoria recently received a collection of books and a portrait to honor the memory of Dorothy Alcorn, a longtime supporter of the university and the first UH System regent from the Victoria area to be appointed by the governor of Texas.
Alcorn's collection of 2,227 fiction and nonfiction books was donated by her family. The 1985 portrait of Dorothy also was donated to the university and is displayed outside of UHV Alcorn Auditorium, home to the UHV/American Book Review Reading Series and named in her honor in 1993.
"My mother was a passionate, lifelong reader who had a tremendous love for literature," her son Charles Alcorn said. "Because of the university's literary endeavors, she said many times that she'd like to donate the books from her private library to UHV. She knew they would have a good home at the university and be put to good use."
A native of Houston, Alcorn earned a Bachelor of Arts in English and education from the University of Houston in 1952 and a Master of Arts in Interdisciplinary Studies in English literature and creative writing from UHV in 1986. She was a supporter of the UHV/ABR Reading Series and hosted its first reception for Graciela Limon in 2006 in her home, said Jeffrey Di Leo, dean of the UHV School of Arts & Sciences.
"Dorothy was a dear friend of mine and one of our biggest supporters of literature and the arts," Di Leo said. "She hosted many readings from the UHV/ABR Reading Series at her home and had a wonderful library that drew a lot of attention at the receptions. This collection will be an asset for our literature and creative writing students."
The books, which have been collected since the '40s, contain some of Alcorn's favorite 20th-century English and Contemporary American literature authors, including F. Scott Fitzgerald, Ernest Hemingway and Graham Greene. Some first editions of Greene's books are included in the collection.
"We greatly appreciate the generosity of Dorothy Alcorn, and the library is pleased to accept these books in her memory," said Joe Dahlstrom, UHV senior director of libraries. "These books will enhance the UHV Library's collection and will be of great interest to students, faculty, staff and the community."
Alcorn was appointed as a UH System Board of Regents member in 1987 and served until 1993. She also served on the President's Regional Advisory Board and was involved in numerous UHV projects including its 10th- and 20th-year anniversary planning committees, the Chancellor's Excellence Fund, presidential search committees and the UHV Margin for Excellence Fund. She received UHV's highest honor, the UHV Presidential Medal, in 1994 and was the first recipient of the university's Distinguished Alumni Award in 2006.
Alcorn spent her life actively involved in civic and corporate efforts as a higher education activist and community leader. She was a leader in helping UHV expand from an upper-level institution to an established destination university in 2010. She also helped UHV in countless ways, including the establishment and growth of the UHV/ABR Reading Series.
"Dorothy Alcorn has provided decades of substantial support to UHV and the Victoria community," said Jesse Pisors, UHV vice president for advancement and external relations. "We are sincerely grateful for her and her family's commitment to the advancement of higher education. UHV will treasure these gifts and her legacy of support for years to come."
The University of Houston-Victoria, located in the heart of the Coastal Bend region since 1973 in Victoria, Texas, offers courses leading to more than 80 academic programs in the schools of Arts & Sciences; Business Administration; and Education, Health Professions & Human Development. UHV provides face-to-face classes at its Victoria campus, as well as an instructional site in Katy, Texas, and online classes that students can take from anywhere. UHV supports the American Association of State Colleges and Universities Opportunities for All initiative to increase awareness about state colleges and universities and the important role they have in providing a high-quality and accessible education to an increasingly diverse student population, as well as contributing to regional and state economic development.