Close
American Book Review receives second grant from National Endowment for the Arts
The University of Houston-Victoria announced its second grant from the National Endowment for the Arts today.
The $10,000 grant will support the 2009 operations of the UHV-based American Book Review, an international literary publication that champions works published by small presses, and the reading series the publication staff organizes. ABR received its first NEA grant for $10,000 in 2008.
Established by Congress in 1965 as an independent agency of the federal government, the NEA is the largest annual national funder of the arts, bringing great art to all 50 states and U.S. Territories, including rural areas, inner cities and military bases, according to the agency's Web site.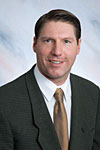 Charles Alcorn
"These two NEA grants give UHV a bright spot on the world literary map," ABR Managing Editor Charles Alcorn said. "The funding is certainly helpful in our continuing efforts but so is the prestige such grants confer."
That prestige will help ABR's staff recruit some of the brightest stars of the written word for the UHV/ABR Reading Series. The series brings nationally recognized writers to the Victoria campus for several days. Scheduled events include author roundtable discussions with UHV students, faculty and community members; consultations with graduate, upper-division and high school students; community lectures and invitation-only readings receptions. Past guests have included Pulitzer-prize winning historian David Oshinsky and Guggenheim Award winner Dagoberto Gilb.
Funding from the NEA and other sources allows ABR to pursue its core mission of highlighting works from smaller publishing houses that don't have the publicity resources of the small number of major publishing houses that dominate the book industry, Alcorn explained.
"Many publishers today are New York-based giants that are looking for works that fit a formula that has proven profitable in the past," Alcorn said. "Most of the truly new, innovative and creative works coming out today are being published by the smaller presses. It is our mission to help spread the word about these great reads people might otherwise miss."
ABR distributes 8,000 copies six times a year to an international audience.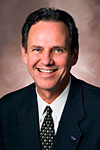 Tim Hudson
"I've been telling people for a while now that UHV is experiencing a true literary renaissance," UHV President Tim Hudson said. "This second NEA grant is just one more piece of evidence of that fact. I want to personally congratulate the staff and supporters of the American Book Review for the fine work that they do, which is getting notice from the highest places."
The UHV School of Arts & Sciences houses other literary institutions in addition to ABR. Fiction Collective Two, an alternative publishing press; the Society for Critical Exchange, an international organization dedicated to theory; and symploke, a journal of comparative thought and literature, all recently found new homes with the school.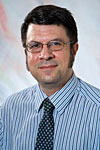 Jeffrey Di Leo
"It's amazing to get so many treasures assembled under one umbrella," said Jeffrey Di Leo, dean of the School of Arts & Sciences, editor/publisher of ABR, and editor-in-chief of symploke. "The synergy being created at UHV promises great things for the future of this school, this university and this region as a whole."
UHV recently was described as "an unlikely haven for humanities publishing" in the Jan. 8 issue of Inside Higher Ed, an online magazine that covers the world of higher education.
For more information about ABR, contact Alcorn at 361-570-4100, alcornc@uhv.edu, or visit americanbookreview.org.
The University of Houston-Victoria, located in the heart of the Coastal Bend region since 1973 in Victoria, Texas, offers courses leading to more than 80 academic programs in the schools of Arts & Sciences; Business Administration; and Education, Health Professions & Human Development. UHV provides face-to-face classes at its Victoria campus, as well as an instructional site in Katy, Texas, and online classes that students can take from anywhere. UHV supports the American Association of State Colleges and Universities Opportunities for All initiative to increase awareness about state colleges and universities and the important role they have in providing a high-quality and accessible education to an increasingly diverse student population, as well as contributing to regional and state economic development.