Close
UHV announces names of summer, fall 2008 graduates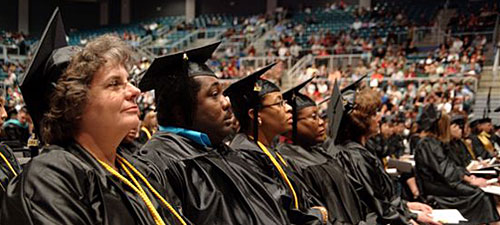 University of Houston-Victoria students participate in the fall commencement ceremony Dec. 13 at the Leonard E. Merrell Center in Katy.
The University of Houston-Victoria has released the names of all honors graduates and graduates for the 2008 summer and fall semesters.
Fall graduation took place Dec. 13 at the Leonard E. Merrell Center in Katy. Summer graduates participate in the fall ceremony. Texas Sen. Glenn Hegar delivered the commencement address.
Every semester, representatives from each of UHV's four schools select at least one graduate and one undergraduate student to be honored. The following students were recognized as the Outstanding Students for the Fall:
School of Arts & Sciences – Siddiqua A. Hussain, graduate; Marcus Dewayne Taylor, undergraduate.
School of Business Administration – Nagarajan Ravishankar, graduate; Hong Du, undergraduate.
School of Education & Human Development – Kisha Shanté Smith, graduate; Nikki Marie Garcia and Sara L. Madrazo, undergraduates.
School of Nursing – Patricia A. Goehring and William T. Johnson, undergraduates. (The School of Nursing did not select an outstanding graduate student because its first students with Master of Science in Nursing degrees won't graduate until the spring of 2010.)
Students who graduated cum laude (3.5 grade-point average or above), their degree and home cities were:  
Kasie Elaine Guthrie, BAAS, Angleton
Dara Angelina Day, BA, Beeville
Jason Jeremy Gallagher, BS, Beeville
Bernadette Alena Hinds, BSIS, Beeville
Samantha Elizabeth Foisner, BSIS, Boling
Glenda Alvera Stallings, BSN, Brookshire
Lisa Marie Mach, BSN, El Campo
Sterling Martin Strarup, BBA, El Campo
Phillip John Roberts, BBA, Conroe
Roxanne Alane Tumlinson, BSN, Cuero
Victoria Ashley Grace, BSN, Friendswood
Shaye A. Gohlke, BS, Goliad
Magdalena Moreno, BAAS, Goliad
Emily Moyare Agasa, BSN, Houston
Kathleen Ann Dee, BSN, Houston
Jacqueline Elizabeth Perez, BS, Houston
Diann Kay Rugg, BSIS, Houston
Tobias Jay Whitman, BSIS, Houston
Jill Christina Garner, BSIS, Inez
Jennifer Marcil Ross, BSN, Katy
Ashley Dawn Traugott, BSIS, Katy
Millicent Chizoba Adikaibe, BSN, Missouri City
Denise Marie Jenkins, BSIS, Pettus
Jessica Lee Helms, BSN, Port O'Connor
Lucas Bradley McElroy, BS, Richmond
Anne Ramirez Garza, BS, Rosenberg
Oscar J. Morales, BAAS, Rosenberg
Tracey Lea Eddy, BS, Salado
Monica Ann Kusy, BSIS, Schulenburg
Gloria Velazquez, BSIS, Schulenburg
Dinorah Louise Hollingsworth, BAAS, Sugar Land
Willene Gossett, BSIS, Victoria
Michelle Nicole Hahn, BBA, Victoria
Nicholas Jobe, BA, Victoria
Marianna Elizabeth Measom, BSN, Victoria
Chinh K. Pham, BBA, Victoria
Froylan H. Silva, BA, Victoria
Samantha Wagner Steeves, BAAS, Victoria
Jason Duane Stowe, BAAS, Victoria
Kristina E. Gaona, BSIS, Wharton
Jana Leigh Basham, BSIS, Yoakum
Misti Leigh Onhaizer, BBA, Yoakum
Students who graduate magna cum laude (3.68 GPA or above) were:
Katherine Anne Vern, BSN, Bay City
Sandra June Eiland, BSN, Baytown
Clint R. Talley, BSN, Beeville
Michelle Lee Johnson, BSN, Edna
Traci Michelle Faas, BSIS, El Campo
Amanda M. Bures, BSIS, Ganado
Mary Grace Dela Torre, BSN, Houston
Allison Woodbury Luce, BSIS, Houston
Sahar Javed Minhas, BS, Houston
Jonathan Lowell Owens, BS, Houston
Ranier Perez, BS, Houston
Stacie Marie Robison, BS, Houston
Heather Elizabeth Montgomery, BS, Katy
Robin G. Rolon, BA, Katy
Ashley Morton, BSIS, Louise
Jessy Sam Kurian, BSN, Missouri City
Sukunya Thunyodom, BSN, Missouri City
Connie Jean Koonce, BS, Refugio
Kathleen Mary Beddingfield, BSN, Richmond
Britt Alsion Smith, BSN, Richmond
Sarah Mei-Ling Wu, BBA, Richmond
Robert Patrick Moya, BBA, Sugar Land
Roya Saemian, BSN, Sugar Land
Nora Linda Duenez, BSIS, Tivoli
Ashley Rose Roell, BSIS, Victoria
Kyle Travis Rother, BBA, Victoria
Amanda Gene Soester, BBA, Victoria
Marcus Taylor, BA, Victoria
Krista Brianne Wilkerson, BSIS, Victoria
Carolyn A. Mitchell, BSIS, Wharton
Heather Jean-Marie Mutchler, BSIS, Yorktown
Students who graduated summa cum laude (3.85 GPA or above) were: 
William T. Johnson, BSN, Cypress
Anson Thomas Brown, BS, Damon
Ashlen Beth Brown, BS, Damon
Deborah Kaye Haltom, BSIS, East Bernard
Elvis Zapalac, BS, East Bernard
Nikki M. Garcia, BSIS, El Campo
Fartun Kasim Jafar, BS, Houston
Sara Lela Madrazo, BSIS, Houston
Jonathan Hoang Tran, BS, Houston
Christie Marie Blaylock, BAAS, Katy
Clare Louise Dolen, BSIS, Katy
Dana Celisse Jehlen, BSIS, Katy
Gabriel Wayne McEver, BAAS, Leander
Darla Gayle Cook, BSIS, Louise
Belinda Ann Phares, BS, Missouri City
Gabriel Gonzalez, BAAS, Richmond
Tarsha Annette Jackson, BAAS, Richmond
Sanjay Jetho Thadani, BS, Richmond
Lindsey Michelle Wiesenborn, BBA, Richmond
Nikolle Renee Chaney, BSIS, Sealy
Dawn M. Prihoda, BSIS, Sealy
Rita Ifeoma Nwazojie, BSN, Sugar Land
Ryan Lane Shuck, BS, Sugar Land
Hong Du, BBA, Victoria
Tracey Leigh Gerdes, BAAS, Victoria
Ann Margaret Gonzales, BS, Victoria
Joanne Guerra, BSN, Victoria
Heidi Monier Mansy, BSN, Victoria
Deborah Lois Payne, BSN, Victoria
Cheri Lynn Carroll, BAAS, Yoakum
Patricia Ann Goehring, BSN, Yorktown
All other graduates by school listed with their home city were:
SCHOOL OF ARTS & SCIENCES
Bachelor of Arts
Jeff Girard Krus, Houston
Megan Eileen Chriss, Katy
Corey R. Hilton, Katy
Mary Jane Wurts, Katy
Leticia Esparza, Richmond
Elisabeth Grace Delarosa, Victoria
Casey Marie Johnston, Victoria
Jenny Lee Sparks, Victoria
Kelsey Jaide Willis, Victoria
Margarito Candelario Cervantez, Wharton
Bachelor of Applied Arts and Sciences
Amy Gonzales, Beeville
Autrey Lynetta Brown, Brazoria
D'Anna Marie Long, Edna
Imran Syed, Fulshear
Syncere Maria Brown, Houston
Sarah M. Anzalotti, Katy
Lillian Patrice Flanders, Katy
Kristin Ann Foret, League City
Christie Marie Valle, Missouri City
Alberto Cuellar, Port Lavaca
Rocky Rene Rodriguez, Port Lavaca
Chandra Cristine Sjovall, Richmond
Nelly Cristina Balderas, Rosenberg
Naeema Nasir, Sugar Land
Oralia Esther Martinez, Tuleta
Jason William Burrier, Vanderbilt
Mark Ryan Kelly, Victoria
Jesse Arthur Welch, Victoria
Lisa Ann Stavena Olmeda, Wharton
Bachelor of Science
Manuel Guerrero Olvera, Blessing
Juan D. Martinez, Bloomington
Rhea Nichole Vonas, Brookshire
Ashley Michelle Barnett, Cuero
Trent Len Orosco, Cuero
Thyanne Vu, Cypress
Mark Hamilton Branham, Edna
Natalia Naid Vallejo, El Campo
Kendra Denise Bures, Ganado
Brenda Monroy Garcia, Goliad
Kruti B. Patel, Houston
Kelly Nicole Ware, Houston
Sheila Clyne Jaure, Karnes City
Ashley Panay Bellows, Katy
Cynthia Diane Jones, Katy
Javier Garza, Manchester, Md.
Katherine Leigh Clark, Richmond
Jessica Louise Montieth, Sugar Land
Nikhil Vijay Patel, Sugar Land
Aaron Deshawn Williams, Sweeny
Jessica Lisseth Escobar, Victoria
Ronald Lee Garrett, Victoria
Christina Renee Garza, Victoria
Cherlyn A. Hodge, Victoria
Katie Marie Miller, Victoria
Clint A. Reyes, Victoria
Joshua Christopher Shott, Victoria
Emily Ann Vincent, Victoria
James William Vinson, Victoria
Jeramiah Wimberly, Victoria
Valerie Villarreal Romans, Yorktown
Master of Arts
Brenda Gail Phipps, Victoria
Shelly Reissig, Victoria
Master of Arts in Interdisciplinary Studies
Suhair A. Alnasr, Houston
Sharon Denise Grover, Houston
Jennifer Lee Yancey, Inez
Alberta Gray, Saint Helena Island, S.C.
Sandra Jean Gonzales, Victoria
Raquel Sandra Harriman, Victoria
Kathryn L. Long, Victoria
Master of Science
Mangirish Arun Sansguiri, Houston
Ge Song, Houston
Lei Zhang, Houston
William Brackston Guthrie, Katy
Jung-Kai Peng, Missouri City
Judy Jean Ramsay, Pearland
Siddiqua A. Hussain, Sugar Land
SCHOOL OF BUSINESS ADMINISTRATION
Bachelor of Business Administration
Venessa Gaona, Danevang
Kimber Lee Janik, El Campo
Dolores Aufranc, Guatemala City, Guatemala
Susan Jean Aschenbeck, Houston
Kristen Daniella Ruiz, Houston
Jennifer Balensiefen Hayes, Missouri City
Brenda Marlen Trevino, Port Lavaca
Amy Leigh Holik, Richmond
Brianne Lorraine Masculine, Rosenberg
Vanessa Kaye Gaskin, Rosharon
Agueda Isabel Gambino, Spring Tracie
Ann Mandley, Victoria
Jared Allen Self, Victoria
Tiffany Nicole Janik, Wharton
Valerie Annette Janik, Wharton
Joy Sixtos, Yorktown
Master of Business Administration
Theresa Lynn Foss, Alvin
James Peyton Hubbard, Annapolis, Md.
Joab Salce, Austin
Rhonda L. Clegg, Bay City
Kamran Naseem Khan, Bellaire
Martha K. Healey, College Station
Sarah Josephine Bailey, Conroe
Sanjay Parashar, Cypress
Brett Patrick Helweg, Fort Worth
Rojelio Mendoza, Fresno
Brinton Robert Johnston, Fulshear
Christi Michelle Cable, Houston
Hitesh Hasmukh Divecha, Houston
William Hayden Dotson, Houston
Gerardo Garcia-Andrade, Houston
Mira Gerges Harb, Houston
Tori W. Houze, Houston
Monica Jha, Houston
Chanda Pranab Kapat, Houston
Gouri Kulkarni, Houston
Grace Leal, Houston
Jay R. Mehta, Houston
Elena Leonidovna Milstein, Houston
Tonya Denice Morris, Houston
Simon William Mumford, Houston
Ravi Nath, Houston
Christiana Adetokunbo B. Obafunwa, Houston
Jennifer Ocasio, Houston
Isioma Priscilla Ojeah, Houston
Sumukh J. Pai Angle, Houston
Amit Jitendra Patel, Houston
Paresh C. Patel, Houston
Jose Alejandro Reyna, Houston
Oluwatoyin Rufai, Houston
Maniram Sankar, Houston
Sandra Kay Scherlen, Houston
Paran Umapathy, Houston
Donald Joseph Williams, Houston
Gloria Lynn Taylor, Huntsville
Ceasar O. Banda, Katy
Bitan K. Banerjee, Katy
Iris L. Chiu, Katy
David Thomas Collazos, Katy
Tamika Patrice Coote, Katy
Alfred Pete Fonseca, Katy
Michael Page Hancock, Katy
Shashank Jain, Katy
Thomas Michael Kelley, Katy
Quan Li, Katy
Dimpal Ramesh Mistry, Katy
Ernesto Dario Montes Zambrano, Katy
Dionne Elaine Moonah, Katy
Vladimir Naranjo, Katy
Thomas Peter Painunkal, Katy
Phani B. Potturu, Katy
Nagarajan Ravishankar, Katy
German Enrique Rubiano, Katy
John Michael Skora, Kingwood
Bryan Christopher Salerno, Little Rock, Ark.
Juan Jose Torres, Katy
Luke Michael Miller, McKinney
Marta Ubide, McKinney
Brenda Diane Henry, Missouri City
Lauren Ashlea Jones, Missouri City
Cicely Elyse McKentie, Missouri City
Wei Hua Sun, Missouri City
Keith Rodney Erskine, Pearland
Yahaya Nathaniel Atanu, Richmond
Raymond Lynn Camel, Richmond
John L. Mack, Richmond
Beth Leane Purcell, Richmond
Michael Charles Smalling, Richmond
Christopher Glen Smith, Rosharon
Jonathan David Scudder, San Antonio
Bryan Robert Burleson, South Beloit, Ill.
Elida Mercado, South Houston
Pooja Awasthi, Stafford
Jason Scott Castecka, Sugar Land
Julie Burch Garcia, Sugar Land
Michael Leon Ingram, Sugar Land
Jonathan Lawrence James, Sugar Land
Rachel Robyn Jones, Sugar Land
Betty Jane Madrid, Sugar Land
Shakir Rahman, Sugar Land
Mazen Riyad Saman, Sugar Land
Lex Edward Sheddan, Sugar Land
Ernest Edward Sutton, Sugar Land
Irfan Umatiya, Sugar Land
M. Jonathan Visser, Sugar Land
Master of Science in Economic Development & Entrepreneurship
Taj Jamal Clark, Baytown
Samuel Dalton Usnick, Houston
William Hughes Usnick, Houston
Jeffrey Wayne Thompson, Pflugerville
Monica Mary Cornetti, Providence Village
Adrian Scott Cannady, Victoria
Richard Lee Herzog, Victoria
SCHOOL OF EDUCATION & HUMAN DEVELOPMENT 
Bachelor of Science in Interdisciplinary Studies
Sonya Arellano, Alvin
Heather Marie Tabor, Boling
La Wanna Renia Hubert, Brookshire
Tara Kristina Korbe, College Station
Jennifer Ann Atchley-Johnson, Conroe
Cristina Chacon Gonzales, El Campo
Erin Elizabeth Haws, Falls City
Megan Marie Schmidt, Fulshear
Nora Lisa Vela Camarillo, Gonzales
Jennifer Anne Forbes, Granbury
Kristen Nicole Henke, Hallettsville
Sarah Jane Kallus, Hallettsville
April Michelle Boroff, Houston
Suzanne Nicole Chamness, Houston
Piedad Palmira Lopez-Velarde, Houston
Vanessa Arlene Masson, Houston
Myriam Alexandra Sierra, Houston
Clyde Isaac Toval, Houston
Carolina Colonia, Katy
Toni D. Delatorre, Katy
Amanda Blake Kimbrew, Katy
Christi Elisa Ponce, Katy
Kinia Tamara Primo, Katy
Anne Michelle Puls, Katy
Rebecca Rudd, Katy
Lori Kay Sanford, Katy
Barbara Gail Smith, Katy
Carolina Patricia Tamez, Katy
Angela Lee Weeks, Katy
Jennifer Lynn Gonzales, Kenedy
Hailey Denise Hess, La Grange
Laura Michelle Turner, Lake Charles, La.
Rhonda Renee Brown, Missouri City
Michael J. Milazzo, Missouri City
Mandi Lee McNeely, Needville

Theresa Marie Sanchez, Needville
Kathrine Cecilia Otahal, Orange Grove
Amanda Lea Nessa, Port Lavaca
Mayra J. Gutierrez, Richmond
Sandra Ann Merlos, Richmond
Juanita Frances Runge, Richmond
Laura A. Rendon, Rosenberg
Maria Guadalupe Velazquez, Schulenburg
Melanie Lyn Cox, Sealy
Rebecca Ruth Galyen, Sealy
Michelle Janeen Stuart, Spring
Rebecca Lee Clements, Van Vleck
Crystal Hurst Garcia, Victoria
Karalyn K. Jones, Victoria
Nichollette Ann Moeller, Victoria
Ranella Rene Rodriquez, Victoria
Mandy Renee Rosas, Weimar
Nina Mohr Christmas, Wharton

Petra Marie Garcia, Wharton

Nancy G. Gutierrez, Wharton

Kathleen Marie Perez, Yoakum
Master of Education
Cathy Jean Menefee, Alvin
Carol Dianne Farrar, Bay City
Glenn Mason Ging, Bay City
Jack Anthony Kelley III, Bay City
Stephanie Kucera, Bay City
Rodney Joseph Armstrong, Baytown
Sheryl Marie Smith, Beasley
Erika Lynn Koenig, Blessing
Tiffiney Rachele Papillion, Breaux Bridge, La.
Annabelle Gonzalez, El Campo
Wendy Lynn Olmstead, El Campo
Lianne D. Socha, El Campo
Robin Nicole Martin, Fresno
Gabriel Gallardo, Gonzales
Paula Sue Parkinson, Hallettsville
Monique R. Ford-Garrett, Houston
Miranda Kay Gilbert, Houston
Angela J. Hayes, Houston

JackelineHurtado, Houston
Michael Lotz, Houston
Kara Sue Sylvester, Houston
Elida Pardo Zuck, Inez
Angela Dudley Angel, Katy
Susan Kathryn Hammack, Katy
Valarie D. Landry, Houston
Phornia Newton, Houston
Kisha S. Smith, Houston
Sharon Faye Scott, Katy
Kimberly Corman Etheridge, Lissie
Tracey A. Bull, Markham
Lakisha Monique Anthony, Missouri City
Joycelyn Gail Harris, Missouri City
Genevieve Marie Zelaya, Missouri City
Jillian Bain, Needville
Yvette Marie Perez, Needville
Vicki Renea Drabek, North Richland Hills
Stephanie Marlowe Garcia, Palacios

Frederic Blake Westhoff, Palacios
Cindy Krause, Port Lavaca
Rhonda Lenay Rodriguez, Richmond
Debora June Ribble, San Marcos
Ian Christian Supak, Simonton
Monica Kaye Supak, Simonton
Rebekah Fisher Williams, Spring
Sandra Buckner Benckenstein, Sugar Land

Nancy M. Hentschel, Sugar Land
Sarah Kafi, Sugar Land
Cynthia Glorioso Martin, Sugar Land
Nerissa Norean Philip, Sugar Land
Joseph Timothy Ros, Van Vleck
Lois Lord, Victoria
Rumaldo Luna Martin, Victoria
Carrie Finch Pennell, Victoria
Stephanie Denise Harris, Wharton
Crystal A. Carroll, Yoakum
SCHOOL OF NURSING
Bachelor of Science in Nursing
Anthony Christian President, Baytown
Roxanne Marie Morales, Goliad
Juana Gutierrez, Gonzales
Maria Isabel De Guzman, Houston
Delphine Lorine Manyigang, Houston
Roseline Iheka Onyedum, Houston
Angela Yvonne Taylor, Houston
Leslie P. Bateman, Lake Jackson
Lashawn Denise Pursley-Huey, Missouri City
Traci Michelle Shefcik, Port Lavaca
Caleb A. Odesa, Richmond
Yves Rose Senat, Richmond
Helen Ebere Anyiam, Rosenberg
Prudence Cornelius, Sugar Land
Danika Shanik Medina, Sugar Land
Gwendolyn Danea Schlamb, Victoria
Debbie Kay Banks, Wharton
The University of Houston-Victoria, located in the heart of the Coastal Bend region since 1973 in Victoria, Texas, offers courses leading to more than 80 academic programs in the schools of Arts & Sciences; Business Administration; and Education, Health Professions & Human Development. UHV provides face-to-face classes at its Victoria campus, as well as an instructional site in Katy, Texas, and online classes that students can take from anywhere. UHV supports the American Association of State Colleges and Universities Opportunities for All initiative to increase awareness about state colleges and universities and the important role they have in providing a high-quality and accessible education to an increasingly diverse student population, as well as contributing to regional and state economic development.