Close
New book features chapter about British feminism by UHV professor
Area residents can look inside a new book and find a chapter written by a University of Houston-Victoria professor along with chapters by faculty from major universities such as the University of Southern California, the University of Michigan and the University of Cambridge in England.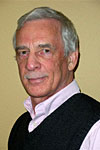 Hal Smith
When scholars were needed to contribute to the book "Gender, Labour, War and Empire: Essays on Modern Britain," the editors thought of Harold L. Smith, a professor of history and humanities who has been on the UHV faculty since 1976. Smith is the author or co-author of six books and numerous journal articles about British history.
Smith wrote the chapter "British Feminism in the Second World War" for the book released earlier this month in the United States by Palgrave Macmillan. The book is edited by Philippa Levine and Susan R. Grayzel, who teach history at the University of Southern California and the University of Mississippi, respectively. It originally was published in December in Great Britain.
"It was fascinating conducting original research for this book about the accomplishments of the British feminist movement in shaping public policy about women's rights during World War II," he said.
British feminist groups campaigned during the war to get equal pay and equal compensation for war injuries. When the war began, women only received about two-thirds of the pay men did for similar jobs and as compensation for war injuries, Smith said.
Although the women's movement had a victory in 1943 when the government began providing equal compensation for war injuries, Prime Minister Winston Churchill effectively kept the British House of Commons from passing equal pay for equal work into law, Smith said.
The feminist movement experienced some success in 1945 when the House of Commons passed a limited family allowance to recognize women for their role at home. The British Parliament voted to give money directly to each married woman who gave birth to two or more children.
"This was considered a success by some feminists because the pay went directly to the woman rather than her husband as the government had originally intended," Smith said.
Smith first became interested in British history when he was in graduate school and wanted to know more about how the British women's movement compared with the U.S. movement. There was not much research on the topic at the time, he said.
Smith came to UHV in 1976 as an assistant professor and took his first trip to Great Britain to do research on the British women's movement that year. He was a Visiting Fellow in 1994 at the University of Oxford in England and was honored by being made a Fellow of the Royal Historical Society of Great Britain in 2000.
He was recognized for his work at UHV with the university's Teaching Excellence Award in both 1988 and 1997 and the Research and Scholarly Activities Award in 2007.
"The university has been very generous about providing funding so that I can travel to England to do the research necessary to continue writing and publishing," Smith said.
Jeffrey Di Leo, dean of the UHV School of Arts & Sciences, said that Smith continues to bring recognition to himself and the university with his research and publication in the area of British history.
"I hope area residents will take the opportunity to look into Dr. Smith's distinguished body of work," he said. "It truly is a remarkable achievement."
The University of Houston-Victoria, located in the heart of the Coastal Bend region since 1973 in Victoria, Texas, offers courses leading to more than 80 academic programs in the schools of Arts & Sciences; Business Administration; and Education, Health Professions & Human Development. UHV provides face-to-face classes at its Victoria campus, as well as an instructional site in Katy, Texas, and online classes that students can take from anywhere. UHV supports the American Association of State Colleges and Universities Opportunities for All initiative to increase awareness about state colleges and universities and the important role they have in providing a high-quality and accessible education to an increasingly diverse student population, as well as contributing to regional and state economic development.