Close
New UHV professors receive first-of-kind summer research grants
Two new assistant professors at the University of Houston-Victoria recently were awarded the first-ever junior faculty summer research grants.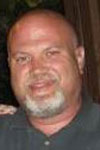 Keith Akins
Keith Akins, an assistant professor of criminal justice, will research the root causes of terrorism, and Tanawat Hirunyawipada, an assistant professor of marketing, will look into a better way to manage the process of thinking up new commercial products. Each professor received $20,000 from UHV and will complete his research during the summer.
"These grants were created to encourage faculty research and give our junior faculty a jump-start in their research agendas," said Suzanne LaBrecque, UHV provost and vice president for academic affairs. "Universities have produced new knowledge for centuries. We're proud to carry on that tradition here at UHV, and we all look forward to hearing the results of these studies."
The two grants are the first UHV has offered specifically for new, nontenured professors. The competitive grant proposals were evaluated by a committee of three tenured professors, who then recommended Akins and Hirunyawipada for the awards.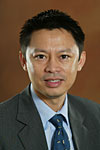 Tanawat Hirunyawipada
UHV plans to offer the grants every summer, LaBrecque said.
Akins' findings could have broad implications for efforts by countries to eliminate terrorism.
"Most of standard theories of terrorism and political violence revolve around poverty and resources," Akins said. "My theory is that although that is not incorrect, it provides a really incomplete picture. A lot of terrorism is based purely on religious imperatives."
Many nations employ a strategy of spending billions of dollars to relieve poverty as a way of fighting terrorism. While poverty contributes to terrorism, it isn't the major driving factor.
"I think my research will show that the more money they have, the more people they will kill," Akins said. Once someone has committed to the path of terrorism, extra funds will be used to further that goal rather than relieve material suffering of others.
The research will focus primarily on the genocide committed in the African country of Darfur.
Hirunyawipada's research will look for better ways for companies to come up with ideas for new products.
Presently, there are two models companies use in the process called ideation, he said. One has a series of rigid steps used in developing ideas. The other has an open model with few or no rules or restrictions. Developers essentially brainstorm ideas.
Hirunyawipada hopes to find a middle ground that will allow for more freedom of thought but still provide structure to the process.
The end result should be a model that allows companies to more efficiently create new product ideas and thus make the best use of developmental resources, he said.
The research could have great implications for companies developing new products for the marketplace and could ultimately result in more innovative products for consumers, Hirunyawipada said.
Both researchers plan to submit their results for publication in academic journals once completed. They also want to secure outside funding to further their research after the summer.
The University of Houston-Victoria, located in the heart of the Coastal Bend region since 1973 in Victoria, Texas, offers courses leading to more than 80 academic programs in the schools of Arts & Sciences; Business Administration; and Education, Health Professions & Human Development. UHV provides face-to-face classes at its Victoria campus, as well as an instructional site in Katy, Texas, and online classes that students can take from anywhere. UHV supports the American Association of State Colleges and Universities Opportunities for All initiative to increase awareness about state colleges and universities and the important role they have in providing a high-quality and accessible education to an increasingly diverse student population, as well as contributing to regional and state economic development.