Close
UHV Relay for Life team raises top amount for cancer society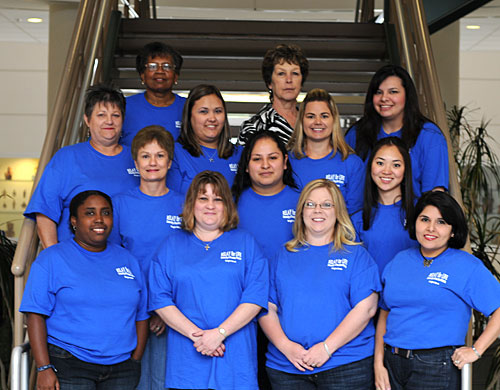 The Bright Ideas Relay for Life team, made up of University of Houston-Victoria staff and students, is donating more than $10,000 to the American Cancer Society this year. Members, from left to right, are: (front row) Cherlyn Hodge, Shonna Jud, Lacy Orsak and Yvonne Garcia; (second row) Mary Densman, Ana Laura Pineda and Ashlee Wassick; (third row) Linda Parr, Kristin Torres and Magen Besancon; (back row) Judy Lucas, Jan Wendt and Betty Tucker. Members not included in the photo are Susie Albert, Morgan Matula and Deborah Westbrook.
A Relay for Life team made up of staff and students from the University of Houston-Victoria is expected to be first team in the county to raise more than $10,000 for the American Cancer Society.
"They have a great team spirit and have been really active," said Karen Hable, teams development chair for Relay for Life in Victoria County. "They've done a variety of fundraisers so that everyone on the team is involved."
The members of the Bright Ideas Relay for Life team will be recognized for their efforts with a sign designating them as a Platinum Team at the Relay for Life event from 6 p.m. April 24 to 6 a.m. April 25 at Coleto Creek. To be named a Platinum Team, members have to raise more than $10,000, participate in the Relay for Life event and attend team captain meetings, Hable said.
Relay for Life is organized by American Cancer Society chapters across the nation and involves more than 3.5 million people. Volunteers form teams and then take turns walking or running for up to 24 hours to raise money to fight cancer. The teams also hold fundraisers throughout the year.
"Each year, we work really hard and spend a lot of personal time trying to make a difference here in Victoria where it counts the most for us," said Linda Parr, Bright Ideas team captain and UHV admissions coordinator. "We want to thank UHV employees and students for all their support purchasing and donating items during the year."
The Bright Ideas team has raised nearly $10,300 so far this year and is expecting to raise at least an additional $500 at the Relay for Life event, Parr said. The team will sell sausage on a stick with a tortilla, in addition to Frito pie, pickles and bottled water at its campsite. Team members also will sell glow sticks, luminarias and lap beads to help participants keep track of how many laps they have walked.
Tickets for the team's quilt raffle will continue to be sold for a donation of $1 each or six for $5 up until 9 p.m. April 24 when the winner's name will be drawn. The homemade quilt features each month of the year and was donated by Nancy Penry, UHV training and continuing education coordinator.
Yvonne Garcia, a team member and UHV international admissions coordinator, will be participating in her fifth Relay for Life event on April 24 and 25.
"I have family members who are battling cancer now and have lost close family members," she said. "It's important to me and my life."
The Bright Ideas team started raising money for this year's Relay for Life back in May. UHV faculty, staff and students, in addition to the team's friends and family, donated items for a garage sale that raised $960. The team also had a barbecue and auction in October that raised more than $5,000.
"Once people hear that the money is going to the American Cancer Society, they are more than willing to donate," Garcia said.
The team, which is sponsored by UHV Student Services, also had a raffle earlier this month and sold baked goods, pizza, chicken salad sandwiches and Easter baskets at different times during the year. Whataburger locations in Victoria, Edna and Cuero donated 20 percent of their sales on the evening of April 5 to the team.
"I got involved with the team last year because it's a good cause," said Magen Besancon, a recruitment assistant for the UHV School of Arts & Sciences. "Everybody is just really enthusiastic."
The team is so enthusiastic, in fact, that it's already raising money for next year's Relay for Life.For a $20 donation, those interested can pre-order a cake for Mother's Day. The cakes will be made by Bright Ideas team members and delivered May 8 and 9.
Members of the team use their lunch hours, vacation days and free time to help with Relay for Life, Parr said.
Some UHV students also are participating in Relay for Life through United Campus Ministries based at UHV and The Victoria College. The students have raised about $250 so far, said Wanda Ritchea, director of campus ministry for the group. Those interested in donating to the team can call Ritchea at 361-649-2904.
Those interested in donating to the Bright Ideas team or purchasing quilt raffle tickets or Mother's Day cakes can contact any member or reach Parr at 361-570-4119 or parrl@uhv.edu
The University of Houston-Victoria, located in the heart of the Coastal Bend region since 1973 in Victoria, Texas, offers courses leading to more than 80 academic programs in the schools of Arts & Sciences; Business Administration; and Education, Health Professions & Human Development. UHV provides face-to-face classes at its Victoria campus, as well as an instructional site in Katy, Texas, and online classes that students can take from anywhere. UHV supports the American Association of State Colleges and Universities Opportunities for All initiative to increase awareness about state colleges and universities and the important role they have in providing a high-quality and accessible education to an increasingly diverse student population, as well as contributing to regional and state economic development.