Close
UHV alumna publishes second novel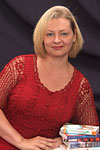 Tanya Spiker Michna
University of Houston-Victoria graduate Tanya Spiker Michna explores human relationships and preconceptions in her recently published second novel, "Baggage Claim."
"It is about two women, one in her 30s and one in her late 40s, who have absolutely nothing in common with each other save suitcases that look alike," Michna said.
When the two confuse their luggage, they wind up meeting. Over time, these two women who think they have nothing in common find they are much more alike than either of them imagined, and they reevaluate their own strengths and weaknesses.
The 336-page novel was released earlier this month as a trade paperback by New American Library, an imprint of New York-based Penguin Putnam.
Michna earned her bachelor's degree in humanities with a history concentration from UHV in 1998. While at UHV, she spent some time at the Academic Center tutoring others in writing, which foreshadowed her future career.
"It was the first time anybody gave me a paycheck because I had a gift for writing," she said, noting she originally intended to become a high school history teacher.
Her time at UHV taught her a great deal about research and putting that research aside to meet deadlines. Most of her research consists of talking to people to get the voices of her characters in her head.
"There comes a time when you have to put research away and start writing. College is actually great preparation for that," she said.
Once the time comes to start writing, what she really does is listen.
"The first thing is the characters just start talking to me," she said as she laughed. "I'm very lucky. My husband has yet to have me committed."
After her books are written, she often figures out the sources of her inspiration. In the case of "Baggage Claim," she recalled a time when her daughter brought home the wrong Hello Kitty lunchbox from camp. She was amazed how much she and the other family learned about each other just from the contents of a lunchbox.
"They could tell my daughter has a brother because of the Transformers thermos in her lunchbox," she said as an example.
Also helpful in writing a book is an understanding of how the publishing industry works. Her membership in the Houston-based Romance Writers of America proved invaluable for networking and learning about the writing industry.
Michna's first book, "Necessary Arrangements," was published in 2007, also by New American Library. The book chronicles the homecoming of two sisters, one to announce her engagement and the other to share that she is dying of cancer.
Michna now lives in Marrieta, Ga., with her husband and two small children. Her Web site is at www.tanyamichna.com.
The University of Houston-Victoria, located in the heart of the Coastal Bend region since 1973 in Victoria, Texas, offers courses leading to more than 80 academic programs in the schools of Arts & Sciences; Business Administration; and Education, Health Professions & Human Development. UHV provides face-to-face classes at its Victoria campus, as well as an instructional site in Katy, Texas, and online classes that students can take from anywhere. UHV supports the American Association of State Colleges and Universities Opportunities for All initiative to increase awareness about state colleges and universities and the important role they have in providing a high-quality and accessible education to an increasingly diverse student population, as well as contributing to regional and state economic development.