Close
UHV graduate helps fellow veterans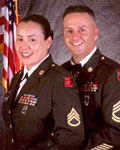 Valerie Villarreal Romans, a 2008 UHV graduate, poses in uniform with her husband, Christopher.
University of Houston-Victoria graduate Valerie Romans has a special understanding for the veterans she helps when they come home from Iraq and Afghanistan. She's one of them.
Before she took the job as a veterans' resource and referral specialist for the Texas Veterans Leadership Program, she spent a decade in the service, including a year in Iraq as part of an Army Reserve unit out of Victoria.
Now she works with the Texas Workforce Solutions in Victoria to help soldiers returning to the Golden Crescent find jobs, education and training opportunities, and sometimes just emotional support.
"I go out and find them and find what they need," she said. Many returning veterans have needs that go unmet and benefits of which they may not be aware, she said.
These benefits include funds former soldiers can use to get a degree from The Victoria College or UHV.
Many veterans are looking for a new direction in life, she said, a situation similar to the one that drew Romans into the military in the first place.
After graduating from Calhoun High School in 1993, she received a scholarship to pursue a Licensed Vocational Nurse degree but just wasn't sure if that was the direction she wanted for her life. To find that direction, she signed up for the Army instead.
"I went to Korea, Germany and Washington, D.C.," she said. In 2000, she returned to Victoria and began taking prerequisite classes to enter the VC nursing program.
But her studies were cut short when she was called up to service in Iraq in April of 2003. She came back a year later with a host of new experiences and a fiancé.
"My husband served with me in the same reserve unit," she said. Her education was further set back when she became pregnant in 2005 with her first daughter.
But Romans still dreamed of earning her bachelor's degree to further the associate degree she received while in the service.
So while her husband worked and helped take of their children, Romans took online classes at UHV.
"Going to UHV was very rewarding, and the online classes really made it possible with small children at home," she said.
In 2008, she earned her bachelor's degree in psychology. In December, she used it along with her military experience to land her current job helping veterans.
"I love what I do," she said. Her psychology training helps her better understand her clients and what they need to achieve their full potential in civilian life.
She finds veterans wherever she can, be it through phone calls, e-mails, meetings or even visits to area Veterans Affairs clinics.
Once she finds them, she listens to their stories, finds out their needs, and connects them to the resources available.
"One big push for this program is to create opportunities for these veterans to become leaders in their community," she said.
She is now working to organize student veteran organizations at VC and UHV to further advance the cause of her fellow returning soldiers.
The Texans Veterans Leadership Program was started in November 2008 as a way for the state to help its returning veterans. Specialists like Romans are based at the 28 Texas Workforce Solutions centers around the state.
For more information about the program, contact Romans at 361-582-6432 or valerie.romans@twc.state.tx.us, or visit http://www.twc.state.tx.us/jobseekers/texas-veterans-leadership-program.
The University of Houston-Victoria, located in the heart of the Coastal Bend region since 1973 in Victoria, Texas, offers courses leading to more than 80 academic programs in the schools of Arts & Sciences; Business Administration; and Education, Health Professions & Human Development. UHV provides face-to-face classes at its Victoria campus, as well as an instructional site in Katy, Texas, and online classes that students can take from anywhere. UHV supports the American Association of State Colleges and Universities Opportunities for All initiative to increase awareness about state colleges and universities and the important role they have in providing a high-quality and accessible education to an increasingly diverse student population, as well as contributing to regional and state economic development.