Close
New UHV Student Senate makes plans for upcoming school year
The returning University of Houston-Victoria Student Senate members are looking forward to expanding the work they started in 2008-2009 representing the student body at the university.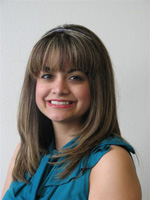 Nicole Garcia
"I feel like, as a whole last year, we were able to work together as a team and get the Student Senate's name out there a little more," said Nicole Garcia, who just took over as the 2009-2010 Student Senate vice president after serving as the secretary last school year. "Now we will have the opportunity to interact with the student body even more and find out how we can help them."
The new Student Senate was inducted late last month and will hold its first meeting of the year at 2 p.m. July 22 in Room 110 of the UHV University Center, 3007 N. Ben Wilson St. Students are encouraged to attend.
Senate members serve the collective interest of the UHV student body by promoting communication between students and UHV administration, said Janet Foerster, who is the Senate' s adviser and works in UHV Student Services. Members meet twice a month and also participate in fundraising events and community service projects.
"I think this will be an exciting year," she said. "Several of the Senate members are returning, and I know the new president, Erik Garino, will do a good job."
Garino served as a senator at large last year, and is excited about his new role as president.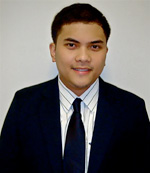 Erik Garino
"It's going to be challenging for me, but I'm looking forward to it," he said.
Garino is working on three degrees from UHV: a Bachelor of Applied Arts and Sciences, and bachelor's degrees in biology and psychology. He also expects to receive an associate degree in nursing from The Victoria College in December.
Garino said he wants this year's Senate to carry on events that were new last year such as New Student Orientation to welcome students to UHV in the fall and Student Organization Day in the spring. Student Organization Day featured food, games and music provided by different UHV student organizations.
He also said the Senate will start some new traditions. He would like to begin a high school mentoring program to allow Senate members to meet with and tutor Memorial High School students.
"I'd like to be a model for them and encourage them to go on to college," he said.
Garcia, an interdisciplinary studies major at UHV, said she would like to spend time this year building relationships with the other UHV student organizations and preparing for the expected addition of freshmen and sophomores in the fall of 2010.
"We can really use this time to work together and get ready to begin a new, exciting chapter for UHV," she said.
The other returning Senate members are Whitney Damborsky, graduate senator from the School of Arts & Sciences, and Shauna Sullivan, graduate senator from the School of Business Administration.
The new senators and their titles are as follows:
Brandi Reyes, secretary
Ruston Raybon, treasurer
Elizabeth Martinez, undergraduate senator, School of Arts & Sciences
Janice Johnson, undergraduate senator, School of Education & Human Development
Marianna Measom, graduate senator, School of Nursing
Claire McGee, senator at large, Victoria
Archie Garino, senator at large, Victoria
This is the first school year that the School of Nursing has had representation on the Student Senate because the nursing program did not become a school until December of 2007.
The University of Houston-Victoria, located in the heart of the Coastal Bend region since 1973 in Victoria, Texas, offers courses leading to more than 80 academic programs in the schools of Arts & Sciences; Business Administration; and Education, Health Professions & Human Development. UHV provides face-to-face classes at its Victoria campus, as well as an instructional site in Katy, Texas, and online classes that students can take from anywhere. UHV supports the American Association of State Colleges and Universities Opportunities for All initiative to increase awareness about state colleges and universities and the important role they have in providing a high-quality and accessible education to an increasingly diverse student population, as well as contributing to regional and state economic development.