Close
Camp teaches girls about programming, robotics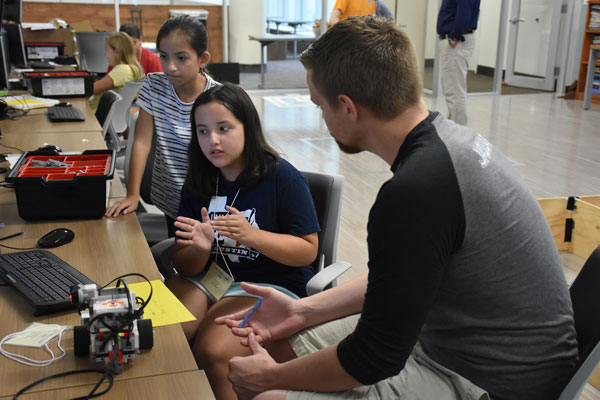 Abigail, left, and Bella Amaya, both 11-year-old homeschoolers, work together July 16 to discuss and improve their robot's programming with Randall Jasek, a UHV senior computer science major from Palacios, during the university's first-ever Texas Women in Computing summer camp in the University North robotics computer lab.
The sound of whirring gears and excited laughter filled the computer lab Wednesday as 11 middle school girls got their first taste of computer programming and robotics during the University of Houston-Victoria's first-ever Texas Women in Computing summer camp.
UHV is able to offer the camp thanks to grant funding from Alcoa Foundation and the Dow Gives Community Grant program. Students from middle schools including Cade, Travis, Goliad, Howell and Our Lady of Victory, in addition to two homeschool students, attended the camp from July 15 to 19 at UHV. The camp's purpose is to help young women learn about and explore science, technology, engineering and mathematics fields. There was so much interest in the camp that the university decided to offer a second camp to give more applicants a chance to attend.
"The Texas Women in Computing camp is an opportunity for UHV to reach out to area girls and inspire them to learn about STEM activities and careers," said Amjad Nusayr, a UHV assistant professor of computer science who led the camps. "Even though STEM careers are becoming more common and important, there still is a gap between the number of men and women in these positions. This camp is showing young women that they can learn this material just as easily as boys."
Abigail and Bella Amaya are sisters who spent the week with their grandmother in Victoria while they attended the camp. Although the 11-year-old homeschoolers had a rough start on the first day, they quickly got the hang of the program and working with the robots.
"At first, our robot wasn't working, so we had to take it all apart and rebuild it," Bella said. "But once we got it working, we caught up to what the other students were doing. Our robot just had a really good run through the maze."
During the camp, students worked in teams to learn how to program their robots to accomplish a variety of tasks using sensors. Some of the tasks included following a line maze using color sensors, solving a maze with sound sensors and bumpers, a robot wrestling competition and, if students completed the other tasks, individual free projects.
For Abigail and Bella, the experience has encouraged them to continue learning about computer programming and robotics, and maybe even pursue careers in those fields one day. They also enjoyed working with and around other girls.
"I think this camp shows us that computers and robots are not just for boys," Abigail said. "Girls can program, too, and it's been so fun and encouraging to meet other girls who like to do this stuff."
Nusayr coordinated the camp with Mai Abo Shakra, a UHV lecturer in computer science and the director of the Texas Women in computing Club at UHV. After the success of this year's camp, they are looking forward to offering it again next year, and are grateful for the assistance and support from other UHV employees who helped organize and plan all of the STEM summer camps.
"This camp and the other STEM camps the university has offered this summer give UHV a way to serve and connect with our community," he said. "We are grateful to Alcoa Foundation and Dow for their support. There haven't been a lot of STEM activities available in our area in the past, and I am glad to see UHV increase its offerings for area students."
The University of Houston-Victoria, located in the heart of the Coastal Bend region since 1973 in Victoria, Texas, offers courses leading to more than 80 academic programs in the schools of Arts & Sciences; Business Administration; and Education, Health Professions & Human Development. UHV provides face-to-face classes at its Victoria campus, as well as an instructional site in Katy, Texas, and online classes that students can take from anywhere. UHV supports the American Association of State Colleges and Universities Opportunities for All initiative to increase awareness about state colleges and universities and the important role they have in providing a high-quality and accessible education to an increasingly diverse student population, as well as contributing to regional and state economic development.