Close
Newspaper foundation selects UHV student for News Challenge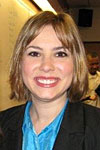 Emily Krenek
University of Houston-Victoria graduate student and employee Emily Krenek recently was one of only 15 U.S. students selected to attend the Newspaper Association of America Foundation News Challenge in Reno, Nev.
The News Challenge, held from May 31 to June 5, was a training session designed to allow students experience the opportunities available in the field of digital news, while creating real-world prototypes for the newspaper industry.
Any student enrolled as a college junior, senior or graduate student could apply, but only 15 were picked to attend. Krenek, who also is the online support technician for the UHV School of Education & Human Development, received an e-mail in her UHV student account about the News Challenge and decided to apply.
Students attending the News Challenge were divided into three groups and given the task of creating a news-based game. The use of news games is one way news Web sites are pulling in younger readers, Krenek said.
"We could come up with any topic we wanted for the game," she said. "Our game ended up being about unemployment because we wanted something that affects a lot of people and that could reach a large audience."
Players in the game Krenek's group created find that they are suddenly unemployed. They must navigate different scenarios like a shrinking savings account and the search for a new job. With input from the player, the game also makes calculations and suggestions. The game was voted the best by a panel of judges.
"The game might ask you how much you have in your savings account," Krenek said. "If you put in that you have $1,000, it might calculate that you can last two months without a job. It would also calculate what you could get for unemployment, and it even calculates different statistics for different states."
At the end of the game, players receive suggestions about what to do if they are suddenly unemployed and where to find jobs. The game also provides a list of valuable resources.
"But the game doesn't have to be about unemployment," said Krenek. "Once you build the first game, you just use that model and switch out the topic. It could be about world hunger, how to get back into college, or what challenges you might face with elderly parents who need daily care,"
Other games that were created at the challenge included a game about drug cartels and one involving the end of the world in 2012.
"It was a really valuable experience," Krenek said. "We met people from so many different fields like advertising, journalism and marketing. But it wasn't just for journalists; it was for people in business, computers and management. We really did learn a lot."
Krenek holds a bachelor's in computer science from UHV, and she is enrolled in the Master of Business Administration program. When she graduates, she would like to find a position as a consultant or product manager in a field that combines both technology and business.
The UHV Outstanding Student is an online feature highlighting the exceptional students who attend the University of Houston-Victoria. To nominate a student, contact UHV Communications Manager Paula Cobler or call 361-570-4350.
The University of Houston-Victoria, located in the heart of the Coastal Bend region since 1973 in Victoria, Texas, offers courses leading to more than 80 academic programs in the schools of Arts & Sciences; Business Administration; and Education, Health Professions & Human Development. UHV provides face-to-face classes at its Victoria campus, as well as an instructional site in Katy, Texas, and online classes that students can take from anywhere. UHV supports the American Association of State Colleges and Universities Opportunities for All initiative to increase awareness about state colleges and universities and the important role they have in providing a high-quality and accessible education to an increasingly diverse student population, as well as contributing to regional and state economic development.