Close
UHV program helps high school dropouts become college students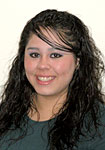 Crystal Trujillo
Dropping out of high school doesn't have to mean the end to educational opportunities.
Students who want more out of life than what a General Equivalency Degree offers can get help from the University of Houston-Victoria's Letting Education Achieve Dream office, a program dedicated to helping students overcome challenges to furthering their education.
One such student is 18-year-old Crystal Trujillo, who earned her GED earlier this year from Profit Magnet High School.
"I didn't want to drop out and get my GED," Trujillo said. "But I needed to get done faster so I could help my family."
Hard financial times made things difficult for her parents and four siblings, so she needed to help support the family by working a full-time retail job.
"I didn't know where to go from there, but I knew I didn't want to stop learning," she said.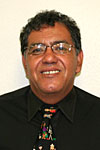 Ovidio Garcia
She found what to do next when she went back to Profit to say goodbye to a teacher. She ran into Ovidio Garcia, a program coordinator with the LEAD office, and asked him what she should do to further her education. Garcia and student mentors of the G-Force make weekly visits to Profit during the school year.
"She is a very intelligent and driven young lady," Garcia said. "She just needed some direction, which we were happy we could provide."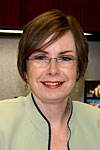 Denee Thomas
When Garcia learned of Trujillo's dreams of being a dentist, he introduced her to LEAD manager Denee Thomas, who previously worked as the associate dean for student affairs at a San Antonio school of dentistry.
"She is an example of the kind of person we look for," Thomas said. "She is someone who wants a better life and knows that an education is the way to reach it. She's one determined young lady."
Garcia and Thomas helped Trujillo apply for admissions, financial aid, and walked her through the process of taking the tests she would need to get started in her college career. They also provided emotional support and encouragement.
"Mr. Garcia and Dr. Thomas have just been wonderful," Trujillo said.
Trujillo, who is the first born American citizen in her family, will be the first member of her family to graduate from college.
"I want to set an example for my brothers and sisters," she said. "They can see I'm trying to be successful in my life, and then, hopefully, they will follow in my footsteps."
Trujillo plans to attend her first year at The Victoria College and then go on to study dentistry.
After she graduates, Trujillo plans to come back to Victoria and start her own pediatric dental practice.
"Helping students like Crystal achieve their dreams is the entire mission of the LEAD office," Thomas said. "If anyone out there needs help, I want to encourage them to contact us as soon as possible. There's no point in putting off a brighter future."
For more information about LEAD programs, call 361-570-4893 or visit www.uhv.edu/LEAD.
The University of Houston-Victoria, located in the heart of the Coastal Bend region since 1973 in Victoria, Texas, offers courses leading to more than 80 academic programs in the schools of Arts & Sciences; Business Administration; and Education, Health Professions & Human Development. UHV provides face-to-face classes at its Victoria campus, as well as an instructional site in Katy, Texas, and online classes that students can take from anywhere. UHV supports the American Association of State Colleges and Universities Opportunities for All initiative to increase awareness about state colleges and universities and the important role they have in providing a high-quality and accessible education to an increasingly diverse student population, as well as contributing to regional and state economic development.