Close
UHV announces names of spring graduates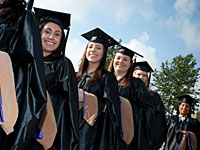 University of Houston-Victoria students participate in the spring commencement ceremony May 16 at the UHV main campus in Victoria.
The University of Houston-Victoria has released the names of all honors graduates and graduates for the 2009 spring semester.
Spring graduation took place May 16 at the University of Houston-Victoria's main campus. Harris County Judge Edward M. Emmett, a former member of the Texas House of Representatives, delivered the keynote speech.
Every semester, representatives of each of UHV's four schools select at least one graduate and one undergraduate student to be honored. The following students were recognized as the Outstanding Students for the spring:
School of Arts & Sciences – James Martinez, graduate; Lindsay S. Hedding, undergraduate. 
School of Business Administration – Lissette Guerra, graduate; Lindsey Ferguson, undergraduate. 
School of Education & Human Development – Shannon Beyer, graduate; Debra M. Marshall, undergraduate. 
School of Nursing – Diana Barton, undergraduate. (The School of Nursing will award its first graduate degrees and recognize its first outstanding graduate student in spring of 2010.)
Undergraduate students who graduated cum laude (3.5 to 3.67 grade-point average), their degree and home cities were:
Misti Monet Garrett, BS, Austin
Debra Ann Alfaro-Mirelez, BSN, Bay City
Dan Harlan Poole, BS, Edna
Nathan Clay Sappington, BAAS, Edna
Stephanie Hall Chavez, BBA, Ewa Beach, HI
Terrie Elaine Banks, BSN, Houston
Aneela Noor Farooq, BSIS, Houston
Nancy Salinas, BSIS, Houston
Karen Michelle Lalchan, BSN, Katy
Lis Courtney Wicker, BSIS, Katy
Shawn Garrett Sturm, BS, Missouri City
Joe Martinez, BAAS, Old Ocean
Jessica Beth Dunlap, BSIS, Richmond
Christine G. Rivas, BAAS, Richmond
Daniela Abrego, BBA, Rosenberg
Grady Trew, Jr., BBA, San Antonio
Johnny Taylor, BBA, Simonton
Bryan Christopher Helford, BBA, Smithville
Bridget Alane Moore, BSIS, Sugar Land
Melissa Ann Jostes, BSIS, Tynan
Corey James Adcock, BS, Victoria
Brent D. Coates, BS, Victoria
Rebecca Marie Harding, BA, Victoria
Shalee Lynn John, BBA, Victoria
Sarah Lynn Ramirez, BSIS, Victoria
Dawn Allyson Rivera, BS, Victoria
Justin Jeffrey Tuneberg, BBA, Victoria
Brandon Layne Ulbrich, BBA, Victoria
Jessica Lynn Rippamonti, BBA, Yorktown
Undergraduate students who graduated magna cum laude (3.68 to 3.84 GPA) were:
Shelley Marie Kaspar, BSIS, Angleton
Diana M. De La Cruz, BSIS, Beeville
Steven Lee Hasty, BBA, Damon
Amanda Lea Trevino, BSIS, El Campo
Jessica Pearl Hartwig, BSIS, Katy
Paul Ronald Sesar, BS, Katy
Teresa Ann Sturm, BSIS, Katy
Elizabeth Paige Williams, BS, Longview
Peggy Lynn Vanek, BSIS, Moulton
Hailey Nicole Leus, BSIS, Needville
Jay Stephen Babcock, BS, Port Lavaca
Lauren Ashley Mayo, BSIS, Port Lavaca
Machaela Danielle Zellmer, BSIS, Port Lavaca
Jesse Reynaldo Cuellar, BAAS, Richmond
Kimberly Diana Hantman, BSN, Spring
Kristen Ann Lindley, BBA, Spring
Ashley R. Trevino, BBA, Stafford
Widad Ahmad Abu-Sada, BBA, Sugar Land
Yuk Chi Trieu, BSN, Sugar Land
Olufunmilayo Umaka, BSN, Sugar Land
Kelly Vielmas, BS, Sugar Land
Wade Elliot Cooper, BBA, Victoria
Mary Colleen Fajkus, BSIS, Victoria
Lindsay S. Hedding, BS, Victoria
Chad Kenneth Kern, BBA, Victoria
Katie Lauren Moody, BA, Victoria
Monette Rae Potra, BS, Victoria
John Travis Winkenwerder, BBA, Victoria
Megan Elyse Wright, BBA, Victoria
Kimberly Ann Lynch, BSIS, Wallis
Jennifer Lynette Srubar, BSN, Webster
Clifton Obanion Black, BBA, Wharton
Undergraduate students who graduated summa cum laude (3.85 to 4.0 GPA) were:
Whitney Marie Damborsky, BS, Edna
Krystle Victoria Alvarado, BSIS, Houston
Debra M. Marshall, BSIS, Houston
Anna Christina Wood, BBA, Inez
Angela D. Sticker, BSIS, Katy
Lindsey Nicole Ferguson, BBA, League City
John Allen White, BBA, Port Lavaca
Mason Jeffrey Gibson, BS, Richmond
Krystal Elizabeth Patek, BSIS, Shiner
Olusola B. Adeniran, BSN, Sugar Land
Diana Lynn Barton, BSN, Sugar Land
Cristina Marie Martin, BSN, Sugar Land
James Roger Pariseau, BBA, Sugar Land
Lindsey Elaine Thurmond, BS, Sugar Land
Yuchun Zhao, BSN, Sugar Land
Jeffrey Todd Harris, BS, Victoria
Ericka J. Staff, BAAS, Victoria
Therese Marie Ferry, BSIS, Yoakum
All other graduates by school listed with their home city were:
SCHOOL OF ARTS & SCIENCES
Bachelor of Arts
Hina Zeb, Houston
Marian Woods Sanders, Katy
Carol Stapleton Sleet, Katy
Rachel Michelle Tooker, Richmond
Emilie Marie Salsman, Sugar Land
Carissa Angelica Sanchez, Sweeny
Debra Sue Doherty, Victoria
Krystal Nicole Hernandez, Victoria
Shirin Elizabeth Roozegar, Victoria
Evelyn Brewer Shows, Victoria
Bachelor of Applied Arts and Sciences
Tu Si Ho, Houston
Frances Farias, Port Lavaca
James Wesley Tisdale, Victoria
Bachelor of Science
Vertina L. Jones, Columbus
Esperanza Cisneros Hernandez, Cuero
Tabitha Michelle Laqua, Cuero
Brittany Chere Urban, Cuero
Shalaire Nichelle Rainey, Cypress
Chinelo N. Amuzie, Houston
Samantha Sue Campagna, Houston
Janika Elisa Donato, Houston
Lauren Sheree Garza, Houston
Brooke A. Grzelak, Houston
Andrew Hai Truong Nguyen, Houston
Joleen Annette Kretser, Inez
Aaron Daniel Chernosky, Katy
Rebekah Ashley Hammack, Katy
Teresa Marie Villegas, Katy
Ricky Allen Watkins, Katy
Kenneth A. Morton, Needville
Shuronda Quinell Williams, Palacios
Justin Douglas Griffin, Pine, CO
Zachary Scott Bromberg, Richmond
Robert Gary Manning, Stafford
Stephen J. Sparling, Sugar Land
Katayoun Tavasoli, Sugar Land
Michelle Rae Maxwell, Telferner
Morgan Lynn Chesnutt, Tuleta
Dominique Jahanee Cisneros, Victoria
Jason Jesse Constancio, Victoria
Kristie Marie Dicken, Victoria
Nina Michelle Foster, Victoria
Elizabeth Liberty Jimenez, Victoria
Christina Joyce Kostella, Victoria
Maria Langevin Laflam, Victoria
Candace Kaye Lerma, Victoria
Jonathan Richard Luera, Victoria
Raquel Elena Rodriguez, Victoria
Arelecia Dione Ross, Victoria
James Wesley Tisdale, Victoria
Luis Torres, Victoria
Ashley Lynette Valentine, Victoria
Sarah Elizabeth Bargmann, Yorktown
Master of Arts
Beka Naylor Preston, Refugio
Kim Smith-Maxwell, Rosenberg
Sara Marie Serrano, Victoria
Master of Arts in Interdisciplinary Studies
Jennifer Bezdek, El Campo
Darrell Allen Rodriguez, Leonard
Dawne Machel Cook-Sanders, Sugar Land
Pamela Jean Cuellar, Victoria
Clyde Wilburn Jones, Victoria
James Albert Martinez, Victoria
Master of Science
Kurniawan Alfizah, Houston
David Charles Chow, Houston
Shriram Nagendra, Houston
Eric Alexander Garcia, Katy
Dangkhoa Vo, Katy
Odon Belmarez, Missouri City
John Paul Martin, Odessa
Shane Carroll May, Springfield, MO
SCHOOL OF BUSINESS ADMINISTRATION
Bachelor of Administration
Rondalyn Nikell Pointer, Bay City
Veronica Dee Bures, Edna
Jason Charles Bartos, Flatonia
Katie Lynne Cook, Houston
Heather Suzanne Colon, La Grange
Lauren Elizabeth Byrum, Richmond
Jeffrey Charles Kubes, Rosenberg
Keri Beth Pokluda, Shiner
Cory Blake Schwab, Sugar Land
Andrew Thomas Stevens, Sugar Land
Matthew Ryan Zapalac, Sugar Land
Melinda T. Aragon, Victoria
Leodeli Jessica Galvan, Victoria
David Julius Mikulenka, Victoria
Kelly Lorene Pafford, Victoria
Amalia Martinez Villarreal, Wharton
Master of Business Administration
Theresa Suppatkul Noble, Bellaire
Anshu Sharma, Cypress
Francisco Javier Izaguirre, Dickinson
Yuri Curtis, Houston
Daniel James Drummond, Houston
Jonita L. Fair, Houston
Gloria Michelle Hudson, Houston
Joseph James Leone, Houston
Daniel F. Millsap, Houston
Nivedita Mukherjee, Houston
Albert T. Ogoe, Houston
Shabahat A. Tipu, Houston
Lyhuong P. Tran, Houston
Howard Alexander Alvarado, Katy
Binay Anand, Katy
Maria Patricia Gallego, Katy
Daniela Maria Hernandez, Katy
Gloria Hsiumei Lin, Katy
Salam A. Mahamad, Katy
Blythe Yee Wolf, Katy
Timothy Charles Pistole, New Ulm
Thomas Allen Seymour, Pasadena
Dustin Michael Smith, Pflugerville
Hoangyen Thi Pham, Richmond
Sai Cheong Tang, Richmond
Sheraz Islam, Spring
Moshin Kasamali, Stafford
Loann Yen Dang, Sugar Land
Demetri Danielle Douglas, Sugar Land
Lissette Maria Guerra, Sugar Land
Kimberly Diane Hayes, Sugar Land
Chingyu Huang, Sugar Land
Youfeng Chi Li, Sugar Land
Mary Elizabeth Louis, Sugar Land
Nitesh Ratilal Mehta, Sugar Land
Sou Mey, Sugar Land
Ashley Georgette Northrup, Sugar Land
Marcus Brian Northrup, Sugar Land
Adebisi Idowu Onitiri, Sugar Land
Jesse Darryl Sims, Sugar Land
Xin H. Swanson, Sugar Land
Mandian Wei, Sugar Land
Melinda T. Aragon, Victoria
Thomas Cheung, Victoria
Kristi Lynn Hairell, Victoria
John Paul Coffren, Virginia Beach, VA
Master of Science in Economic Development and Entrepreneurship
Celestine B. Metuassalol, Katy
Timothy S. Schauer, Katy
SCHOOL OF EDUCATION & HUMAN DEVELOPMENT
Bachelor of Science in Interdisciplinary Studies
Amy Gregorcyk-Ruiz, Cuero
Stephanie Michell Helton, El Campo
Lauren Beth Cox, Gonzales
Robyn Michelle Crowson, Houston
Megan Colleen Milligan, Houston
Samantha Michelle Pantermuehl, Houston
Cindy Rachel Ventura, Houston
Sherneice LaDawn Williams, Houston
Stephanie Marie Wischmeyer, Houston
Jessica Lea Wright, Houston
Amber Elizabeth Green, Karnes City
Arkansas Kapri Moreau, Katy
Chariti Monique Demaris Peters, Katy
Kristen Marie Zuroweste, Katy
Debbie Gonzales Diaz, Kenedy
Lisa Gooch, Needville
April V. Mandy, New Ulm
A'Lissa Ramona Haneline, Richmond
Lindsey Marie Jan, Richmond
Holly Joy Rose, Richmond
Crystal Michelle Teague, Richmond
Rebecca Ann Guerrero, Schulenburg
Susana C. Garcia, Sugar Land
Jenna Michelle Hartley, Sugar Land
Jessica Ann Horvath, Victoria
Mary Catherine Jones, Victoria
Katrina White Pogue, Victoria
Annie Ann Zimmerman, Victoria
Jennifer Lynn Pekar, Wharton
Lorie Renee Selensky, Wharton
Kayla L. Lyles, Yoakum
Master of Education
Kathleen Marie Garza, Austin
Carole Lynn Serna, Beasley
Tammy Marie Boehl, Cuero
Alissa Gayle Scanlin, East Bernard
Crystal Dawn Hamilton, Edna
Edward Lee Hamilton, Edna
Wesley Ray McGinnis, Edna
Rataisha Ranee Davis, Fresno
James Dee Farmer, Fresno
Melody Miller Farmer, Fresno
Erika Lauren Berk, Houston
Wanda Denise Easter, Houston
Penelope W. Flores, Houston
Eric John Ibsen-Johnson, Houston
Douglas K. Lormand, Houston
Kevin Patricio Morrow, Houston
Jennifer Chioma Ohanaja, Houston
Penny Lynn Armstrong, Karnes City
Kim K. Brock, Katy
Jori Lynn Gandy, Katy
Rachel Elaine Grubb, Katy
Mandi Elizabeth Lind, Katy
Melissa Anne Poponak-Rosbert, Katy
Brenda Lee Lukacs Williams, Katy
Bryan Lee Fields, Missouri City
Lisa Chestnut Gayden, Missouri City
Ana Francesca Mays, Missouri City
Donna M. Savoy, Missouri City
Rachel B. Smith, Missouri City
Terrence Archie, Nacogdoches
Tamara Denise Ellis, Orchard
Christa Elizabeth Saha, Palacios
Ashley Brooke Hill, Pearland
Nathan Dale Lang, Pearland
Nancy Pan, Pearland
Renee Revett Deaver, Refugio
Renesiaha Shalyn Carter, Richmond
Melanie Ann Coffee, Richmond
Risa Waddell Crosby, Richmond
Kera A. Faltysek, Richmond
Kimberly Ann Fleener, Richmond
Christopher Merle Laird, Richmond
Nancy Latz Kinard Mickelson, Richmond
Andre J. Roberson, Richmond
Mackella Howell Rohan, Richmond
Robin Madera Wilborn, Richmond
Wendy Leann Thoe, Richwood
Belinda Cavazos Moreno, Rosenberg
Eva Yvonne White, Rosenberg
Amanda Lucille Jaramillo, Rosharon
Becky Sue Egger, Smiley
LaBrenna Shelae Rogers, Stafford
Melacyn Marie Turner, Stafford
Gloria E. Benton, Sugar Land
Amber Desiree Callahan, Sugar Land
Robert G. Clarke, Sugar Land
Laura Anne Cole, Sugar Land
Susan M. Patterson, Sugar Land
Abigail May Priest, Sugar Land
Carol Yates Prusinski, Sugar Land
Larry James Romero, Sugar Land
Cynthia Elaine Steel Burke, Sugar Land
David Wesley Smothers, Sweeny
Kathy D. Gyllenband, Tivoli
Kimberly Curlee Schaefer, Vanderbilt
Carolyn Marie Allison, Victoria
Shannon Lee Beyer, Victoria
Robin Ira Lynn Bolduc Cadle, Victoria
Janie M. Cantu, Victoria
Mary Kathryn Evans, Victoria
Leandra Louise Hill, Victoria
Della Barrett Ingram, Victoria
Tessa Leigh Laas, Victoria
Bridgette Sutton Marshall, Victoria
Magdalene Mata, Victoria
Matthew Michael Pope, Victoria
Stacie Annette Salais, Victoria
Dana Rene Kucera Foyt, Wharton
Lauren Elaine Shofner, Wharton
SCHOOL OF NURSING
Bachelor of Science in Nursing
Florence Isi Iyoha, Alief
Yolanda E. Garcia, El Campo
Tarilyn Denise Shelton, El Campo
Fausat Abimbola Lawal, Houston
Sipho Dozile Philips, Houston
Sonya Lear Walker, Houston
Jancy Babu, Pasadena
Vicki Lynn Miles, Smiley
Joaquin Alberto Buitrago, Sugar Land
Trisha Alayne Woodson, Sugar Land
Catherine Marie Blanco-Bowers, Victoria
Laurie Srubar Bubela, Victoria
Misty Janelle Smith, Victoria
The University of Houston-Victoria, located in the heart of the Coastal Bend region since 1973 in Victoria, Texas, offers courses leading to more than 80 academic programs in the schools of Arts & Sciences; Business Administration; and Education, Health Professions & Human Development. UHV provides face-to-face classes at its Victoria campus, as well as an instructional site in Katy, Texas, and online classes that students can take from anywhere. UHV supports the American Association of State Colleges and Universities Opportunities for All initiative to increase awareness about state colleges and universities and the important role they have in providing a high-quality and accessible education to an increasingly diverse student population, as well as contributing to regional and state economic development.