Close
New book press coming to UHV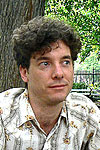 Kyle Schlesinger
The University of Houston-Victoria will add another publishing enterprise in the fall.
Cuneiform Press, a fine arts press previously based in Brooklyn, is moving to UHV along with its founder, Kyle Schlesinger, who will be a new communications and publishing professor.
"This new enterprise is a wonderful addition to the growing literary hub we have here at UHV," said Tom Williams, chair of the humanities division in the School of Arts & Sciences.
UHV already is home to Fiction Collective Two, an alternative book publisher; American Book Review, an international literary journal that champions works of small presses; and symploke, a journal dedicated to theoretical thought.
Cuneiform started in 2000 when Schlesinger published "Chapter in a Day Finch Journal" by Luisa Giugliano on an old 1889 George Prouty printing press he found in a barn in rural Vermont. Since then, Cuneiform has produced 24 titles.
The press publishes up to six books a year in press runs no larger than 500 editions. Books are usually distributed through Internet sales either direct from Cuneiform or through small book distributors.
Most of the works are commissioned by Schlesinger from authors he likes, although the process can vary from book to book. Cuneiform primarily publishes books of poetry, art and books about books.
The operation of the press will be funded through grants, Williams said. UHV will provide office infrastructure for the operation, and students will staff it for class credit.
"We're a break-even-quick organization," Schlesinger said. "We do it for the fun. No one is making any money. But we've also figured out how to not lose money on the book."
UHV hopes to acquire a printing press in the near future that will allow students to learn printing with handset type under Schlesinger's instruction, Williams said.
"It's a craft that dates back 450 years when Guttenberg printed the first Bibles in Germany," Schlesinger said. "The technology really hasn't changed since then."
Learning the old ways gives one a much deeper understanding of the modern computer layout technology, he said.
UHV offers a concentration in publishing for the Master of Arts in Interdisciplinary Studies degree, as well as a master's certificate in publishing in the School of Arts & Sciences.
For more information, contact Tracey Fox, the school's senior recruitment coordinator, at 361-570-4233 or foxt@uhv.edu, or visit www.uhv.edu/asa/pdf/PublishingBrochure.pdf
The University of Houston-Victoria, located in the heart of the Coastal Bend region since 1973 in Victoria, Texas, offers courses leading to more than 80 academic programs in the schools of Arts & Sciences; Business Administration; and Education, Health Professions & Human Development. UHV provides face-to-face classes at its Victoria campus, as well as an instructional site in Katy, Texas, and online classes that students can take from anywhere. UHV supports the American Association of State Colleges and Universities Opportunities for All initiative to increase awareness about state colleges and universities and the important role they have in providing a high-quality and accessible education to an increasingly diverse student population, as well as contributing to regional and state economic development.