Close
UHV student stays busy with school, work, volunteering and family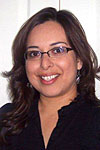 Rosa Muzquiz
University of Houston-Victoria student Rosa Muzquiz knows what it's like to be busy.
As a computer science major at UHV, she juggles taking classes with working as a university programming assistant, volunteering and home schooling her children.
"I was able to get the position in Information Technology because of my past experience programming in different computer languages and through networking at UHV," she said. "I've heard how important it is to create connections and how these can be invaluable. This is certainly true for me with my current job."
Muzquiz said a class she took at UHV also was instrumental in her success on the job.
"That class was a stepping stone to my current position," she said. "It provided me hands-on training with software which I presently use as a programming assistant. I even use my textbook and other materials from that class on occasion."
Muzquiz also is active at UHV as a member of the Mexican American Student Organization, a group she learned about from her sister.
"I enjoy the camaraderie and found the goals of MASO relevant to me and my own cultural experiences," Muzquiz said. "Before I joined, I was already a member of other cultural organizations, so I felt I had a lot to share with my fellow members."
As a member of the Gamma Beta Phi national honors society chapter at UHV, Muzquiz was an executive committee officer last school year and chaired several group service projects.
John White, the 2008-2009 Gamma Beta Phi president, said Muzquiz's involvement with the honors society improved the organization.
"Gamma Beta Phi is indeed an honors organization; however, it is much more than that," White said. "Gamma is dedicated to the development of leaders and the promotion of community service. Her ideals, leadership, commitment and service embody the ideals of the organization."
White said the organization was fortunate to have Muzquiz as a member, but Muzquiz is equally grateful for the experience. She will take the knowledge and experience she gained in the honors society to her new position as a member of the Victoria Public Library Advisory Board.  
As a board member, Muzquiz will help establish library policies, make budget recommendations and act as a liaison to city and county governing bodies, she said.
Jessica Erebia, a UHV graduate and administrative assistant at the library, said Muzquiz's volunteer work is invaluable.
"Public libraries strive to meet the demands of a changing and diverse community such as Victoria," Erebia said. "Members like Rosa fulfill an important role by helping to develop library policies and plan new services. The Victoria Public Library mission is 'Serving with Excellence,' and it's essential for us to have members like Rosa and her family who make our mission a success."
Supporting the Victoria Public Library is a family affair for Muzquiz. Her daughters are members of the library's Teen Advisory Group. Isabella, 14, and Sophia, 13, who Muzquiz home schools, also are youth volunteers at the Children's Discovery Museum in Victoria. Muzquiz's third daughter is 7-year-old Tatiana.
"My daughters and I spend a lot of time at the library, where we're new members of Friends of the Library, the group which supports the library mainly through used book sales throughout the year," Muzquiz said.
Flexibility is the key to raising a family while working, maintaining good grades and participating in the community.
"Every semester at UHV is different, and I've been fortunate to have a flexible working schedule that lets me work around my classes and personal responsibilities," she said. "UHV's selection of courses and variety of instruction methods really help with time management."  
Upon graduation, Muzquiz would like to continue her career at UHV.
"I expect there will be expanded opportunities to work in the IT field at UHV," she said. "Computer science is so dynamic that the possibilities are endless. Ideally, I would love to find a job where I can merge my interest in computer science with my cultural interests. I believe that is possible at UHV."
The University of Houston-Victoria, located in the heart of the Coastal Bend region since 1973 in Victoria, Texas, offers courses leading to more than 80 academic programs in the schools of Arts & Sciences; Business Administration; and Education, Health Professions & Human Development. UHV provides face-to-face classes at its Victoria campus, as well as an instructional site in Katy, Texas, and online classes that students can take from anywhere. UHV supports the American Association of State Colleges and Universities Opportunities for All initiative to increase awareness about state colleges and universities and the important role they have in providing a high-quality and accessible education to an increasingly diverse student population, as well as contributing to regional and state economic development.