Close
Local artist donates jaguar sculpture for UHV grounds
University announces naming contest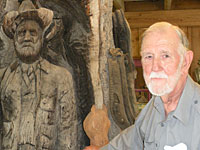 Harold Nichols
A metal, life-sized jaguar sculpture now welcomes students and visitors to the University of Houston-Victoria campus thanks to a donation from local artist Harold Nichols.
"I hope this physical symbol of the UHV Jaguars mascot generates inspiration and loyal spirit within everyone who sees it," Nichols said.
The sculpture was unveiled Tuesday during a ceremony in the UHV University Center Multi-Purpose Room. After refreshments and remarks, UHV grounds employees installed the jaguar in its permanent location in the landscaping on the west side of the University Center. UHV President Tim Hudson also announced a contest to name the jaguar.
Visitors to the UHV campus, along with students, faculty and staff, will be able to enjoy the sculpture as they walk between the University Center and University West buildings, Hudson said.
"I appreciate Mr. Nichols' generous donation to UHV and am pleased that we now have a location on campus to show everyone that we are proud UHV Jaguars," he said. "Now I'd like to come up with a name for the jaguar that will be fitting for this university."
Nichols originally created the 250-pound, plate steel sculpture in 1973 when he was a business manager at The Victoria College, where he worked until his retirement in 1980 to become a full-time artist. He also had ties to UHV after working there for a year beginning in 1974 as the part-time fiscal officer of what was then known as the University of Houston Victoria Center.
After he created the jaguar, Nichols placed it outside the Farmers Co-Op, also known as the Old Thurmond Building, 905 S. Bridge St. He owned the property before selling part of the complex to the Victoria Art League in 1999. Nichols now lives on the complex in a combination home/art studio that he designed.
Nichols approached Hudson about donating the sculpture to UHV several months ago as a way for the university to have its mascot at an outdoor location.
"I thought it would be fitting for it to be at UHV, and I was pleased to find a home for it," he said.   Nichols began renovating the sculpture and painted it in muted shades of black, brown and gold. The jaguar now stands on a platform with landscaping rocks and bushes around it.
"This sculpture solidifies our identity as UHV Jaguars and will give our student athletes a focal point on campus where they can start new traditions," UHV Athletics Director Ashley Walyuchow said. "All that's lacking is a name for our new jaguar."
UHV students and employees, and community members are encouraged to submit suggested names for the jaguar. The person who submits the winning name will receive a pair of 2009-2010 season tickets to the UHV Jaguars baseball and softball games, and Jaguars apparel.
To submit a name, send an e-mail to namethejaguar@uhv.edu by Sept. 11. A UHV committee will make the final recommendation about the jaguar's name to Hudson. If multiple people submit the winning name, the committee will draw one name from all the winning entries to receive the prize package.
The University of Houston-Victoria, located in the heart of the Coastal Bend region since 1973 in Victoria, Texas, offers courses leading to more than 80 academic programs in the schools of Arts & Sciences; Business Administration; and Education, Health Professions & Human Development. UHV provides face-to-face classes at its Victoria campus, as well as an instructional site in Katy, Texas, and online classes that students can take from anywhere. UHV supports the American Association of State Colleges and Universities Opportunities for All initiative to increase awareness about state colleges and universities and the important role they have in providing a high-quality and accessible education to an increasingly diverse student population, as well as contributing to regional and state economic development.