Close
UHV employees busy getting ready for freshmen, sophomores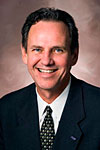 Tim Hudson
University of Houston-Victoria faculty, staff and administrators know they have a lot to get done before freshmen and sophomores join the university in the fall of 2010, but they're up to the challenge to make sure the addition of the new students goes off without a hitch.
"This is an exciting time at the university," UHV President Tim Hudson said. "We have staff working in areas ranging from recruitment to student life. We're researching best practices at other universities so that we can create the right experience for our new underclassmen."
One of the first actions UHV took after Texas Gov. Rick Perry signed the bill that paved the way for UHV to expand was to create the Student Success and Enrollment Management department. The new department is made up of financial aid and all student and academic services so that students can go to one place for help.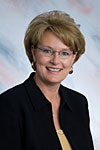 Chari Norgard
"We want to streamline processes for students so that they can focus on the reasons they are here: their coursework and getting a degree," said Chari Norgard, associate vice president for SSEM.
Recruitment of UHV's first 200 freshmen and sophomores is beginning, she said. Students will be sought from a large area that includes Houston, San Antonio, Corpus Christi, Laredo, the Rio Grande Valley and outlying portions of the Coastal Bend region. UHV is the process of hiring two recruiters in San Antonio, who also will work throughout the Valley, and two in Houston, who also will be responsible for recruiting from the suburban communities. A marketing campaign will be launched in early October to actively recruit underclassmen.
"Our education alumni will be instrumental in our recruiting efforts," Norgard said. "We'll be contacting alumni who are counselors and teachers in high schools where we want to recruit and asking if they can help us," Norgard said.
Once students are on campus, UHV staff is working to make sure they feel welcome.
"We'll be relying on students to tell us what they are interested in doing as a student body," Norgard said. "There is research that shows that the more students feel invested at a university, the more successful and happier they'll be."
Plans are underway for welcoming new students during the first week of classes in the fall of 2010. Students will have plenty of opportunities to mingle with their classmates and UHV employees during the week. The welcome week also will include a student organizations event that will allow students to join existing organizations and find out how to start their own. An Information Fair during the week will give students a chance to find out more about UHV services such as the Academic and Career Services centers, healthy living and the university's academic departments.
Fun events, such as intramural sports contests, and Wii bowling and tennis tournaments, also will be scheduled throughout the school year to give students plenty of chances to get to know each other, Norgard said.
UHV also is starting to get inquiries about housing and meal plans for the new students. UHV administrators are reviewing different options and hope to have some decisions made later this fall.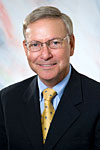 Wayne Beran
"We are planning for all our freshmen and sophomores to be housed at one location," said Wayne Beran, vice president for administration and finance. "This facility will provide a safe environment, supervision and better accountability of students, availability of onsite tutoring and mentoring, greater student interaction and feel of community, social awareness programs, counseling services, study areas, a workout room, a computer lab and dining services."
Details about health services for students also are being worked out, but an arrangement may be made with healthcare providers in Victoria, Norgard said.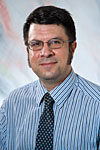 Jeffrey Di Leo
Another focus is on UHV's curriculum for underclassmen. Faculty members developed the 42-credit core curriculum that all students will be required to take. It will be reviewed by the UHV Undergraduate Affairs Committee and the Faculty Senate before it is sent to the provost's office in November, said Jeffrey Di Leo, who as dean of the School of Arts & Sciences is involved with designing the new curriculum.
The admission of underclassmen also is pending approval from the Southern Association of Colleges and Schools, the same organization that currently accredits UHV and other Texas universities.
UHV previously announced its Degree in Three program, the first three-year bachelor's degree offered by a Texas public university. The innovative program will allow students to save about $12,000 off the cost of a regular bachelor's degree.
"This is just one of the ways we are striving to make UHV a destination university," Di Leo said.  
Norgard's department also will work to ensure that the freshmen who start at UHV graduate.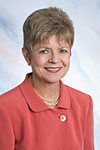 Suzanne LaBrecque
Suzanne LaBrecque, provost and vice president for academic affairs, has appointed a committee to define and set retention goals and suggest actions the university can take to make sure students are successful. Student retention is an area that statistics show universities struggle with nationwide. In fact, according to the 2009-2010 Chronicle of Higher Education Almanac, only 53.5 percent of freshmen who started a degree at a public university in 2001-2002 graduated after six years.
"We want to identify those students who are having trouble early on and take steps such as tutoring and mentoring to keep them here and to help them succeed," LaBrecque said.   Another major area university staff members are working on is to raise money for scholarships for freshmen and sophomores coming to UHV from outside the region.
In September of 2008, the Commission on Expanding Access to Higher Education, made up of community and education leaders, unanimously recommended that UHV expand. To help ensure the success of the expansion, the Commission challenged UHV to raise $250,000 annually during the next five years.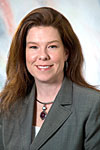 Amy Mundy
The Campaign Victoria fundraising effort will launch Oct. 1 to encourage community members to donate toward the goal, said Amy Mundy, director of annual giving. More than $150,000 has been raised so far.
"This is a wonderful opportunity to make a huge impact in the lives of incoming students while at the same time investing in our community and the entire Coastal Bend area," she said.
Although this is a busy time for Mundy and others at the university, it's also exciting since UHV's expansion is something they had hoped would happen for years.
"We're working hard and getting as many people involved as we can to make this a truly great destination university," Hudson said.
For more information about coming to UHV in 2010, go to www.uhv.edu and click on the "Be Among the First" button.
The University of Houston-Victoria, located in the heart of the Coastal Bend region since 1973 in Victoria, Texas, offers courses leading to more than 80 academic programs in the schools of Arts & Sciences; Business Administration; and Education, Health Professions & Human Development. UHV provides face-to-face classes at its Victoria campus, as well as an instructional site in Katy, Texas, and online classes that students can take from anywhere. UHV supports the American Association of State Colleges and Universities Opportunities for All initiative to increase awareness about state colleges and universities and the important role they have in providing a high-quality and accessible education to an increasingly diverse student population, as well as contributing to regional and state economic development.