Close
American Book Review author warns public about writers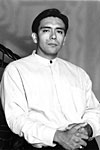 Tony Diaz
Writers can be dangerous people.
That's the message Tony Diaz will bring to the audience in the next installment of the American Book Review Fall Reading Series at the University of Houston-Victoria.
"At the end of the day, I'd like for them to be thrilled by writing again," he said. "I'd like them to think writers are dangerous because we tell the truth and excite people."
Diaz will read from his latest novel, "The Protestors Handbook," at noon Oct. 1 in the Alcorn Auditorium of University West, 3007 N. Ben Wilson St. The event is free to the public, and light refreshments will be served.
The book follows the tales of a young man returning from college to the home left to him by his deceased parents on the south side of Chicago.
"He decides to see how far he can get in Chicago with a broad back and a broader imagination," Diaz said. "He risks everything he has to see how far the American dream applies to him."
The novel contains some biographical elements since Diaz grew up on the south side of Chicago before coming to Texas to earn his master's degree in creative writing from the University of Houston. But for the most part, it chronicles how his life might have gone in some parallel dimension, he said.
"The main character does things I couldn't do at that time because I couldn't risk what he can," Diaz said.
Diaz also is the author of the novel "The Aztec Love God," a comedy containing material he used in his short stint as a stand-up comedian, and the editor of "Latino Heretics." Both books were published by Fiction Collective Two, an alternative publishing press that moved to Victoria in 2008.
Beyond his writing, he is the founder and head of Nuestra Palabra, a nonprofit organization that promotes and encourages Latino writers. Its efforts include workshops, reading series, a weekly radio show and podcast, regular appearances at major publishing industry events, and a soon-to-be-launched quarterly magazine.
Diaz teaches rhetorical analysis at Houston Community College and also serves as the faculty adviser to the student newspaper.
"We're proud to have an authentic storyteller like Mr. Diaz coming to Victoria," said Jeffrey Di Leo, editor and publisher of the American Book Review and dean of the UHV School of Arts & Sciences. "The audience will find him engaging, entertaining and enlightening."
While in Victoria, the authors attend roundtable discussions with UHV faculty and students, make classroom visits to area schools, give lectures that are open to the community, and go to receptions hosted by Friends of ABR patrons. Past speakers have included Pulitzer Prize-winning historian David M. Oshinsky, author and Iranian refugee Farnoosh Moshiri, Chicana novelist Ana Castillo and American Book Award recipient Graciela Limon.
Other authors scheduled for the fall series are:
Andrew Porter, Oct. 22 – Porter received the 2008 Flannery O'Connor Award for Short Fiction from the University of Georgia Press for his debut collection of stories, "The Theory of Light and Matter." The collection has since been nominated for the Texas Institute of Letters' Steven Turner Award for Best Book of First Fiction and Foreword Magazine's Book of the Year Award. Knopf Publishers has purchased the worldwide paperback rights to the collection and will publish it in 2010. It also will be published in the United Kingdom and Australia and in translation in France and The Netherlands. Porter teaches at Trinity University in San Antonio.
Cris Mazza, Nov. 19 - Mazza is the author of 15 books, including 10 novels, four collections of stories and a collection of personal essays. A prominent post-feminist writer, she also edited "Chick-Lit: Postfeminist Fiction" (1995) and "Chick-Lit 2 (No Chick Vics)" (1996), two anthologies of women's fiction that altered the literary landscape in the mid-1990s.
For more information about the UHV/ABR Reading Series, call ABR Managing Editor Charles Alcorn at 361-570-4100 or go to www.americanbookreview.org.
The University of Houston-Victoria, located in the heart of the Coastal Bend region since 1973 in Victoria, Texas, offers courses leading to more than 80 academic programs in the schools of Arts & Sciences; Business Administration; and Education, Health Professions & Human Development. UHV provides face-to-face classes at its Victoria campus, as well as an instructional site in Katy, Texas, and online classes that students can take from anywhere. UHV supports the American Association of State Colleges and Universities Opportunities for All initiative to increase awareness about state colleges and universities and the important role they have in providing a high-quality and accessible education to an increasingly diverse student population, as well as contributing to regional and state economic development.